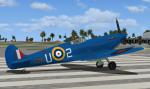 0.45Mb (208 downloads)
FSX/P3Dv3/v4/v5 Spit_ Mk V_Malta blue fix This corrects the right side texture of the Blue Spitfire. Replace the old texture DDS by the new one. Fix by A.F.Scrub
Posted Feb 19, 2021 12:06 by A.F.Scrub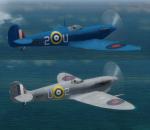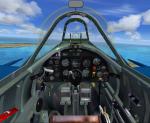 13.47Mb (246 downloads)
FSX/P3Dv3/v4/v5 Spitfire Mk VbTrop The basic Mk V was a Mk I with the Merlin 45 series engine. After take off from WASP, BR 123 had to turn back to the carrier while the rest of the Spitfires got airborne. This was the first landing of a Spitfire on a carrier deck, which was quite a feat without an arrester hook. In 2005 a flight to Malta was organised in a restored Spit BM597. Historical and restored, native FSX/P3D GMAX models by A.F.Scrub
Posted Feb 19, 2021 11:14 by A.F.Scrub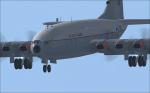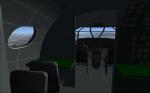 17.61Mb (692 downloads)
Designed to Air Ministry Specification 2/44 the Brabazon was, at the time of it's construction, one of the largest aircraft ever built, being sized roughly between the much later Airbus A300 and Boeing 767 airliners. Despite its vast size, the Brabazon was designed to carry a total of only 100 passengers, each one being allocated their own spacious area about the size of the entire interior of a small car. Designed to pre-war airline standards, the 8 Centarus-powered Brabazon was probably at the practical limit for a piston prop-liner, and was deemed un-economic in the post-war climate, with no orders forthcoming. Often considered a failure, the Type 167 more than met it's design specs, was a pleasant, well mannered machine that pioneered fully powered flight controls, gust alleviation systems, electric engine controls, high-pressure hydraulics and advanced construction techniques. 60% of the program cost went into capital improvements at Filton and elsewhere that served the British industry well in the jet-age. The final verdict must be that the aircraft was a completely successful prototype showing what to do, and what not to do. FSX native update of the JBK Brabazon, which features a full interior, a very nice front office you could park a Rolls-Royce in, tight modelling, smooth flight model, a great autopilot and slippery frame rates. A few extra are skins provided. Model by Jens B. Kristensen, with a huge B-Z for allowing me to pillage his superb library.
Posted Feb 18, 2021 11:37 by Col. Hooligan Blimp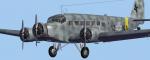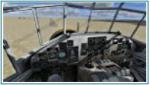 41.08Mb (504 downloads)
New livery (1ZNA) for this Junkers 52 Package, by O.Fischer. Model conversion by Bulbbulb2. Oversight and cfg editing by InDeepSchit. Repaint by Stephen Browning
Posted Feb 7, 2021 11:34 by STEPHEN BROWNING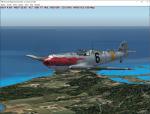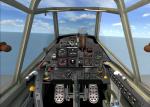 7.05Mb (346 downloads)
FSX/FS2004 Messerschmitt Bf 109T Messerschmitt Me 109T was a projected carrier version of the Me 109E model. Prior to the war, the Kriegsmarine had become fascinated with the idea of the aircraft carrier. The Graf Zeppelin carrier wasn't completed and 63 of 70 T-1s were built as T-2s without carrier equipment. These fighters were assigned to I/JG.77, deployed in Norway on landing strips which were both short and subject to frequent, powerful cross-winds. At the end of 1941 the unit was ordered to return their aircraft to Germany and received E-3s as replacements. Mdl by A.F.Scrub
Posted Feb 4, 2021 13:19 by A.F.Scrub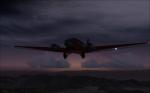 0.12Mb (277 downloads)
Lights and smoke for Bulbbulb2 and InDeepSchit's great JU52...Just copy and paste and go fly...Enjoy...A Hobbit...
Posted Jan 30, 2021 14:50 by Shawn Oaks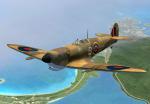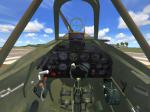 13.93Mb (400 downloads)
FSX/FS2004 Spitfire Mk VcTrop The basic Mk V was a Mk I with the Merlin 45 series engine. This engine delivered 1,440 hp (1,074 kW) at take-off, and incorporated a new single-speed single-stage supercharger design. Several Mk I and Mk II airframes were converted to Mk V standard by Supermarine and started equipping fighter units from early 1941. This MkVc is armed with 4 cannon. Model by A.F.Scrub
Posted Jan 30, 2021 13:14 by A.F.Scrub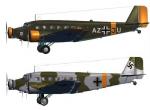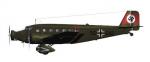 48.11Mb (693 downloads)
Three new liverys in this Junkers 52 Tri Package by O.Fischer. Model conversion by Bulbbulb2. Oversight and cfg editing by InDeepSchit. All repaints by Stephen Browning
Posted Jan 27, 2021 13:45 by Stephen Browning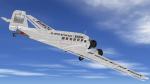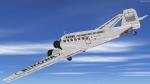 9.01Mb (595 downloads)
This is an update for the FSX/P3D native Junkers Ju 52/3M (O.Ficsher) that includes a pair of Ju-Air (Rimowa) repaints by Peter Lorimer and a model fix by SOH user vonstroheim that eliminates prop disk shadows in FSX.
Posted Jan 23, 2021 02:15 by InDeepSchit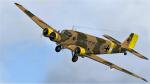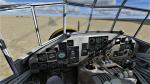 61.93Mb (1024 downloads)
FSX native version of the freeware Junkers Ju 52/3M by O.Fischer. Tested in P3Dv4.5 but should work in v5 and FSX. Included alongside the base civilian textures are a pair of Luftwaffe repaints by Hanaw Hax. Model conversion by Bulbbulb2. Oversight and cfg editing by InDeepSchit.
Posted Jan 20, 2021 02:05 by InDeepSchit & Bulbbulb2