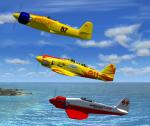 21.67Mb (276 downloads)
FSX/P3Dv3.v4.v5 Hawker Sea Fury Reno Racers The Sea Fury was retired by the majority of its military operators in the late 1950s in favour of jet-propelled aircraft, a considerable number of aircraft saw subsequent use in the civil sector, and several remain airworthy in the 21st century as heritage and racing aircraft. Many were re engined with an american engine, a four bladed prop, modified canopy and bigger spinner. Upgraded Native FSX/P3D mdls by A.F.Scrub
Posted Feb 22, 2023 09:39 by A.F.Scrub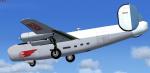 8.06Mb (475 downloads)
Built as a Liberator Mk 1 for the Royal Air Force, AM927 was involved in a landing incident, major enough for the aircraft to be returned to Consolidated for repair, and then conversion to the prototype LB-30. Retained by Consolidated, it was used to shuttle parts and executives between factories. In November 1948, AM927 was sold to the Continental Can Company as N1503 and outfitted with sleeping berths and reclining chairs to transport executives from its hometown of Morristown NJ. I have copied an old photograph of N1503 as she originally looked in service with Continental Can. In 1959 she was sold to Pemex, a Mexican oil company as XC-CAY. In 1969 the Confederate Air Force bought her, and, as N12905, she joined the Warbird circuit. Now, converted back to B-24A/LB-30B configuration, and registered as N24927, "Diamond Lil" continues to wow spectators at airshows both at home and overseas. Painted on to the Jim Nelson/Jaap de Baare/Alphasim Liberator Express model, I have also used Krzysztof Malinowski's B-24 panel as I like it better than the original. Enjoy.
Posted Feb 7, 2023 05:16 by turbodak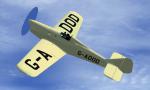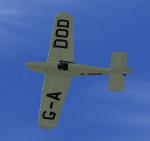 23.56Mb (256 downloads)
The only Miles M2U built, G-ADOD was ordered by Ruth Fontes with the intention of beating her brother Luis (flying M2L G-ADGP) in the 1935 King's Cup Air Race. Unfortunately, Miss Fontes turned inside a pylon during the 800 mile race and was disqualified. Returning for the 1936 race, piloted by the 1935 winner, Tommy Rose, G-ADOD came second. Then A.E. Clouston and F.E. Tasker bought the aircraft and entered her in the 1936 Schlesinger Race from Portsmouth to Johannesburg. Sadly, engine trouble forced Mr Clouston to crash land 150 miles short of the finish, wrecking the aircraft. Only the dH Gypsy Six R racing engine was salvaged. Painted on to Keith Paine's beautiful Hawk Speed Six, I have used the panel from Keith Paine's Miles Mohawk and the sounds from Derek Palmer's dH Dove. The repaint shows G-ADOD before the start of the Schlesinger Race, and, no matter what I have tried, the canopy stubbornly remains black! Enjoy.
Posted Jan 28, 2023 12:07 by turbodak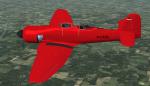 12.78Mb (270 downloads)
Built by Hawker Siddeley as a T.20, this aircraft was taken on charge by the Royal Navy as VX302 in 1950. Upon retirement in 1957, VX302 returned to Hawker Siddeley and stored until 1963 when she was allocated a new serial number, ES.3613, and converted to a target tug for Deutsche Luftfahrt-Berantungdienst. Service in Germany meant a new registration as D-CACE until retirement in 1974, when she became G-BCOV with Doug Arnold's Warbirds of Great Britain. Resprayed as VX302, she joined the UK's warbird circuit until 1985. Sold in the USA she became N613RD, and then N51SF, acquiring a Wright R3350 powerplant and a highly polished all-metal color scheme in the process, Regularly racing at Reno, a forced landing in August 2008 led to a sale to an owner in Germany, and restoration as a T.20 to flying condition, including a Bristol Centaurus 18 replacing the Wright engine. ES.3613 was also restored to her German tail number as D-CACE and has a new all red color scheme, similar to her target towing days. Painted on to A.F. Scrub's Sea Fury T.20, I have shown ES.3613 as G-BCOV as delivered from Germany in 1974, and as D-CACE as she was seen in 2020.
Posted Jan 21, 2023 04:31 by turbodak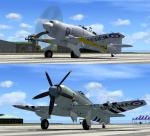 4.10Mb (376 downloads)
FSX/P3D v3,v4,v5 Hawker Sea Furies fix This corrects the propeller rotation and torque of both single-and twoseater Seafuries. Replace the model maps and aircraft.cfg with the new ones. Fix by A.F.Scrub
Posted Jan 19, 2023 10:38 by A.F.Scrub
17.22Mb (345 downloads)
FSX/P3Dv3,v4,v5 Dreadnought Dreadnought is a modified T.20 Hawker Seafury powered by the worlds largest production built piston engine, the Pratt & Whitney R-4360-63B putting out around 4000HP. Other modifications include a second oil cooler, increased vertical fin & refined canopies. Upgraded Native FSX/P3D mdl by A.F.Scrub
Posted Jan 10, 2023 10:36 by A.F.Scrub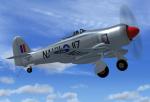 18.71Mb (577 downloads)
FSX/P3D v3,v4,v5 Hawker Sea Fury singleseater The Hawker Sea Fury is a British fighter aircraft designed and manufactured by Hawker. It was the last propeller-driven fighter to serve with the Royal Navy, and one of the fastest production single seat piston-engined aircraft ever built. Includes models with and without droptanks. Four variants.Upgraded Native FSX/P3D mdls by A.F.Scrub
Posted Jan 4, 2023 05:50 by A.F.Scrub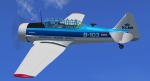 6.71Mb (483 downloads)
Licence built by Noorduyn in 1943, 14A-1459 was delivered to the RAF in April 1944 as a Harvard IIb, but was not taken on charge and returned to the US Government. It was then supplied to the Royal Netherlands Army Air Force as FT419, later becoming B-103. From August 1948, B-103 served with the Belgian Air Force/Belgische Luchtmacht until its return to the Royal Netherlands Air Force/Koninklijke Luchmacht in August 1949. After the KLu retired B-103 in 1962 as a ground instructional airframe, it went to the Anthony Fokker School in 1963 and on to the KLM Apprentice School in 1972. In 1985, a new owner moved B-103 to the Militaire Luchvaart Museum and after it was restored at Valkenberg Air Base in 1986/87 it moved to the Nationaal Militaire Museum at Soesterberg for display in false markings as Marine Luchtvaartdienst UT-6, 099/K, where she remains to this day. Painted on to J. E. Narzico's admirable T-6, I have shown B-103 as she was in her KLM colors.
Posted Jan 4, 2023 00:48 by turbodak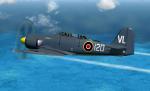 21.90Mb (597 downloads)
FSX/P3Dv3,v4,v5 Sea Fury T20 The Hawker Sea Fury T.20 was a two-seat trainer originally developed as a private venture by Hawker, adopted by the Fleet Air Arm. The first T.20 made its maiden flight on 15 January 1947. Sixty-one T.20s were built. It was withdrawn in June 1956, and twenty were cleared for export, going to Burma, Cuba and to West Germany, where they were used as target tugs as the TT.20. Upgraded Native FSX/P3D mdls by A.F.Scrub
Posted Jan 2, 2023 05:28 by A.F.Scrub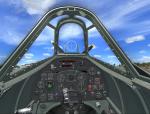 28.01Mb (565 downloads)
FSX/P3D v3,v4,v5 Seafire MkXV The Supermarine Seafire, was a naval development of the Spitfire, and was the first modern carrier based fighter used by the Royal Navy. The most important change in the Seafire Mk XV was the Griffon engine and the reinforced main undercarriage which used longer oleos and a lower rebound ratio. This went some way towards taming the deck behaviour , reduced the propensity of the propeller tips "pecking" the deck during an arrested landing and the softer oleos stopped the aircraft from occasionally bouncing over the arrestor wires and into the crash barrier. Two P3D and FSX native models by A.F.Scrub.
Posted Dec 3, 2022 12:31 by A.F.Scrub