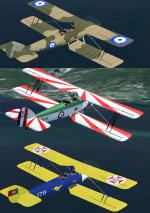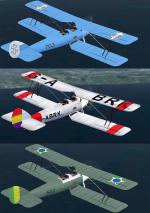 64.73Mb (1080 downloads)
This is FSX V2 upgrade of the Edward Cook's model of the Avro 621 tutor Collectors Edition Mega package. There are 19 Liveries in this package. Hellenic E72/E104. RAF 3215/3241/K6118. Cambridge and Oxford Universities Air Sq. Belgian, Brazilian, Chilean, Chinese, Czechoslovakian, Egyptian, Estonian, German, Lithuanian, N.Zealand, Portuguese and Spanish Republic Air forces. All textures are in 2048 px for higher res.with some photreal liveries(RAF).Cockpit texts are completely redone as well all metal textures with precise exterior details. Detailed VC and new photoreal 2D Panel with custom gauges.I have also added exhaust effects,new camera views and included historical info & photos as usual. By Hellenic Aircraft/Yiannis Katehis tsetsas 2018. File size:65 MB
Posted Jan 18, 2018 17:20 by YIANNIS KATEHIS TSETSAS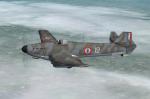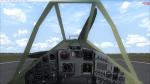 31.69Mb (975 downloads)
FSX Loire Nieuport LN401 (French answer on the German Ju-87 Stuka), another great CFS2-plane from Baldy and UncleTGT converted for FSX Acceleration. Hood slides, wings fold, tailhook goes up&down, flaps work, extra 2D-panels and acceptable VC with French gauges. Rob Barendregts Spitfire cannons and Lazarus Starkweathers "poor man's Tack-pack" give a lot of fun. Enjoy!
Posted Jan 16, 2018 17:30 by Erik Hertzberger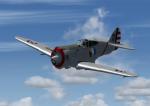 9.02Mb (1117 downloads)
FSX/P3D Curtiss P-36. The Curtiss P-36 Hawk, also known as the Curtiss Hawk Model 75, was an American designed and built fighter aircraft of the 1930s and 40s. It was one of the first of a new generation of combat aircraft—a sleek monoplane design making extensive use of metal in its construction and powered by a powerful radial engine. Obsolete at the onset of World War II the P-36 saw only limited combat with the United States Army Air Forces, but it was used more extensively by the French Air Force, both during the Battle of France and by the Vichy France armed forces, and also by the British Commonwealth . GMAX model by A.F.Scrub
Posted Jan 15, 2018 09:16 by A.F.Scrub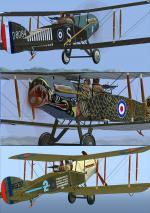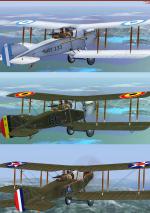 115.78Mb (1355 downloads)
This is FSX V 1.2 upgrade of the Robert Bruce model of the Bristol F2b Brisfit Collectors Edition Mega package. To start with there was no 2d panel so I made 3 of them. Normal, medium sized and Land panel. There are 15 liveries : British, Hellenic, Argentinian, Mexican, Belgian, Australian, Peruvian, Polish, Spanish, New Zealand, Irish & USA Air Forces including RAF famus Brisfish (Bristol Fish) with the fuselage painted as a giant Baracuda and 81330 of the Indian Gift Sq. presented by the Maharaja of Darbhanga as well the American Version of Dayton Wright (XB-1A) of the 13th Attack USAAF sq. All textures are in 2048 px for higher res. with many museum photreal liveries, real metal textures and precise details. The model features multiple camera views, animated pilot and gunner and an extremely detailed VC. I have also added gun Effects to the front gun for extra realism and included historical info & photos as usual. By Hellenic Aircraft/Yiannis Katehis tsetsas 2018. File size: 115 MB
Posted Jan 12, 2018 01:32 by YIANNIS KATEHIS TSETSAS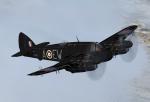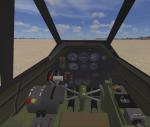 13.25Mb (991 downloads)
FSX/P3D Beaufighter_Nightfighter The Bristol Beaufighter was one of the finest multi-role combat aircraft to see service during WW2. The Beaufighter MkII was distinctive in that it used Rolls Royce Merlin Engines instead of the standard Bristol Hercules engines. A.F.Scrub
Posted Jan 10, 2018 10:19 by A.F.Scrub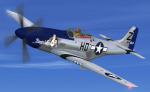 2.32Mb (356 downloads)
This is just an extra texture set for an already existing Alphasim P-51D package. Credit to ALPHASim.
Posted Jan 7, 2018 16:37 by Andre Ludick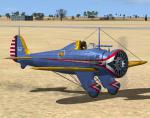 0.92Mb (305 downloads)
FSX/P3D native Boeing_Peashooter_Fix This fix corrects the rudder rotation in the FSX/P3D peashooter. Replace the model map,aircraft.cfg and panel.cfg by the new ones. Corrected by A.F.Scrub.
Posted Jan 7, 2018 14:22 by A.F.Scrub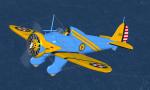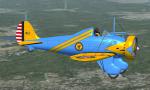 2.37Mb (604 downloads)
Textures only for A.F. Scrub's FSX/P3D native Boeing_Peashooter. Aircraft not included; requires the Boeing_P26_Peashooter.zip file. This is painted as a P-26A of 19th Pursuit Squadron/18th Pursuit Group from Wheeler Field, Hawaii in 1938. Repainted by R.E. Wyman.
Posted Jan 7, 2018 01:01 by R.E. Wyman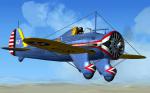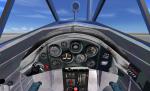 12.16Mb (1216 downloads)
This is the Boeing Peashooter, previously posted by A.F. Scrub. This update eliminates the problem of the engine not starting automatically. The package also features a new VC, which now matches the 2D panel for the most part. Thanks to A.F. Scrub for the original model, new VC design and panel configuration as well as engine start correction by Michael Pook. This is the whole aircraft.
Posted Jan 4, 2018 10:41 by Michael Pook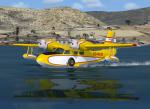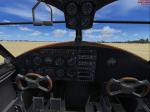 15.84Mb (1620 downloads)
FSX/P3D Grumman Widgeon The Grumman G-44 J4F Widgeon, was the "little sister" of the Grumman Goose, built in 1940. It was used as a small patrol and utility aircraft by the US Navy and the Royal Navy. The Royal Navy gave it the name "Gosling". FSX/P3D native models by A.F.Scrub
Posted Jan 4, 2018 10:20 by A.F.Scrub