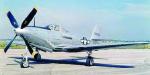 32.44Mb (1492 downloads)
This aircraft was designed to address the deficiencies of the Airacobra P-39. The P-63 was a fast plane, its performance approached that of the P-51, but as the P-51 and the P- 47 were in full production, about 2,400 of the 3,303 P-63 produced were sent to the Union Soviet under the lend-lease act. I know. UU they used it as a test aircraft and, in a single version, as a live artillery fire training for the bomber teams. This is an update for FSX / P3Dv3 of the model of Kazunori Ito. All the merits correspond to it. 2d panel but no VC. Enjoyment
Posted Jul 19, 2018 10:30 by Rodolfo Valery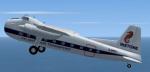 0.47Mb (388 downloads)
Update for Bristol 170 by Mike Stone for FSX. You must first download "sb170.zip" and install it into your FSX--usually at Microsoft Flight Simulator X\SimObjects\Airplanes. By Nick Tselepides.
Posted Jul 19, 2018 07:46 by Nick Tselepides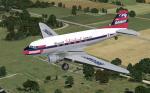 84.21Mb (211 downloads)
FSX/P3D Braniff Airways white top textures for Manfred Jahn's C-47 v3.12. Braniff textures by Gary Harper.
Posted Jul 10, 2018 22:02 by Gary Harper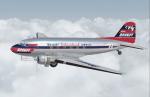 84.53Mb (265 downloads)
FSX Braniff Airways bare metal textures for Manfred Jahn's C-47 v3.12. Braniff textures by Gary Harper.
Posted Jul 10, 2018 21:58 by Gary Harper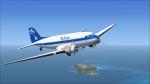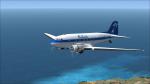 8.62Mb (205 downloads)
This is a repaint of the DC-3 in Air Antilles colors. The freeware DC-3/C-47 v3 by Manfred Jahn is needed for this repaint. Air Antilles was founded in 1954 under the name of Antilles Air Service and began scheduled services in 1957. It was renamed to Air Antilles in 1964. They operated regular services in the Carribean, especially in the French West Indies. They had flights from Pointe-a-Pitre, in Gouadeloupe, to other islands in the region, such as the Leeward Islands, French Antilles, and Montserrat . Their main aircraft was the DC-3. The airline ceased operations in 1978. This repaint was tested on FSX-SE. It should work on FSX & P3D all versions.
Posted Jul 10, 2018 01:16 by Ted Giana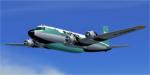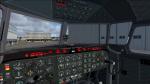 18.45Mb (1467 downloads)
The Douglas C-54 was a quad engines military transport massively used during WWII. The package contains several liveries (Sabena Qantas, SAS, etc). Original model by Jens B. Kristensen. New VC, panels and gauges by Philippe Wallaert. See instructions for installation and configuration in the readme.txt file. Credit Jens B. Kristensen for the original and spendid aircraft.
Posted Jul 4, 2018 01:47 by philippe Wallaert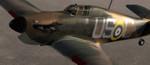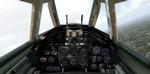 33.69Mb (3049 downloads)
Hawker Hurricane Package for FSX and P3D. Revised version of the Aeroplane Heaven GMax model converted to FSX native by A.F.Scrubb. Fixed VC and 2d panel with working gauges. Added 2 extra textures, Canada and Tankbuster. The Hawker Hurricane is a British single-seat fighter aircraft of the 1930s–1940s that was designed and predominantly built by Hawker Aircraft Ltd for the Royal Air Force (RAF). Although overshadowed by the Supermarine Spitfire, the aircraft became renowned during the Battle of Britain, accounting for 60 percent of the RAF air victories in the battle. It served in all the major theatres of the Second World War. FSX/P3D native GMAX model. Danny Garnier
Posted Jul 3, 2018 11:50 by GARNIER D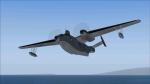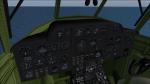 35.66Mb (1043 downloads)
Updated version of Alphasim's PBM Mariner. New VC with new gauges, and some re-texturing. Also included is a brand new 2D panel. File description and instructions are in the read me file. Enjoy!-Bob Erwin
Posted Jul 2, 2018 02:23 by Bob Erwin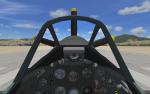 0.93Mb (633 downloads)
FSX/P3Dv3-4 Hawker Sea FuryV2_fix This removes the black rectangles when looking from the VC in elevated view for the Native FSX/P3D model by A.F.Scrub. Replace both Sea Fury_Int and SeaFuryDT_Int mdl files.
Posted Jun 28, 2018 12:00 by A.F.Scrub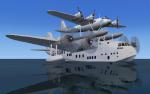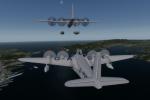 6.29Mb (864 downloads)
FS2004/FSX/Accel/P3dv3 Short MAYO Composite consisting of a flying boat and a seaplane. That strange concept was proposed to enlarge the range of a long distance postal airplane to cross the Atlantic with a non stop flight. The flying boat Short S.21 was derived from the Short S.23 Empire with the task to go airborn and to reach altitude carrying the floatplane on its back. The Short S.20 Mercury was a light 4-engine floatplane with long distance abilities. After seperation it reached after 4600 km Montreal in 20.5 hours with 272 kg payload in July 1938. In october 1938 the Mercury (without payload) mastered a world record by starting from Scotland and reaching South Africa after 9726 km in 42 hours. The original S.23 FS2004 model and also the FSX interior, the 2D panel, FDE and textures are made by Jens B. Kristensen. Panel improvements are done by Michael Pook. The conversion of the MDL to a FSDS 3D-file with reanimating all moving parts, the Mercury with its animations and the camera definitions are made by Erwin Welker
Posted Jun 26, 2018 05:11 by Erwin Welker