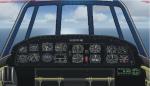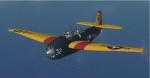 9.20Mb (646 downloads)
This is an update for FSX of the Avenger TBM 3U by A.F.Scrub. I have added a trim gauge and a fuel gauge to the panel, changed the 2D view angle, and the view zoom. I have changed the contact points to where they should be and adjusted the brakes so that it is harder to nose into the runway while braking. I also changed the position of the wing apex, the horizontal stabilizer, the vertical stabilizer, and the engine. I changed one of the beacon lights to a white nav light and changed its position a bit, and changed the other nav light numbers to 3 that were 8 so they are visible. This update contains the whole aircraft.
Posted Mar 30, 2015 20:46 by Bob Chicilo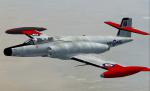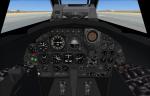 0.38Mb (838 downloads)
This is a panel fix for the Avro CF-100 Canuck. While changing some parameters in the panel.cfg, I messed it up (the turn coordinator does not fit the gauge frame). Sorry for the inconvenience!
Posted Mar 29, 2015 10:21 by Michael Pook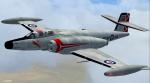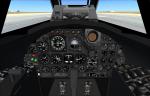 11.50Mb (1743 downloads)
The Avro Canada CF-100 Canuck (affectionately known as the "Clunk") was a Canadian jet interceptor/fighter serving during the Cold War both in NATO bases in Europe and as part of NORAD. The CF-100 was the only Canadian-designed fighter to enter mass production. For its day, the CF-100 featured a short takeoff run and high climb rate, making it well suited to its role as an interceptor. This package is an FSX update of the Alphasim FS2004 version and features FSX compatible gauges for the VC and 2D panel as well as an entirely modified and enhanced VC. It includes five additional beautiful repaints. In addition, smoke effect and thumbnails have also been added to the aircraft. Original model by Alphasim, repaints by Ed Desroches, FSX update, VC modification and smoke effect by Michael Pook.
Posted Mar 29, 2015 07:30 by Michael Pook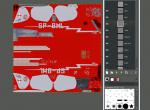 373.54Mb (204 downloads)
Paintkits for RWD-13/13S in .psd by Rob Kowalski from FlyFreeStudio.
Posted Mar 24, 2015 06:35 by Rob Kowalski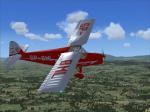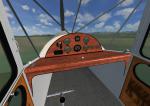 527.80Mb (3580 downloads)
The RWD-13 was a Polish three-seater sports and touring strutted high-wing monoplane of a mixed construction,designed by Stanisław Rogalski and Jerzy Drzewiecki of the RWD team in 1934.The RWD-13S was air ambulance variant with a starboard hatch for stretchers in the fuselage,modified rear doors and removed one seat.Plane has wings folded rearwards equipped with automatic slats,6 textures sets,fully animated VC ,modifiable accessories,PDF instruction (in aircraft folder) and custom external control panel. Paint Kit available in another link.Rob Kowalski from FlyFreeStudio.
Posted Mar 24, 2015 05:57 by Rob Kowalski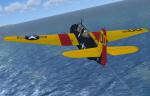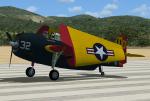 9.53Mb (1107 downloads)
FSX Grumman Avenger TBM-3U The Grumman Avenger made a major contribution to the outcome of the Second World War as a carrier-based naval aircraft. Procured in large numbers, the type saw action with Allied Forces in virtually all theatres of operation. Robust and reliable, the Avenger survived in large numbers into the post-war period and was adapted to a wide variety of uses.The -3u was a general utility and target towing variant and remained in service until the mid 1950. GMAX model, tested in FSX/FSXacceleration/Fs2004 Win7/8 by A.F.Scrub.
Posted Mar 24, 2015 04:18 by A.F.Scrub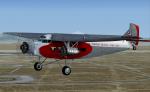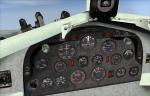 36.42Mb (2571 downloads)
This is the whole Ford Trimotor package for FSX, compiled and updated for FSX by David Grindele.The focus of this upload is on an enhanced VC, because the ugly default VC design doesn't do it justice at all and doesn't contain all the gauges a Trimotor Prop should have. So the new VC now both displays more gauges and a major improvement of the VC's appearance in general. However, the gauges added are there just for appearance and are non-functional, as the VC structure unfortunately is not set for a configuration of more functioning gauges. Also, all the textures have new thumbnails added, because the default ones don't really depict the colors of the paints in most cases. In addition, new smoke effect and camera views have been added as well. Original model by Microsoft, FSX update and texture compilation by David Grindele, new camera views by Erwin Welker and new Vc design, new thumbnails as well as smoke effect by Michael Pook.
Posted Mar 21, 2015 02:58 by Michael Pook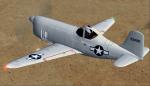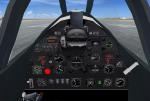 13.16Mb (970 downloads)
This is a panel update of A. F. Scrub's Bell XP-77 recently uploaded. It features both an entirely newly designed VC and 2D panel as well as new smoke effect. In addition, flying at night, the VC is now illuminated as well. Original model by A. F. Scrub, new panels, smoke effect and VC light configuration by Michael Pook.
Posted Mar 19, 2015 05:11 by Michael Pook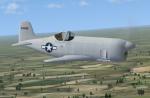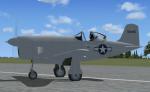 4.94Mb (805 downloads)
FSX/FSX Acceleration XP77 lightweight fighter. The Bell XP-77, was an all-wood lightweight fighter made from Sitka spruce, patterned after racers of the 1930s. The idea was initially, to produce a small, cheap, all-wood fighter built with few strategic materials . In May 1943, the USAAF decided that the XP-77 had no operational utility as a lightweight fighter and the program was cancelled. GMAX mdl by A.F.Scrub
Posted Mar 16, 2015 09:28 by A.F.Scrub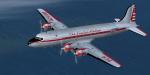 4.26Mb (237 downloads)
FS9/FSX PCA Textures for the JBK DC-4. These textures depict a PCA DC-4 in 1947.
Posted Mar 15, 2015 21:08 by Gary Harper