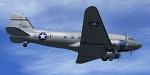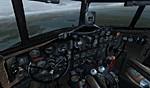 178.29Mb (7883 downloads)
FSX/FSX-SE/P3D (incl v4) Douglas C-47R (DC-3) Skytrain V3.14 Beta. With this package you have downloaded the probably long awaited update for our Douglas C-47R Skytrain V3.12 Beta edition. The main culprit of the delay happened to be the dreaded FSX bug that prevents ambient 'VCLighting' to be used with VC's that use bump-mapped textures. A lot of unforeseen new texture work was therefore at hand. Anyway, as you will soon see when you take your Skytrain/Dakota/Gooney Bird up for a first night flight, we've made it, bump- mapped textures are still there in the VVC (Vintage Virtual Cockpit) along with ambient 'VC lighting' at dusk/night/dawn. 1 - 0 for us. Models by Manfred Jahn & talented team.
Posted Feb 22, 2017 16:06 by Mike Leitz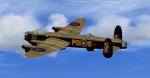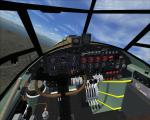 4.46Mb (646 downloads)
This texture came about due to the fact that I've built the 48th scale Tamiya kit of this plane many years back when I was still a youngster. I remember being very fond of that model, because of its sheer size. Revised textures by A. Ludick.
Posted Feb 20, 2017 23:38 by Andre Ludick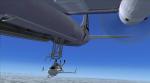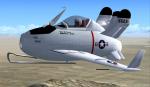 16.76Mb (1394 downloads)
FSX/Acceleration/FS2004 Package Curtiss B-36 bomber with parasite fighter McDonnell XF-85 Goblin. This package honours Kazunori Ito's great work and the incredible US concept of equipping a long range bomber with a tiny inceptor within the bombbay. The fighter, hanging on a trapez, was swang out from the bombay and after it was released it should defend the bomber far from the home base. After the fight it was proposed that the fighter returns to the bomber, connecting its hook onto the trapez. This concept was successfully tested with a B-29 but was never done with a B-36. The package contains three models: A) Kazunori Ito's original B-36 with a static XF-85 within the bombbay with animated gun turrets and bombbay. B) Erwin Welker's reworked model of Ito's B-36 with the animation of the XF-85 coming out from the bombbay and flying away. This version is just for flying because of avoiding exceeding the vertices limit of the simulator inside parts of the B-36 (gear,gun turrets and crew) are removed. This version has a VC. C)Kazunori Ito's XF-85, upgradet for FSX by Michael Pook. All original models are made by Kazunori Ito, model rework of the B-36 with the XF-85 animations and all camera definitions by Erwin Welker, all panel rework with FSX-compatible gauges by Michael Pook. Gauges by different authors. Package by Erwin Welker
Posted Feb 18, 2017 03:15 by Erwin Welker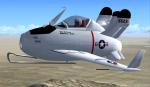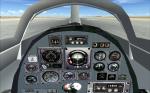 17.95Mb (1128 downloads)
The McDonnell XF-85 Goblin parasite aircraft was developed to protect B-36 bombers flying beyond the range of conventional escort fighters. In theory, a B-36 penetrating enemy territory would carry its protecting fighter in the bomb bay. If attacked by enemy aircraft, the bomber would lower the Goblin on a trapeze and release it to combat the attackers. After the enemy had been driven away, the parasite fighter would return to the bomber, hook onto the trapeze, fold its wings, and be lifted back into the bomb bay. Although the XF-85 was successfully launched and retrieved from an EB-29B on several test flights but was never flown from a B-36. The test program was canceled in late 1949s when mid-air refueling of fighter aircraft for range extension began to show greater promise. This is and FSX Update of the XF-85 by Kazunori Ito. It features a new static VC and a 2D panel with now FSX compatible gauges. I also added lights including VC light as well as smoke effect and slightly changed the flight dynamics. Original model by Kazunori Ito, all updates and static VC by Michael Pook.
Posted Feb 12, 2017 11:01 by Michael Pook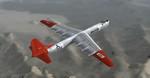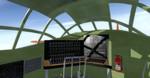 135.57Mb (2666 downloads)
FSX native B-36 Peacemaker. Built by consolidated vultee (Convair) in the late forties, The Convair B-36 Peacemaker was the largest American bomber every produced. Development of the huge plane began in 1941. The Army Air Force wanted a bomber that could fly from the United States to Europe, drop bombs, then return. The prototype first flew on August 8, 1946. The first operational models were delivered to the Strategic Air Command 1948. Included in this file are versions, A, B, D, H, and J models. The A and B versions are textured in FS9 style polished metal textures. Includes a virtual cockpit based on the b-36b cockpit, with a few updated and modern instruments, and a full gauge panel on the engineer station. custom sounds taken from scenes in the movie "strategic air command."
Posted Feb 12, 2017 10:45 by uploader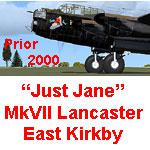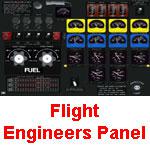 41.10Mb (2406 downloads)
This upgrade of the Plane-Design MkVII fs9 Just Jane Lancaster at East Kirkby to FSX was made possible by Jeff Lind of Sydney, Australia who had the xml skills and interest to build a working Flight Engineers Panel using all 6 Lancaster wing tanks. The documentation provides an insight into the full use of the Flight Engineers Panel. It is suggested simmers fly this aircraft in the same way as the previously uploaded BBMF Lancasters in Wide View Aspect. After all it is a precious aircraft that is treated with care in the real world so why not the sim? Additional guages and updates to existing Plane-Design gauges by Jeff Lind. Trim gauges by Ted Cook. Lancaster 2015 paint by Koos van Menen of The Netherlands with the original fs9 Plane-Design paint adjusted for FSX by Ross McLennan, Adelaide, South Australia. THIS UPLOAD MAY FUNCTION IN P3D (feedback will be gratefully accepted).
Posted Feb 5, 2017 18:40 by Ross McLennan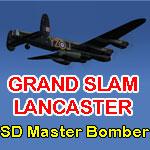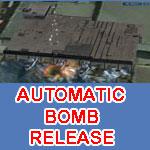 113.54Mb (1896 downloads)
MASTER BOMBING LANCASTERS for accurate high altitude attacks from 8000, 12000 and 14000 ft with the option for fully automatic release of Standard Droppable Objects. Depending on your rig, auto drops maybe less accurate than manual. Based on the 617 Squadron Grand Slam Lancasters YZ-B, YZ-J and YZ-S with bonus Lancaster "Mike Squared" and an update for a previously uploaded 617 Squadron Lancaster KC-D. The Lancasters are my usual fs9 payware by Plane-Design converted to FSX. 617 Sqd paints by Koos van Menen of The Netherlands. Manual SABS Bombsight concept and programming by RMcL. Tallboy, Grand Slam, 4000lb cookie and automation by Koos van Menen. General purpose bombs by Chris Sykes. Target objects by RMcL, KvM and Erwin Welker (Germany). Pdf documentation and instruction video in a full aircraft package by Ross McLennan. ONLY SUITABLE FOR FSX. Youtube video link: https://www.youtube.com/watch?v=1Bs6-kAs4Lg
Posted Jan 31, 2017 01:49 by Ross McLennan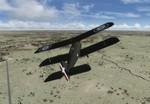 4.24Mb (631 downloads)
Basic Alpha AI SE5A model made pilotable in FSX. 2d panel only - No VC.
Posted Jan 25, 2017 16:38 by TheHawkerHurricaneMan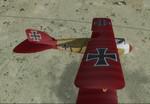 1.71Mb (762 downloads)
Basic Alpha AI Albatross Jasta made pilotable in FSX. 2d panel only - No VC.
Posted Jan 25, 2017 16:32 by TheHawkerHurricaneMan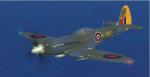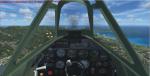 15.53Mb (941 downloads)
This is an update for FSX of the Seafire F46 by A. F. Scrub. I have added a trim gauge and a nav/GPS switch to the panel and centered the gun sight on the VC for the guns effects using the views section in the aircraft.cfg file. I changed the size and position of the GPS and made the radios bigger and easier to see. I corrected the contact points and the engine position, etc.; and updated the flight dynamics. I took out the off-set invisible drop tank that gave it a built in right turn. This update includes the under wing texture fix. Done in FSX, may not work in FS9.
Posted Jan 13, 2017 12:54 by Bob Chicilo