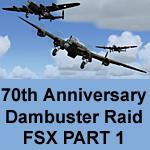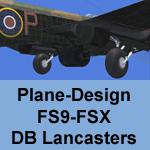 96.53Mb (3205 downloads)
With the permission of the Chief Designer at Plane-Design (Ed Walters) allowing the use of his FS9 payware DB Lancasters updated for FSX, we present this 1st upload of our 70th Anniversary Celebration on the day RAF Bomber Command crews began assembling at Scampton, 21 March 1943. All Lancaster paints except for AJG are by Koos van Menen of The Netherlands. The Howden and Derwent Dam Reservoir walls and towers are by John Young positioned for both default and VFR scenery options. Specific RAF Scampton and RAF Spilsby airfield overlays are provided. Prop and aircraft textures in dds format by Ross McLennan. Keith Clifford's FS98 airfile modified to suit the Plane Design model and reflect Merlin 28 Engines is again used. For this project, nine Plane-Design flyable payware Dambuster Lancasters (4 in this upload) have been tuned to perform as Ai's. Segmented saved flights cover the seven week training period leading up to the raid. The simmer, provided his/her system will play FSX Ai's, can fly in formation with the Ai's out of Scampton and can return with them, land and taxi to active H parking. An alternative aircraft option is available for those simmers that only fly in the VC. PDF Manuals describe the use of the Operational ready aircraft and provide the history of the Raid as presented in this package. The final part of this Celerbration covering THE RAID on the Moehne and Eder Dams will be uploaded on 1 May 2013. To fly in FSX WIDE VIEW ASPECT you will need to DOWNLOAD THE SEPARATE UPDATE PACKAGE for this Part so as to CONVERT THE FLYABLE AIRCRAFT FOR PURPOSE (file name DB70_WVA_Update1.zip). The flyable aircraft are full FSX versions packaged by Ross McLennan and Koos van Menen.
Posted Mar 20, 2013 20:55 by Ross McLennan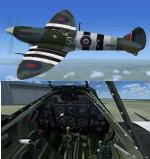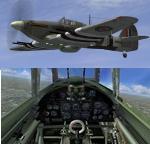 47.17Mb (13377 downloads)
Aeroplane Heaven Spitfire MkIX and Hurricane MkIIC Tankbuster both in D Day markings. Spitfire textures by John Glanville, Hurricane Repaint by Stephen Browning. I have used John Glanville freeware textures and reworked them to fit this Spitfire model. Gun effects press ( i ) I have also changed the sound file. This package is for FSX Acceleration but should work in FSX standard if the glass or prop dont work in FSX then change the glass and prop textures supplied. Packaged By Stephen Browning
Posted Mar 14, 2013 10:20 by Stephen Browning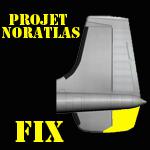 10.33Mb (2232 downloads)
If you have run "Projet Noratlas Upgrade 2.exe", maybe you have noticed that bottom rudders don't move with the upper parts. This fix resolves this problem.
Posted Mar 13, 2013 13:26 by Jean-Francois Martin & Gilbert Millas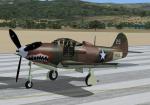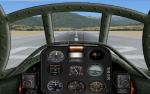 61.09Mb (4253 downloads)
FSX Acceleration Bell P39 Airacobra When the United States entered World War II, the Bell P-39 was its primary fighter plane. By war's end, nearly 10,000 had been produced in nearly 48 variants, making the 'Airacobra' one of Bell's most successful aircraft ever. Original CFS2 freeware model by SimTech. Upgraded to FS2004/FSX Acceleration by A.F.Scrub.(Works in FSX Standard edition with loss of canopy transparancies)
Posted Mar 12, 2013 12:10 by A.F.Scrub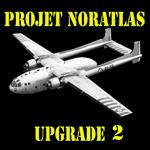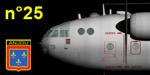 66.79Mb (4365 downloads)
This second upgrade fixes some problems,provides a new Painkit, new contact points and the repaint for a Noratlas at the end of the Indochina War You must have Projet Noratlas BasePack installed
Posted Mar 10, 2013 13:00 by Jean-Francois Martin & Gilbert Millas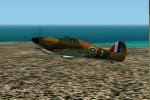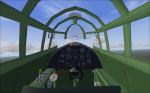 47.53Mb (1408 downloads)
Thicko's great CFS2 Hurricane-pack, now updated for FSX Acceleration. All credits are for him! Six models, eight liveries, acceptable VC (all gauges included) and gun-effects for fun. Enjoy!
Posted Mar 9, 2013 12:02 by erik hertzberger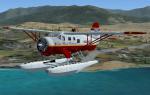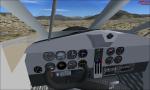 3.31Mb (1556 downloads)
FSX Noorduyn Norseman on floats The Noorduyn Norseman was built from 1935 until 1959. They have been used all over the world in both civil and military roles. Includes 3 paint schemes, Canadian, USAF and Bush Flying Unlimited. Original model by Brian Gladden. Upgrade to FsX (tested in FS2004/FSX/FsxAcceleration, Windows7) by A.F.Scrub
Posted Mar 8, 2013 03:33 by A.F.Scrub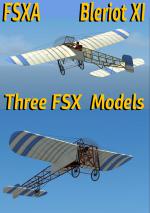 26.12Mb (3250 downloads)
FSX Bleriot XI complete package.This is a complete colection of Jean-Michel Castagne's XI Newest FSX superb models.There are three diferent FSX models,the original XI(fuel tank in rear 24 Hp Anzani ),the Chavez(with double back skid and engine cowling 50 HP Gnome) and the Mapica type(with back weel and fuel tanks in front 25 HP Anazni) and three Liveries of the Royal Hellenic Army Air Service.Light blue/white markings and the roundel type.The V.C. and panel instruments are new for FSX Acceleration with hand held Altimeter,clock e.t.c./Two diferent engine sounds.The Bleriot was among the the first aircraft in Greece.The First Hellenic aviation casualty was Alexandros Karamanlakis,a jurnalist and pilot when his Bleriot XXI monoplane fell in to the sea on August 27 1912 and drowned.Textures and repacking for FSX by Hellenic Aircraft/Yiannis Katehis Tsetsas.
Posted Mar 2, 2013 11:01 by YIANNIS KATEHIS TSETSAS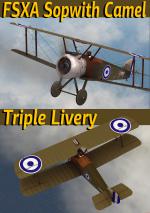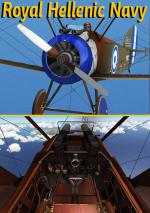 48.53Mb (4704 downloads)
FSX RHNAS Sopwith Camel Triple Livery package. This is the new Acceleration model by Graig Richardson & Matt Ivey with high gloss metal surfaces animated machine gun fire and pilot, full virtual cockpit,2d panel and custom sound.Effect and gun sound files as well as historical info and photos of the period are included. The Hellenic Naval Air Service(NAY) had used the Camel from 1917-1923. It saw a lot of action during the Greeco-Turkish War in the Asian Minor Campain and as many as 24 F.1 Camels where used until the end of the conflict.The "Z" Squadron at Smirni had at least 15 F.1's.There are three Repaints in the package of #B6338/7270 and #1967 that was handed over by the British command to RHNAS.Repaint By Hellenic Aircraft/Yiannis Katehis Tsetsas.
Posted Feb 28, 2013 06:44 by YIANNIS KATEHIS TSETSAS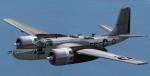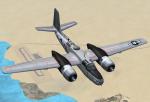 0.78Mb (994 downloads)
Textures ONLY for the Sim OutHouse Douglas A-26 Invader. This painting represents the A-26B as painted in the Airfix plastic model. Model & Base textures by SOH. Textures AIRFIX by Enrique Medal.
Posted Feb 25, 2013 16:59 by Enrique Medal