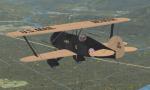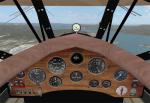 44.86Mb (2311 downloads)
The package includes the Golden Age Simulations CTO models represented as the Northwest Airways WACO fleet being operated as an airmail service in 1929-1936. The staff consists of a historical fleet (in two configurations - with or without engine jacket and landing gear pants), powered by 330 hp Wright R-975E engine and a pack of two airworthy survivors with 365 hp R-975E-1. Apart the original models and basic texture the package also includes all necessary liveries and two new VC panels. Paints and modifications by Vladimir Gonchar
Posted Nov 26, 2012 22:06 by Vladimir Gonchar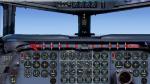 6.57Mb (5009 downloads)
The Douglas DC-7C is one of the last piston engine transport aircraft built before the Boeing 707 and Douglas DC-8. First flight in 1953, 338 aircrafts have been built until 1958. Original model by Tom Gibson and Harry Follas. Adaptation to FSX and wide screen 2d panel by Philippe Wallaert. (No VC). See instructions for installation in the readme.txt file. Credits: Tom Gibson and Harry Follas for the original model. Nice flights!
Posted Nov 25, 2012 05:32 by Philippe Wallaert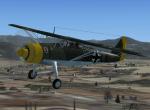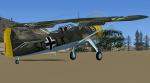 4.05Mb (2194 downloads)
FSX/FS2004 Henschel HS126 The Henschel Hs 126 was a German two-seat reconnaissance and observation aircraft of World War II.The Hs 126 was well received for its good short takeoff and low-speed characteristics which were needed at the time. It was one of the most important aircraft in the early years of the war as a short-range reconnaissance aircraft, but was soon superseded by the general-purpose, STOL Fieseler Fi 156 Storch and the medium-range Focke-Wulf Fw 189. GMAX mdl by A.F.Scrub
Posted Nov 24, 2012 10:55 by A.F.Scrub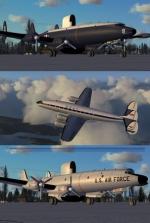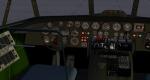 60.50Mb (7502 downloads)
Lockheed Constellation for FSX Alphasim FS9 Lockheed Constellation set modified for FSX with added gauges into the VC and 2d panel. Multi liveries and models: Lufthansa, BOAC, TWA, USAF EC-121R, US Navy EC121K Warning Star, USAF RC121D Warning Star. This is an old FS9 model with simple VC but it is still a nice model to fly and to look at. Modified for FSX by Danny Garnier
Posted Nov 22, 2012 14:13 by Garnier D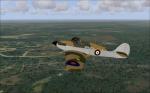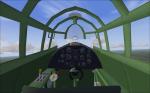 7.45Mb (799 downloads)
Hawker Hurricane Mk.Ia, 46 squadron, Bardufoss, Norway, 1940. Original CFS2 model by Thicko, new Bardufoss-textures by Pombee, now updated for FSX. Full working VC, all necessary gauges included. Gun-effects for fun. Enjoy!
Posted Nov 21, 2012 13:01 by erik hertzberger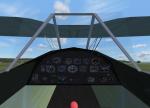 0.76Mb (608 downloads)
FSX/FS2004 Henschel Hs 123 Biplane Gauges fix .These are the missing bf109e gauges as used in the Hs 123. Just unzip them into your flightsim\gauges folder. Fix by A.F.Scrub
Posted Nov 14, 2012 17:19 by A.F.Scrub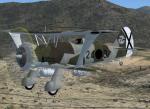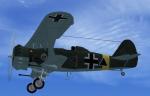 8.74Mb (1889 downloads)
FSX/FS2004 Henschel Hs 123 Biplane The Henschel Hs 123 was a single-seat biplane dive bomber and close-support attack aircraft flown by the German Luftwaffe during the Spanish Civil War and from 1939 to 1944 in WW2. Although an obsolete design, it continued to see front-line service until 1944, and was only withdrawn due a lack of spare parts to keep the aircraft operational. Two fighter bombers and one tank buster version are included. All GMAX mdls by A.F.Scrub
Posted Nov 13, 2012 15:04 by A.F.Scrub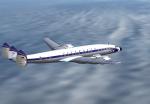 4.12Mb (777 downloads)
FSX/FS9 L-1649 Model by Manfred Jahn. Lufthansa textures by Gary Harper.
Posted Nov 11, 2012 21:46 by Gary Harper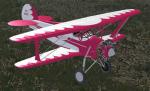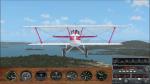 0.14Mb (477 downloads)
The fix adds a normal monitor panel option and includes a corrected panel.cfg file for the previously sent wide-monitor panel (it makes visible ADF gauge at mini-panel).
Posted Nov 7, 2012 17:21 by Vladimi Gonchar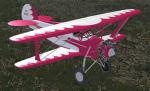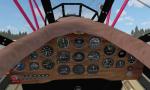 20.33Mb (1576 downloads)
Another "what if" concept for the brilliant Golden Age Simulations WACO ATO Taperwing. It's cooked of the real WACO ATO registration and serial numbers (NC8576 and A-85, real story unknown), fictional livery and a a Wright R-975-E-1 Whirlpool engine simulation. With its 365 hp and IFR capabitity the plane is a good staff for air racing and traveling. To make the plane operations more realistic the aircraft file was edited to provide the engine with supercharging capability (as the real R-975 has) which makes you follow operating limits not to loose the engine. Apart the original model and basic texture the package also includes a brand new VC panel. The used sound is a default FS9 Trimotor sound pack. VC panel, livery and corrected dynamitcs by Vladimir Gonchar
Posted Nov 7, 2012 03:47 by Vladimir Gonchar