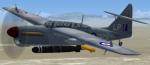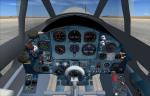 7.83Mb (1494 downloads)
The Fairey Barracuda was a World War II British carrier-borne torpedo and dive bomber. The model features FSX compatible gauges and added smoke effects. Configuration by Michael Pook
Posted Sep 24, 2013 17:07 by Michael Pook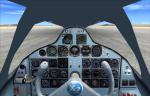 14.49Mb (3151 downloads)
FSX update for Kazunori Ito's Douglas X3 Stiletto. The package of this awesome aircraft just features a replacement for the FSX incompatible gauges with compatible ones.
Posted Sep 22, 2013 02:39 by Michael Pook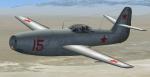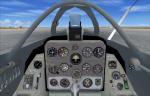 10.87Mb (2101 downloads)
FSX update for Kazunori Ito's Yak 23 Flora. This package features a re-modelled VC and FSX compatible gauges of the VC and 2D panel.
Posted Sep 21, 2013 13:03 by Michael Pook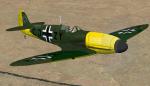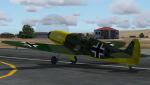 21.45Mb (1539 downloads)
FSX/FS2004 Spitfire Mk v Daimler Benz Spitfire Vb serial EN830 / NX-X fell into German hands late in 1942. It crash landed on November 18th 1942 and was captured in good enough condition to be flown in November 1943, with black crosses in place of RAF roundels, to Rechlin for testing. After the Merlin engine was removed, it was discovered that the Spitfire's front fuselage cross-section was very close to that of the standard Bf.110G's engine cowling. A new engine support was designed, and a standard DB 605A-1 engine was mounted to the firewall. Performance was found to be much better than the Standard MkV and Bf109F.Tested in FS2004/FSX /FSXacceleration.GMAX mdl by A.F.Scrub
Posted Sep 21, 2013 05:02 by A.F.Scrub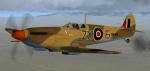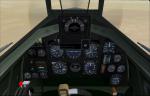 22.26Mb (5741 downloads)
This an FSX upate of the Alphasim Spitfire Mk.VIII & Mk.IX. It features a new VC and 2D panel configuration. I thought it was worthwhile up- dating this beautiful Alphasim model. This is the whole package.
Posted Sep 19, 2013 12:47 by Michael Pook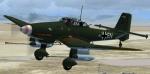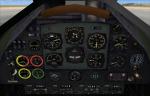 9.24Mb (4515 downloads)
This is an FSX update for the Alphasim Ju-87. It features a new VC and 2D configuration. Configuration by Michael Pook. This is the whole package.
Posted Sep 19, 2013 10:40 by Michael Pook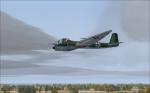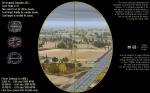 28.67Mb (3498 downloads)
Junkers Ju-188E for FSX-Acceleration. Original CFS3/CFS2 model by Krzysztof Malinowski and Jay McDaniel, so all credits are for them! Full working VC, 2D-panel with extra's (working bombsight, minipanel, etc.). All necessary gauges included, also better air.-file. Enjoy!
Posted Sep 19, 2013 10:24 by erik hertzberger
27.49Mb (2207 downloads)
The Short Shetland was a very large flying boat intended to replace the iconic Sunderland for long range patrols. Two prototypes were built and it first flew in late 1944. No use was found for the project because of the imminent war's end and the patrol requirements being met with long range land based aircraft. This is a native FSX Acceleration project with the usual attributes. The VC is based on a photo. By Paul Clawson
Posted Sep 14, 2013 16:51 by Paul Clawson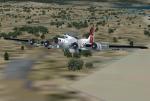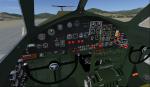 5.29Mb (8679 downloads)
FSX Acceleration B17G Flying Fortress The B-17 received the name "Flying Fortress" from a Seattle reporter who commented on its defensive firepower. The B-17 underwent a number of improvements over its 10-year production span. Models ranged from the YB-17 to the B-17-G model. Throughout the War, the B-17 was refined and improved as battle experience showed the Boeing designers where improvements could be made. The final B-17 production model, the B-17G, was produced in larger quantities (8,680) than any previous model and is considered the definitive "Flying Fort." Original mdl by Gary Herbert, textures by John Terrell. Upgraded to FSX acceleration (in FSX normal you lose glass textures)... Mods by A.F.Scrub.
Posted Sep 13, 2013 11:44 by A.F.Scrub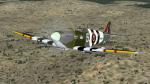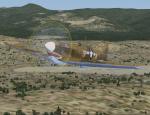 15.11Mb (2965 downloads)
FSX/FS2004 Spitfire Mk Vb and Mk VcTrop The basic Mk V was a Mk I with the Merlin 45 series engine. This engine delivered 1,440 hp (1,074 kW) at take-off, and incorporated a new single-speed single-stage supercharger design. Several Mk I and Mk II airframes were converted to Mk V standard by Supermarine and started equipping fighter units from early 1941. With the advent of the superb Focke Wulf Fw 190 in August 1941 the Spitfire was for the first time truly outclassed,hastening the development of the "interim" Mk IX. In an effort to counter this threat, especially at lower altitudes, the VB was the first production version of the Spitfire to use "clipped" wingtips as an option, reducing the wingspan to 32 ft 2 in (9.8 m).The clipped wings increased the roll rate and airspeed at lower altitudes. Tested in FS2004/FSX/FSXacceleration. GMAX model by A.F.Scrub
Posted Sep 7, 2013 14:54 by A.F.Scrub