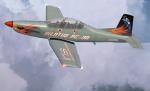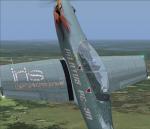 13.55Mb (1074 downloads)
Repaint for IRIS Pilatus PC-9A.the IRIS Pilatus PC-9 Was payware product, very nice FSX native airplane and big gift from IRIS to be freeware now. In this Pack include exterior textures, new glass virtual cockpit and some new bump maps.
Posted Nov 10, 2011 11:00 by Hani Michal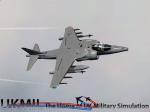 0.30Mb (5718 downloads)
A patch that will improve frame rates when using the UKMIL FSX Harrier.
Posted Nov 10, 2011 07:14 by UKMIL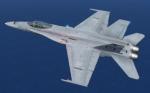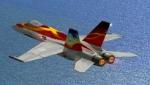 0.11Mb (1947 downloads)
Original views reworked and additionnal views ( defined by camera definitions in the aircraft.cfg file ) for the beautiful Boeing F/A-18A Hornet by Microsoft available only in the Acceleration expansion Pack. 8 cameras pointing at the aircraft and a total of 3 views in the 3D cockpit. See Read me.txt file for very easy installation procedures. Also included is a text file that contains the new camera definitions. And finally two more files - Available.pdf and Top 20.pdf for informations about my "camera definitions" packages.
Posted Nov 9, 2011 17:38 by Marc Renaud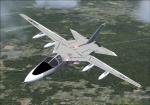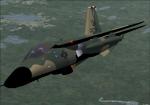 45.93Mb (10096 downloads)
Version 1.9.6 This updated fixes the Wing Sweep Indicator problem with Version 1.9.5 Package includes the following aircraft based on Mike Stone's F-111s: EF-111A, TFX-111A, TFX FB-111A, F-111C, F-111E, F-111F, F-111G, and FB-111A. Working Aircraft Features include: No VC - but - Pilot and WSO VFR & IFR panels, Terrain Following RADAR for autopilot, Terrain Followinf RADAR Scope Display, Attack RADAR Scope Display, Threat Warning Scope Display, Inertial Navigation Display, Fuel Dump with Dump & Burn effect, 3D Landing Lights that turn off with gear retraction, Many Custom Gauges. Additional Features; Custom repaint textures for all aircraft, Addtional Camera Views, Custom Afterburnner Effect.
Posted Nov 6, 2011 09:33 by Steve Hess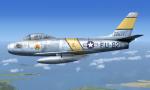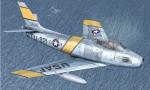 3.14Mb (1354 downloads)
Textures only for Kirk Olsson's F-86 Sabre. This is painted in the markings of Korean War fighter ace Major Frederick 'Boots' Blesse. Requires the Gmax F-86 Sabre Package updated by Nor-Cal Prop Club. Repainted by R.E. Wyman.
Posted Oct 28, 2011 00:54 by R.E. Wyman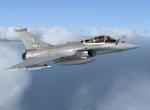 6.46Mb (2165 downloads)
Dassault Rafale M of 12F Flotille Aeronavale, based at BAN Landivisiau, France, in Autumn 2005. The tail decoration was to commemorate this aircraft's 1000th flight hour. For use with the Rafale M by Bruno Thors Hammer Merelle. Repaint by Frank Safranek.
Posted Oct 27, 2011 19:32 by Frank Safranek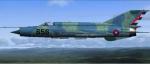 5.11Mb (1144 downloads)
Textures only for Ivan Jurcaga's FSX MiG-21MF. Represents MiG-21 serial 665 of the Cuban air force. This one has a blue/seafoam green camo.
Posted Oct 24, 2011 08:48 by Owen Fentimen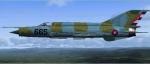 5.03Mb (597 downloads)
Textures only for Ivan Jurcaga's FSX MiG-21MF. Represents MiG-21 serial 665, which sports an exotic blue/green camo pattern.
Posted Oct 23, 2011 06:17 by Owen Fentimen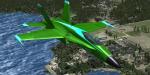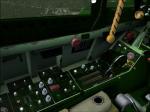 14.09Mb (1702 downloads)
FSX Acceleration FA 18 fictional 'Emerald Striker' textures. This is one of the default textures slightly altered to make it a chromeish green with chrome sky blue. It includes a repainted 3D virtual cockpit with new cockpit lights and new afterburner and light effects.
Posted Oct 20, 2011 18:00 by Club508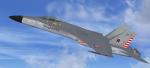 4.53Mb (1861 downloads)
Flashback 1978. The McDonnell-Douglas F/A-18 is selected as the new standard fighter for the RCAF and RCN... 3 repaints for the MSFSX Acceleration F/A-18 Hornet, in the markings of VX-10, VF-870 and VF-871, Royal Canadian Navy.
Posted Oct 10, 2011 13:54 by Lazarus Starkweather