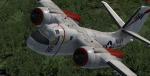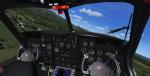 42.36Mb (17603 downloads)
Functional VC model included; Package includes one aircraft with two beautifully crafted exterior liveries, a great flight model, authentic custom radial sounds, and custom panels with aircraft specific gauges, and easy-to-read clickable virtual cockpits. FSX native upgrade by Eagle Rotorcraft Simulations This aircraft release is one of 7 aircraft in a series that will be released. FSX Only. DirectX 10 compatible.
Posted Aug 1, 2012 02:23 by Milton Shupe, George Arana, Brandon Filer, Sim-Outhouse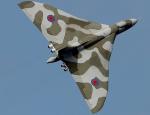 13.90Mb (11747 downloads)
The last Vulcan flying XH558. This is newly painted fully camouflaged no missing textures. Original model by Phoenix Design. Adaptation to FSX, textures, photorealistic 2d panel (but no VC) including GPWS callouts by Philippe Wallaert. I've added smoke affect just press "i" .Repainted by Stephen Browning
Posted Jul 30, 2012 16:06 by Stephen Browning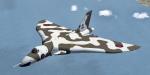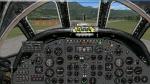 7.42Mb (4877 downloads)
This aircraft is a legend! XH558 is the last Avro Vulcan bomber still flying. This is due to the great job of the "Vulcan to the Sky" club and this realisation is dedicated to them. Original model by Phoenix Design. Adaptation to FSX, textures, photorealistic panel (no VC) including GPWS callouts by Philippe Wallaert. See instructions for installation and configuration in the readme.txt file. Credits: Phoenix Design for the original model. Enjoy!
Posted Jul 25, 2012 02:49 by Philippe Wallaert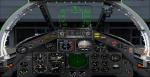 23.10Mb (5822 downloads)
I updated Kazunori Ito's FS2004/2002 BAC TSR.2 by replacing the panel with Henry Kelsall's TSR2 panel that I re gauged with FSX gauges. I also added HJG's Concorde Rolls Royce Olympus sound set, Rob Barendregt & Doug Dawson's Sonic Boom and afterburner effects. 2d panel but no VC panel.
Posted Jul 19, 2012 05:05 by Michael E. Roberts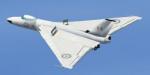 12.86Mb (2903 downloads)
Avro Vulcan B.1 VX770. Visual model only (no panel - just with the default 737 panel). Default sounds. No VC. Slightly updated from the original Doug Sleigh version. Source file included (FSDS FSC file) in case anyone wished to develop this model.
Posted Jul 13, 2012 04:51 by Jarod Edwards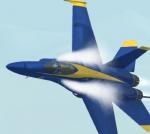 84.31Mb (23938 downloads)
This add-on is an updated version of the FSX: Acceleration F/A-18 Hornet used by the FSX Blue Angels. USER MUST ALREADY HAVE THE FSX: ACCELERATION F/A-18 HORNET FOR THIS DOWNLOAD TO WORK! Changes have been made to the aircraft based on the real F/A-18 Hornet Manual (NATOPS) and talking to real-life F/A-18 Pilots to provide a very stable, fun aircraft to fly. The download includes both multiplayer friendly versions (MULTIPLAYER or "MP"), and high effects versions (EFFECTS or "FX"). The package also gives the user the option to install just the single seater F/A-18 or both the single and two seater F/A-18 (You must also have the Captainsim F/A18 for the 2 seater to work). A few of the changes/enhancements include: Flight Handling changes include: -Completely rework aircraft.cfg and .air file for more accurate flight characteristics. -Pitch Auto Trim System that automatically trims the aircraft during flight (per NATOPS) -New Auto Flap System(per NATOPS) -New Auto Rudder System(per NATOPS) -Auto Throttle System (ATC)(per NATOPS) -Updated brakes and anti-skid system- no more spinouts on landing rollout! -G Limiter (per NATOPS) -Roll Limiter (per NATOPS) -Takeoff Trim System for both land-based and carrier-based takeoffs New Avionics Include: -Updated/Combat HUD (From Scott Printz & Jivko Rusev) -Carrier Trap Gauge and Refueling Gauges (From SLUDGE Hornet) -Status and Data Gauges Visual Effects Include: -Leading Edge Extension Vapor Effects (From SLUDGE Hornet) -New Afterburner Effects -New Engine Smoke Effects (From SLUDGE Hornet) -New Landing Gear Angle of Attack (AOA) Lights (From SLUDGE Hornet) New Audio Effects Include: -Updated Betty warnings and advisories -Updated Engine Sounds (From Doug Dawson) -Updated High G Sounds Over 25 new, high-detail textures included (From Ray "Svicar" Gagnon, JJ "Micro" Guerra & FSX Fleet) Aircraft has been made with low lag in mind and is good for multiplayer use. Detailed Manual included highlighting all add-on/changes/enhancements made to the FSXBA F/A-18 Hornet.
Posted Jul 11, 2012 14:00 by Justin "Jimi" Hendrix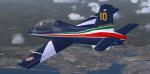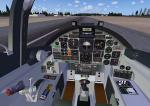 15.96Mb (13671 downloads)
This model is a complete rework of the original MB-339A PAN (Pattuglia Acrobatica Nazionale) released some years ago with an improved visual model, and virtual cockpit. This new version of the model contains textures for a standard example of "Frecce Tricolori", the acrobatic military Italian team, with added 10 different fuselage textures to choose from to make a personalized tail code example in the team. Visual Model, textures and revised Flight Dynamics by Massimo Taccoli. Original panel and Gauges by Paolo Zamparo, Sound files with permission of Aaron R. Swindle.
Posted Jul 6, 2012 05:53 by massimo Taccoli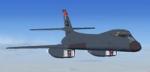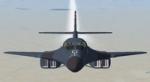 0.10Mb (3283 downloads)
2 set of views ( defined by camera definitions in the aircraft.cfg file ) for the beautiful Rockwell B-1B Lancer by Alpha Simulations ( now Virtavia ). First set is my usual views ( same level ). Second set places cameras at a higher level. Up to 11 cameras pointing at the aircraft, total of 4 views in the virtual cockpit. See Read me.txt file for very easy installation procedures. And finally two more files - Available.pdf and Top 20.pdf for informations about my "camera definitions" packages.
Posted Jul 5, 2012 23:24 by Marc Renaud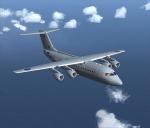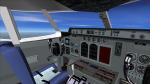 5.82Mb (10056 downloads)
Complete package for FSX. This model represents ZE708, one of two refurbished BAE 146-200's purchased by the Royal Air Force in April 2012 to supplement the transport capability of the RAF. The aircraft was originally manufactured in 1991 and passed through the hands of several airlines until 2012 when it was refurbished by BAE Systems and converted to military configuration. Package includes custom panel and VC Model, panels & FD by Premier Aircraft Design. RAF paint by Stephanie Lawton.
Posted Jun 26, 2012 10:56 by Bob May (PAD)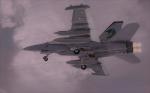 3.93Mb (1169 downloads)
Enclosed is a FSXTipline repaint showing the 2012 VAQ-130 Zappers CAG scheme of the Team KBT Growler. Special thanks to TwoBobs Decals & VAQ-130 Zappers. Work by Josef A. Kunzlar of FSXTipline.blogspot.com.
Posted Jun 25, 2012 05:52 by Josef A. Kunzlar of FSXTipline