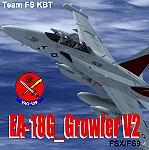 6.63Mb (5447 downloads)
EA-18G_Growler V2. Parts of the VAQ-129 specification were added to the version that had been released the other day. Moreover, the trouble of the propeller that had adhered to Pod was suppressed to the minimum, and it dealt by the undeletion. Light reflection was added. Requires the basic KBT FA/18E FSX Package and the Team KBT Update above. By Team KBT.
Posted Jun 15, 2010 05:35 by Team KBT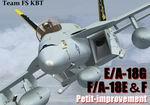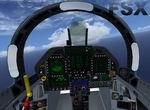 5.44Mb (11525 downloads)
Team FS KBT FA-18E,F and EA-18G FSX Update. The team has improved FA18 a little. It is not an entire version that has already been released. The flicker of black VC view and a part of texture etc. by FSX have been improved though it is limited models. It roughly suits fsx.
Posted Jun 9, 2010 10:10 by Team KBT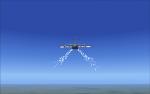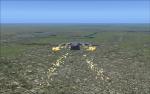 2.85Mb (3035 downloads)
This is the C-17 flare effect. It will work in FSX and FS9 I have done my best to make it look as realistic as possible without the effect totaly screwing up in FS9/FSX(no flares coming out). this is for any Boeing C-17 but i have put a link below which will navigate you to a Boeing C-17. by Claudio Pizzirani link to the C-17"""""
Posted Jun 3, 2010 06:57 by Claudio Pizzirani
0.34Mb (2427 downloads)
This package includes Ricardo Batalha's aircraft,cfg adjusted for smoother flight, little or no bounce while landing below 150 knots, and also to mach specifications at 30000 feet. Ricardo Batlaha's freeware Mig21 gauge is included so that the higher air speeds can be read (otherwise use Shift + Z).
Posted May 31, 2010 13:30 by Dana Eng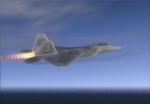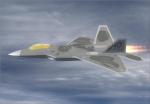 13.00Mb (14262 downloads)
Made by Ricardo Batalha aka youdontknowxpand This is a beta version of my F-22A that is still under development. Some bugs are still present, there are no gauges with the exception of a HUD, a lot of tweaking is needed yet. Flight dynamics need to be corrected to eliminate any strange behaviour in flight. There are also many other XML animations and details that need to be added. It will be a freeware. Time of release: unknown Made with gmax/FS9 SDK; Tested with FSX acceleration and ENB series. This pack includes the afterburner and G vapor effects, three paintschemes (First Fighter Wing, Ace Combat 4 Mobius 1 and a fictional black texture), the model, sound and a simple HUD panel. It also includes an early repaint file. This doesn't mean the final texture file will be the same as the beta version.
Posted May 22, 2010 08:17 by Ricardo Batalha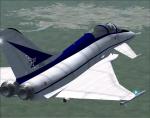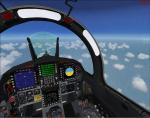 123.32Mb (26783 downloads)
Freeware release of the Iris Simulations E.A.P Package adapted to work in FSX. Includes VC (virtual cockpit), and 3 Versions of this jet: Cyclone ES2A, Tempest F2, and the BRITISH AEROSPACE E.A.P. Mach 2+ at FL250 ft. And Cruise Mach 1.45(512 Kias) at FL360. All credit goes to Iris Simulations for this aircraft file! And a big thanks to them!!Please note that this product is freeware and no longer supported by IRIS Flight Simulation Software. Furthermore this aircraft is no longer indicative of the quality of our commercial products.
Posted May 20, 2010 19:38 by T. Marson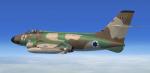 4.76Mb (1714 downloads)
This is a variant (model and texture) of the "Vautour" used by the Israeli Air Force with the 101 Squadron during the Six Days War. For this model you will need VIIN FSX V2.zip By Philippe Penot
Posted May 17, 2010 12:45 by Philippe PENOT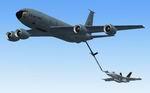 12.64Mb (26839 downloads)
FSX US Navy Boeing KC-135T Drogue Tanker. This is a KC-135 tanker with navy drogue that was adapted for use in FSX. The original FS2004 KC-135T aircraft textures/model from Rok Dolenec was combined with the FSX-ready tanker gauges from Bob Chicilo (for Mike Stone's KC-135 Tanker) to make this useable and flyable within FSX. The tanker gauges include: 2d panel clickable buttons. No VC!, B737 style radio stack, GPS9, throttle quadrant, and autopilot panel. There is also an AI traffic flight plan included within the package that has the KC-135T flight plan: Depart KSAN-KLAS, 1900L Pacific, cruise at FL230/.63 mach (within USAF tanker standards). Return leg departs KLAS-KSAN, 2040L Pacific, FL240/.64 mach. By Christian Snow. (Note: No VC)
Posted May 15, 2010 04:19 by Brandon E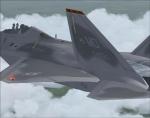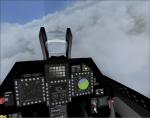 53.41Mb (32591 downloads)
Freeware release of the Iris Simulations YF-22A Lightning II adapted to work in FSX. Updated effects, and panel. Includes VC. All credit goes to Iris Simulations for this aircraft file! And a big thanks to them for thier their generosity!!! Information on flying this aircraft if available may be found on the Flight SimulatorIRIS Manuals. Please note that this product is freeware and no longer supported by IRIS Flight Simulation Software.
Posted May 13, 2010 22:38 by T. Marson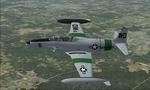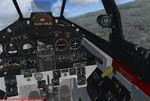 37.95Mb (12798 downloads)
USMC T-33B for FSX . This is a rework of Tim Conrad's T-33A for FSX. Includes new airfile, new cfg and new sounds. The main texture bitmap for the outside has been resized. The USN/USMC operated the T-33 until 1976. The original designation for the USN T-33's was the TO-2, and then changed to TV-2 and in 1962 changed again to T-33B. I've done four variants, a TO-2 assigned to VMIT-20 (Marine Instrument Training Squadron), MCAS El Toro in 1952. The second variant is a TV-2 assigned to HMS-33 (Headquarters and Maintenance Squadron) MCAS El Toro in 1958. The third is a T-33B assigned to VMF-321 in 1964. And the final version is a T-33B assigned to the MARTD (Marine Aviation Reserve Training Detachment) at NAS Andrews in 1976. This last one is painted to represent the last T-33 used by the USMC. MARTD Andrews retired their last one in early 1976. I've swapped a few out with the default Cessna gauges. Please allow all gauges. Tested in FSX SP2 Acceleration. By John Detrick
Posted May 11, 2010 15:04 by Indigo Blue