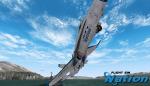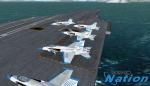 12.11Mb (1899 downloads)
Textures only for the FSX Acceleration F18 sporting the classic FSN dirty and clean versions. Painted for Flight Sim Nation by Owen Young.
Posted Mar 1, 2009 21:39 by Sonic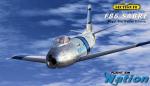 5.50Mb (1310 downloads)
Intended for pilots flying with the Flight Sim Nation display team and now available to anyone. This custom Flight Sim Nation paint sports Craziemans classic "worn look" compelete with chipped logo. Requires the Section F8 Sabre Package.
Posted Mar 1, 2009 16:34 by Sonic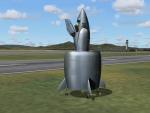 9.20Mb (19351 downloads)
FS2004 / FSX (SP2/Acceleration compatible) SNECMA C-450 Coleoptere, complete package, with full moving parts, animations, custom panel and a full virtual cockpit. By Patrice Grange. The SNECMA C-450 Coleoptere was "tail-sitter" VTOL aircraft (Vertical Take Off and Landing) developed by the French Engine Manufacturer SNECMA in the 1950s. Using the concept of the "annular wing", it made its first flight on May 5th, 1959. Unfortunately, the test flights were stopped after an accident on 25 July 1959, even if the pilot was able to eject and to survive. The model has full moving parts and animations, an original custom 2D panel (an original bitmap by me) and a full animated VC. AS THE FLIGHT MODEL IS PARTICULARLY UNUSUAL ("TAILSITTER" FOR VERTICAL TAKE OFF AND LANDING, THEN A 90 degree ROTATION TO REACH THE CRUISE FLIGHT POSITION), PLEASE READ CAREFULLY THE INSTRUCTIONS (DETAILED PDF INCLUDED). Please read the documentation for information how to fly this!
Posted Mar 1, 2009 11:26 by Patrice Grange, http://www.fre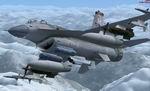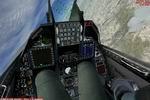 24.16Mb (44903 downloads)
FSX F-16C Viper Package Inclusive of panel and gauges. This should work out of the box. I have added FSX compatible gauges to the VC and 2d panel. Due to the way this aircraft was designed VC is limited in how many gauges can be added but I added all I could. Some areas of the VC are not editable. Fully edited 2d panel. Gauges and BMP's included. Thank you to Kirk Olsson for this beautiful original fs2004 aircraft. Panel BMP by Eric Marciano. Gauges by many. Updated by Danny Garnier
Posted Feb 27, 2009 06:05 by GARNIER D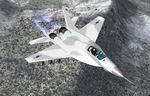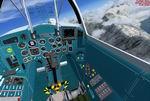 9.41Mb (19394 downloads)
This MiG-29 is a gift from the MCSN General MC Sics to 49th Stalingrad Leader Russian Mandalore. The aircraft performance is significantly lower than the MCSN MiG29 due to a swapping of the engines. The 49th Stalingrad MiG-29 now boasts two stock Tumanskii R-33D afterburning turbofan engines and stock avionics. Repaint of General Gouletawitz's Stalingrad 49th Mig-29 with permission. Whole aircraft. Superjet has a top speed of 3000 knots at low altitude and mach 4.7 at optimum altitude of 30000 - 40000 ft and has a ceiling of 250000 feet (though it is not advised to go that high) and has an uncalculated range.
Posted Feb 27, 2009 05:28 by Uploader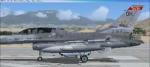 1.29Mb (1706 downloads)
Tulsa Vipers. This package contains "tail textures only" to represent the 138th Fighter Wing (FW), 125th Fighter Squadron (FS), F-16D viper of the Tulsa Air National Guard (ANG). This is one of the 2 "D" model vipers in the unit and may appear in High or Low Visibility paint scheme flying out of Tulsa International Air Port (IAP) or any airport. The excellent "D" model viper by Kirk Olsson viper2us.zip may be obtained here:
Posted Feb 25, 2009 20:57 by Dana Eng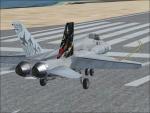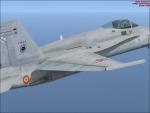 7.82Mb (4957 downloads)
Two Repaints for the default F/A-18 Acceleration in the ALA 12 colors, 12-12 and 12-50 special scheme. By Luis Lopez
Posted Feb 24, 2009 19:40 by Luis Lopez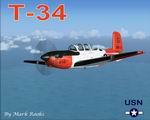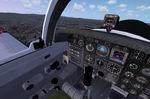 20.61Mb (14554 downloads)
This is Alpha Sim's Free-ware release of their T-34 Mentor Turbo updated for FSX. The T-34 Mentor began as a private venture designed by Walter Beech shortly after WW II. Beech felt that there was a market for a military trainer based on the Model 35 Bonanza which had been flying for about a year. Beech used the Bonanza as a starting point and began work on the design of the Model 45. The first two prototypes were powered by 205 hp Continental engines while the third had a more powerful 225 horsepower engine. The prototype made its first flight Dec. 2, 1948. This aircraft has a updated 2D and 3D Panel, Flight Dynamics and Textures By Mark Rooks of RDG Aircraft.
Posted Feb 23, 2009 04:11 by Mark Rooks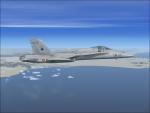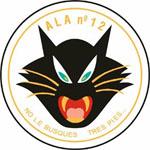 2.76Mb (3030 downloads)
FSX Acceleration F/A-18 Spanish Air Force ALA 12, Torrejon Air Base near Madrid. Textures only for the default Acceleration F/A -18 By Luis Lopez.
Posted Feb 21, 2009 15:55 by Luis Lopez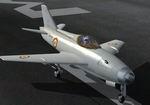 3.29Mb (3281 downloads)
The Aerfer Ariete (Italian for Ram) was a prototype fighter aircraft built in Italy in 1958. It was a refined derivative of the Aerfer Sagittario 2, and was an attempt to bring that aircraft up to a standard where it could be mass-produced as a viable combat aircraft. The Ariete prototype (MM 568) flew for the first time on 27 March 1958, but the entire project was later abandoned. This model reproduces the aircraft displayed at the Vigna di Valle Aeronautical Museum (near Rome).Capt. Includes a 2nd panel and simplified VC. Capt. G.Quai
Posted Feb 20, 2009 12:00 by I. D'Attomo