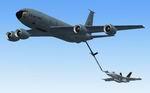 12.64Mb (26905 downloads)
FSX US Navy Boeing KC-135T Drogue Tanker. This is a KC-135 tanker with navy drogue that was adapted for use in FSX. The original FS2004 KC-135T aircraft textures/model from Rok Dolenec was combined with the FSX-ready tanker gauges from Bob Chicilo (for Mike Stone's KC-135 Tanker) to make this useable and flyable within FSX. The tanker gauges include: 2d panel clickable buttons. No VC!, B737 style radio stack, GPS9, throttle quadrant, and autopilot panel. There is also an AI traffic flight plan included within the package that has the KC-135T flight plan: Depart KSAN-KLAS, 1900L Pacific, cruise at FL230/.63 mach (within USAF tanker standards). Return leg departs KLAS-KSAN, 2040L Pacific, FL240/.64 mach. By Christian Snow. (Note: No VC)
Posted May 15, 2010 04:19 by Brandon E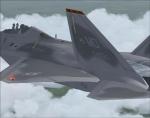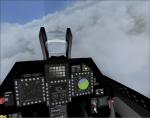 53.41Mb (32661 downloads)
Freeware release of the Iris Simulations YF-22A Lightning II adapted to work in FSX. Updated effects, and panel. Includes VC. All credit goes to Iris Simulations for this aircraft file! And a big thanks to them for thier their generosity!!! Information on flying this aircraft if available may be found on the Flight SimulatorIRIS Manuals. Please note that this product is freeware and no longer supported by IRIS Flight Simulation Software.
Posted May 13, 2010 22:38 by T. Marson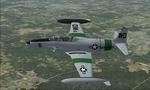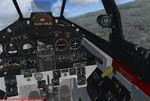 37.95Mb (12863 downloads)
USMC T-33B for FSX . This is a rework of Tim Conrad's T-33A for FSX. Includes new airfile, new cfg and new sounds. The main texture bitmap for the outside has been resized. The USN/USMC operated the T-33 until 1976. The original designation for the USN T-33's was the TO-2, and then changed to TV-2 and in 1962 changed again to T-33B. I've done four variants, a TO-2 assigned to VMIT-20 (Marine Instrument Training Squadron), MCAS El Toro in 1952. The second variant is a TV-2 assigned to HMS-33 (Headquarters and Maintenance Squadron) MCAS El Toro in 1958. The third is a T-33B assigned to VMF-321 in 1964. And the final version is a T-33B assigned to the MARTD (Marine Aviation Reserve Training Detachment) at NAS Andrews in 1976. This last one is painted to represent the last T-33 used by the USMC. MARTD Andrews retired their last one in early 1976. I've swapped a few out with the default Cessna gauges. Please allow all gauges. Tested in FSX SP2 Acceleration. By John Detrick
Posted May 11, 2010 15:04 by Indigo Blue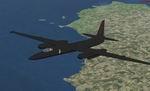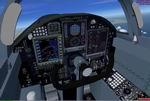 9.36Mb (29255 downloads)
U2S For FSX. This is the Alphasim U2 Spyplane released for FS9 and now modified so it can be used in FSX. Panel gauges replaced with FSX compatible XML gauges. Features revised 2d and 3d (VC) panels. The Lockheed U-2, nicknamed "Dragon Lady", is a single-engine, very high-altitude reconnaissance aircraft operated by the United States Air Force and previously flown by the Central Intelligence Agency. It provides day and night, very high-altitude (70,000 feet / 21,000 meters), all-weather surveillance.[1] The aircraft is also used for electronic sensor research and development, satellite calibration, and satellite data validation. Model by Alpha Sim. Updates by Danny Garnier.
Posted May 9, 2010 14:20 by GARNIER D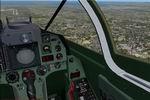 11.79Mb (14550 downloads)
Works in FSX and FS2004. ALPHA_SAAB_Draken_FS9.zip. The Saab 35 Draken (Draken is Swedish for "The Kite", but can also mean "The Dragon") is a fighter aircraft manufactured by Saab between 1955 and 1974. The Draken was built to replace the Saab J 29 Tunnan and, later, the fighter variant (J 32B) of the Saab 32 Lansen. The indigenous J 35 was an effective supersonic Cold War fighter that was also successful as an export product. Doing some Spring cleaning at Alphasim. Removing a few titles from the catalog to make them available as freeware releases. Here is our SAAB Draken for FS2004. 3 models, 4 textures. Includes panel and gauges.
Posted May 9, 2010 10:53 by Chris Evans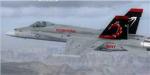 3.78Mb (1832 downloads)
Repaint of VAQ-132 Scorpions CAG. F/A-18C Hornet using Acceleration default F-18. Textures only.
Posted May 7, 2010 13:18 by Ray Gagnon

4.14Mb (1891 downloads)
Douglas A-1 J Skyraider - South-Vietnamese Air Force, 83rd Special Oprerations Group THAN PHONG, Nr 35392, Than Son Nhut (Original airplane was a A-1 H).Textures for Tim Piglet Conrad A-1 J Skyraider By Xavier Carre FSX Vietnam War project
Posted May 7, 2010 12:51 by Xavier Carre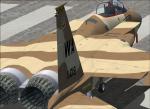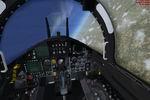 129.75Mb (46423 downloads)
Freeware release of the Iris Simulations F-15 C, and D, Eagle ported over to work in FSX. Includes multiple models, liveries. Full working virtual cockpit (VC). All credit goes to Iris Simulations for this aircraft file! And a big thanks to them for their their generosity. Check out NATIVE FSX IRIS Pro Series aircraft HERE! http://www.irissimulations.com Or just wEB search Iris Simulations...
Posted May 5, 2010 23:40 by T. Marson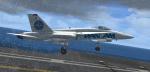 2.58Mb (1029 downloads)
Pan Am Textures only for the default FSX Acceleration FA-18 Hornet. By Juan Ramiro Franceschini
Posted May 3, 2010 17:51 by Juan Ramiro Franceschini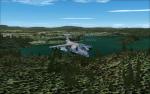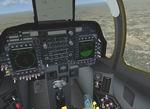 57.49Mb (31190 downloads)
Boeing AV-8B harrier! Ex payware from Iris, with flight dunamics update. Comes with smoke & wing vorticies. Awesome VTOL performance, as well as in flight. Lame 2d and VC, but you can always replace the 2d panel with a different one. Originally for FS2004.
Posted Apr 23, 2010 18:00 by Grant Pollak