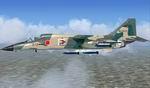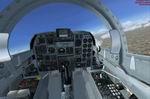 32.69Mb (38641 downloads)
FSX Mitsubishi F-1 Package Inclusive. This is a revised edition. Mitsubishi F-1 Supporting fighter Package. This model includes updates and fixes. The Mitsubishi F1 Supporting fighter, which is similar in configuration to the Jaguar, is the combat version of the T-2 trainer. The model of four variations of Bomb(Mk82), DropsTank, Missile(ASM-1 and ASM-2), and Normal and the model for AI are a set. Gauge control was attained in the photoreal virtual cockpit. It is full automatic, and it ejects and a drag shoot is stored. Model design by Daisuke Yamamoto Peinted by Hiroaki kubota (KBT) Effect xml gauge is made by Toshikazu Shimizu. Adapted to work OK in FSX by Danny Garnier. Panel made useable without errors with FSX compatible gauges.
Posted Oct 7, 2009 09:43 by GARNIER D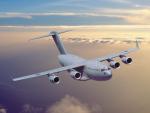 (8508 downloads)
Original FS2004 model by Mike Stone + RAF repaint by Christopher Martin. Updated for FSX by Douglas E. Trapp, FS Flight Dynamics Engineer. No VC and uses default 747 2d panel only.
Posted Oct 5, 2009 14:06 by www.repaintz.tk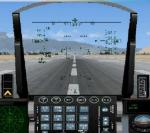 22.34Mb (7092 downloads)
YF-16 Viper Inclusive. This is a repackaging of Kirk Olsson's excellent YF-16 vipers (yf16viper.zip) with Scott Prinz's 2D HUD and Danny Garnier's VC. Now you can read your highest indicated air speed in knots, highest MACH speeds, altitude, and altitude above ground in both the 2D HUD and the VC HUD. THE PANEL CAN BE USED IN ANY KIRK OLSSON VIPER, F-16C and F-16D. YF-16 is the prototype for the F-16C and was chosen by the Air Force over the YF-17 due to faster acceleration, climb, and better cruise speeds. The YF-17 was chosen by the Navy to become the F/A-18C.
Posted Oct 2, 2009 11:20 by Dana Eng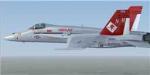 3.50Mb (1975 downloads)
FSX Acceleration Default F/A-18C Red Devils Textures. Repaint of VMFA-232 Red Devils F/A-18C Hornets using Acceleration default F-18. Textures only. By Ray Gagnon
Posted Oct 2, 2009 06:43 by admin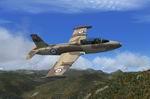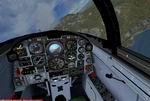 31.09Mb (11660 downloads)
Aermacchi MB326H Package for FSX Comes in multiple textures by the talented Garry J Smith. Fully function Virtual cockpit (VC). Original Credits Model and Flight dynamics By David Friswell. Textures By Garry.J Smith FS2004 Update By Warwick Carter FSX Update with panel adapted for use in FSX using FS Panel Studio by Danny Garnier.
Posted Sep 30, 2009 09:16 by GARNIER D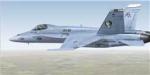 3.65Mb (1620 downloads)
FSX Acceleration Default F/A-18C Rampagers Textures only.. Repaint of VFA-83 Rampagers. F/A-18C Hornets using Acceleration default F-18. Textures only. By Ray Gagnon
Posted Sep 29, 2009 15:06 by admin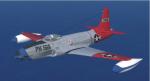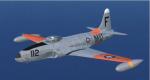 9.11Mb (4634 downloads)
This is an update for FSX acceleration of the Alphasim F-80 Shooting Star. I have updated the flight dynamics, added two gauges to the panel, made the autopilot bigger, and changed the GPS. There is a working virtual cockpit. This is the whole aircraft.
Posted Sep 25, 2009 10:53 by Bob Chicilo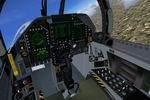 30.92Mb (45104 downloads)
FS2004 and FSX 100% complete. Royal Australian Air force 1st Squadron F/A-18F SuperHornet to be Based at Amberley Air force Base Queensland March of next year. 25 Superhornets have been purchased to replace the ageing F-111 models until the new JSF F-35 Lightning II comes into service. Now in Regard to my Previous Textures for the RAAF 1st Sqn and the F/A-18E and F models. This is a whole Revamp Of the entire textures I did before. I have adjusted and fixed everything like the anti-collision lights on the tail and the Fuselage and Fixed the Pylons and weapons to suit. After 24 hours of work this model with textures of RAAF 1st Squadrons Superhornet and also added are My unmarked weathered textures designs for the budding Artist. Textures By Barry Magann and Sound by Barry Magann Model Aircraft By Team FS KBT. Model design by Daisuke Yamamoto. Flight dynamics,Paint and editing of Model, By Hiroaki Kubota. XML(Effects) by Toshikazu Shimizu
Posted Sep 23, 2009 08:52 by Paul Atreides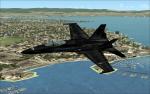 1.55Mb (1972 downloads)
FSX Acceleration F/A-18 Aggression Team Textures for the default FSX Acceleration F-18
Posted Sep 23, 2009 03:47 by Reginleif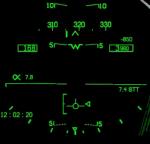 0.64Mb (6255 downloads)
High-resolution realistic HUD for default FSX Acceleration F/A-18. Includes 2D and VC HUD; Courseline steering arrow; Ability to link to NAV1, NAV2, or GPS; Multiple clock modes; Realistic HUD reject options; Altitude options; Energy caret; AOA bracket; ILS needles; ACLS tadpole; HUD switch panel; docs and image files for instructions on use. Modified for FSX Acceleration default F/A-18 by Damien13N.
Posted Sep 20, 2009 20:05 by Damien Oxier