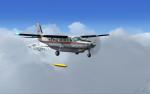 2.99Mb (1173 downloads)
Follow the Hamathko river in a Cessna 208B while being buffeted around by strong winds and rain. Land at Scar Creek Airport and pick up cargo pods for some mountaineers camped on the summit of a nearby mountain. The flight to and from the camp is through dense storm cloud with zero visibility, rain, lightning and mountains on either side, so choose your flight path carefully by referring to the GPS terrain map and if you use the autopilot, select the correct vertical speed for the accent. If you take the wrong route you may come short. After successfully dropping the cargo pod return to Scar Creek, but make sure the route you take will line you up for the correct approach.
Posted Sep 25, 2017 15:53 by Geoff Peel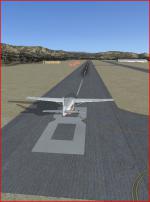 3.53Mb (811 downloads)
Take off in one of 4 aircraft from Mariposa-Yosemite airport in Mariposa and fly to Mammoth Yosemite airport in Mammoth Lakes, California, USA. Choices of aircraft are Bell Jet Ranger Helicopter, Cessna 172 Skyhawk, Cessna Grand Caravan or Maule Orion. There is a small download (that is optional but recommended) from Flightsim for several nice waterfalls.
Posted Sep 24, 2017 14:18 by Don Olsson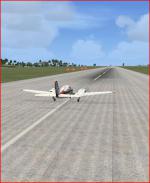 7.88Mb (608 downloads)
Fly a Beechcraft Baron 58 from Chihhong airport in Taitung to Lyudao airport. There will be more to the mission than this. Fly it and find out! There is a small airport scenery addon required. It's available from Simviation.
Posted Sep 19, 2017 09:22 by Don Olsson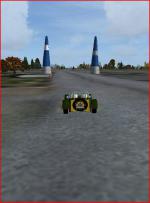 0.48Mb (200 downloads)
Starting at Louisville, KY Intl airport, drive a roadster north to downtown, turn right, circle around the Bowman airport and return to Louisville, Intl, USA. Follow Landmark pointers. There are landmark pointers along the route to assist you in staying on the correct roads. A timer is included. Speeds of 80 to 100 knots seem reasonable. The 8 mb roadster used is available on Simviation. Time to complete the mission is 10-15 minutes.
Posted Sep 13, 2017 14:46 by Don Olsson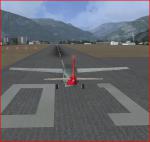 3.92Mb (1556 downloads)
Take off in a Cessna C208B Grand Caravan from Bolzano airport, Italy and fly to Zurich airport, Switzerland. You will be at high altitude, so likely best to lean your mixture. Fixed to include readme and rewards file.
Posted Sep 5, 2017 03:01 by Donald Olsson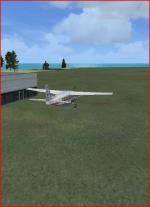 4.39Mb (937 downloads)
Barbuda to Martinique with passengers in a Cessna Grand Caravan with 3 intermediate landings at Antigua, Guadaloupe, and Dominica.
Posted Sep 4, 2017 13:21 by Don Olsson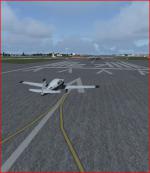 0.80Mb (800 downloads)
Take off in a Mooney Bravo from Miami Intl airport in Miami, Florida and fly to Key West NAS airport in Key West. Change planes 4 or 5 times with landings along the way. Aircraft used are: Mooney Bravo, King Air, Grumman Goose, Beech Baron, Lear Jet, & maybe the Grand Caravan. Should not require any additional downloads.
Posted Aug 26, 2017 17:22 by Don Olsson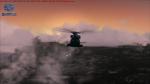 13.48Mb (1246 downloads)
Take-off in an Agusta Westland helicopter from a very interesting fictitious Montenegro Resort airport LYDR with a cliff edge threshold to search for a crashed helicopter in a deep mountain ravine and rescue any possible survivors. Another surprise rescue awaits you on your return but you can decide if you wish to carry it out or not. The Westland is a very easy chopper to fly. Flying Realism is set to relaxed and the Crash Behavior set to "User Specified" so you don't have to worry about it ending your mission if you happen to clip a tree or land a bit too hard. Enjoy the beautiful orange Montenegro sunset and the scenery.
Posted Aug 14, 2017 10:35 by Geoff Peel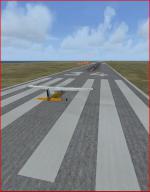 1.79Mb (714 downloads)
Cessna C172SP Skyhawk from Gambell airport , Alaska and fly to Savoonga airport with a intermediate stop in Provideniya Bay, Russia. Feel free to up your sim-rate (4X to 8X?) on the flights until you get a message. Also look for, & check-out, an aircraft carrier on your way... Should not require any additional addons.
Posted Aug 13, 2017 14:27 by Don Olsson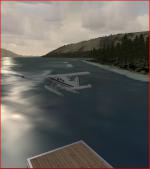 1.09Mb (648 downloads)
Take off in a DeHavilland Beaver in water at Hoonah airport and fly to Juneau Intl airport in Juneau. Land on the waterway parallel to the runway. You then have your choice of using either a Hovercraft or a speedboat to continue the mission. 3 small Simviation downloads are required.
Posted Aug 3, 2017 16:19 by Don Olsson