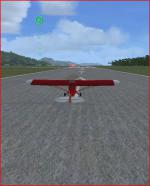 0.88Mb (530 downloads)
Take off and land a J-3 Piper Cub at Pago Pago Intl airport in Pago Pago, American Samoa. Locate 2 ships off shore of Pago Pago & airlift a sick passenger (by helicopter) from a yacht.
Posted Oct 22, 2017 15:24 by Don Olsson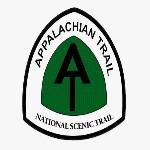 76.76Mb (584 downloads)
Appalachian Trail Adventure Connecticut to Maine. Fly the historical Appalachian Trail by each state. This is long distance hiking trail from Georgia to Maine. Along your flight look for each of the shelters were thru hikers sleep on the trail along with many landmarks on the trail.In this mission you will be flying the Connecticut section. Please read the PDF file before flying this Mission. By David Crandall
Posted Oct 20, 2017 08:56 by Uploader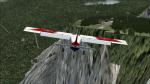 6.07Mb (1463 downloads)
The mission begins in a Maule Orion at 10,800ft with Lukla just up ahead. Make a curved approach into Lukla where you will switch to an Agusta EH101 helicopter. Find the little village of Pheriche and drop off some cargo. From there proceed to Everest Base Camp, pick up an injured climber and return to Lukla. Crash Behavior is set to User Specified so your mission won't end if you are not an expert chopper pilot.
Posted Oct 17, 2017 06:33 by Geoff Peel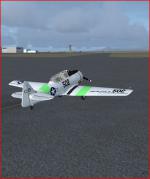 1.29Mb (516 downloads)
On Saturday, October 14, 2017 I was able to take a 30 minute flight in a T-6 Texan. I was also allowed to a bit of handling with the flightstick. Enjoyed the flight! Among other things, the flight consisted of a shallow dive & a wing over. 360 degree turns at 30, 45 & 60 degree angles. 1st time for me. I am not a for-real pilot. This motivated me to re-introduce a training mission I have uploaded for the T-6 as part of a set of trainer missions. In the prior upload, I said to download the T-6 from either Flightsim or Avsim. I was able to locate the same aircraft on Simviation. So these are the main reasons for this upload.
Posted Oct 15, 2017 17:48 by Don Olsson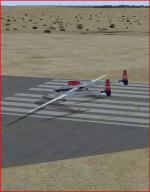 0.34Mb (349 downloads)
This is meant to be a small portion of the solo flight around the world made in this Rutan Scaled Composites&FS-WowAir global_flyer from Salina Mun airport in Salina and fly to Kansas City Intl airport in Kansas City, USA. Aircraft is a FS2004 aircraft from Simviation. It seems to fly well in FSX.
Posted Oct 8, 2017 12:35 by Don Olsson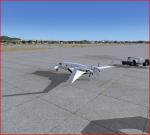 1.11Mb (507 downloads)
Take off in a Beechcraft Starship 2000C from Phoenix Sky Harbor Intl airport in Phoenix, Arizona, USA, fly to Pinal airport, then onto Tucson Intl airport in Tucson, Arizona, USA. Aircraft is available from Simviation.
Posted Oct 8, 2017 10:51 by Don Olsson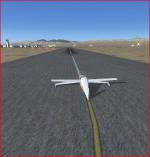 0.91Mb (214 downloads)
Take off in a Rutan Q1 Quickie from Mojave airport USA and fly through hoops to California City Mun airport in California City. Download from Simviation of the Quickie aircraft is required unless you want to change it. A Simviation scenery download of the Mojave airport is also recommended. Neither download is very large.
Posted Oct 8, 2017 08:57 by Don Olsson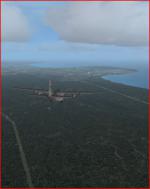 2.03Mb (1503 downloads)
I have made a lot of missions since 2007, but very few of them have been with the big, heavies; just not my preference. This mission uses the C130. After leaving Miami, Florida in your US Air Force C130, you are presently at 5000 feet over the San Isidro Air Base in the Dominican Republic. You are to land 1st at Jose F. Pena Gomez Intl airport in Santo Domingo, Dominican Republic and drop off some supplies for hurricane assistance. Then take off and fly to Luis Munoz Marin Intl airport in San Juan, Puerto Rico with more supplies.
Posted Oct 1, 2017 07:33 by Don Olsson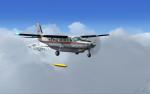 2.99Mb (1323 downloads)
Follow the Hamathko river in a Cessna 208B while being buffeted around by strong winds and rain. Land at Scar Creek Airport and pick up cargo pods for some mountaineers camped on the summit of a nearby mountain. The flight to and from the camp is through dense storm cloud with zero visibility, rain, lightning and mountains on either side, so choose your flight path carefully by referring to the GPS terrain map and if you use the autopilot, select the correct vertical speed for the accent. If you take the wrong route you may come short. After successfully dropping the cargo pod return to Scar Creek, but make sure the route you take will line you up for the correct approach.
Posted Sep 25, 2017 15:53 by Geoff Peel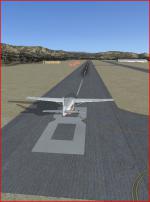 3.53Mb (901 downloads)
Take off in one of 4 aircraft from Mariposa-Yosemite airport in Mariposa and fly to Mammoth Yosemite airport in Mammoth Lakes, California, USA. Choices of aircraft are Bell Jet Ranger Helicopter, Cessna 172 Skyhawk, Cessna Grand Caravan or Maule Orion. There is a small download (that is optional but recommended) from Flightsim for several nice waterfalls.
Posted Sep 24, 2017 14:18 by Don Olsson