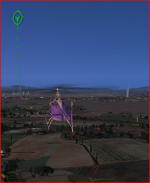 0.81Mb (507 downloads)
Here is another tour mission. This time in a Bell Jet ranger helicopter. Kuala Lumpur helicopter tour from Sultan Abdul Aziz Shah-Subang to Simpang, Malaysia
Posted Dec 3, 2017 12:05 by Don Olsson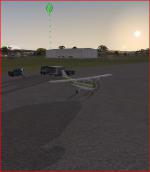 1.20Mb (771 downloads)
I have made many missions as tours of large cities worldwide. This has been a way for me to tour the world using FSX. Interest in most of them has been only modest. However, here is one of them. Take off, tour some landmarks and land back at Canberra airport, Australia. You will be given your choice of the Robinson, or Bell jet ranger, helicopter or the Cessna 172 Skyhawk.
Posted Dec 3, 2017 12:01 by Don Olsson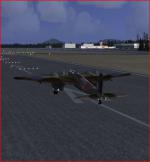 3.25Mb (852 downloads)
Here is a portion of the Wiki writeup about the movie: 633 Squadron. When the Norwegian resistance leader, Erik Bergman, travels to Great Britain to report the location of a German V-2 rocket fuel plant, the Royal Air Force's No. 633 Squadron is assigned to destroy it. The plant is in a seemingly impregnable location beneath an overhanging cliff at the end of a long, narrow fjord lined with numerous anti-aircraft guns. The only way to destroy the plant is by collapsing the cliff on top of it; a job for 633 Squadron's fast and manoeuvrable de Havilland Mosquitos. This mission is an attempt to duplicate the above. Took some trial-&-errors with the mission to get some FSX scenery to work reasonably well. Sure glad I can start a mission with FSXME rather than the cryptic 'stuff' MS provided! Take off in a DeHavilland Mosquito B IV from Flesland airport in Bergen, Norway perform a bombing mission and land at Bomoen AB airport in Bomoen.
Posted Nov 25, 2017 15:05 by Don Olsson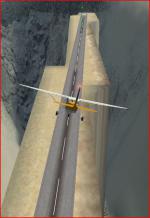 0.44Mb (968 downloads)
Take off in a Cessna C172SP Skyhawk from Don Miguel Hidalgo Intl airport in Guadalajara and fly to Zapopan airport. Observe the unusual designated runway conditions! Motivation for this mission provided from www.simtours.net
Posted Nov 19, 2017 12:58 by Don Olsson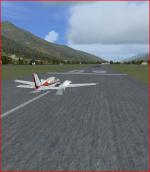 1.12Mb (871 downloads)
I uploaded a very similar mission in June, 2017. It used a Mooney aircraft and you were to fly over the mountains, essentially directly to Raron, Switzerland. This Intermediate level mission uses a Beech Baron & a different flight plan. from Aosta airport, Italy, follow the waypoints through the valleys and fly to Raron airport, Switzerland.
Posted Nov 19, 2017 10:23 by Don Olsson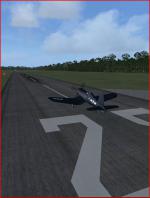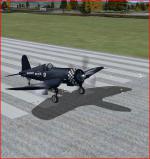 0.83Mb (907 downloads)
This mission is meant to represent a Gull-wing Corsair in the New Guinea region during WWII. The markings are for the Blacksheep squadron headed by Major Boyington, a multiple ace Corsair fighter pilot. Take off in a Vought Corsair from Tokua airport in Rabaul, fly to Malekolon and Nissan airstrips and onto Buka airport. There are 2 aircraft carriers for you to locate near the flightplan and make touch and go landings if you so choose. Not a mission requirement. Download the 56Mb Corsair from Simviation.
Posted Nov 11, 2017 09:54 by Don Olsson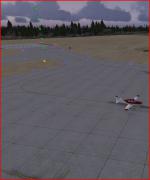 0.52Mb (479 downloads)
This is the 2nd of 2 missions using a parachute. This time for the entire plane! Take off in a Cirrus SR22_GT from Duluth Intl airport in Duluth and fly to Sky Harbor airport in Duluth, Minnesota, USA. Duluth is the home of the Cirrus. Continue on to Lennartson, then deploy your large parachute and land in a designated landing area indicated by 4 landmark pointers.
Posted Nov 11, 2017 09:47 by Don Olsson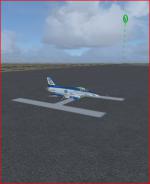 0.52Mb (324 downloads)
This is 1 of 2 missions using a parachute. Well this one actually use a drag chute, which is not that common in FSX. Take off in a Rockwell-Messerschmitt Rockwell X31 from China Lake NAWS airport in China Lake, make 2 low level passes over airports and land at Edwards AF Aux North Base airport in Edwards, USA.
Posted Nov 11, 2017 09:42 by Don Olsson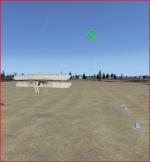 0.56Mb (393 downloads)
Take off in a Bell Jet Ranger helicopter, briefly visit the area of the Wright Brothers at First Flight airport in Kill Devil Hills, NC, USA, change to the Wright Flyer, make a short flight and continue on for more time in the Flyer by going over the water and landing at Dare County Regional airport. Download the Wright Flyer from Simviation.
Posted Nov 5, 2017 04:32 by Don Olsson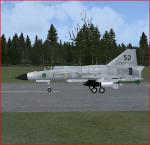 1.78Mb (837 downloads)
Take off in a Saab Viggen from Bjorkvik AB airport in Bjorkvik, Sweden. Fire missiles at a convoy, then an aircraft carrier and land at Bravalla air base. Continue on to knock out a rebel fortress at a mansion , then land at Malmen AB. To make things easier for you to achieve a reward, you are not required to be successful in hitting the targets with your missiles. Some copy and paste will be required with the 2 downloads. I've tried to provide what works for me. Note: The Viggen aircraft download is some 116Mb & highly detailed.
Posted Oct 29, 2017 07:53 by Don Olsson