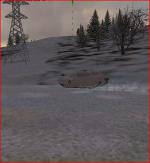 6.93Mb (374 downloads)
Drive a captured tank (M1A1), as a German officer, and meet up with some German tanks waiting for you near Bastogne. This is sort of meant to relate to the Battle-of-the-Bulge. Should you want to drive a German Tiger tank, instead of the M1A1, the download instructions for it are also given. It's name is shown (as alternative) in the Mission FLT file. Downloads are required (M1A1, & a couple of AI German tanks.)
Posted Sep 29, 2016 15:18 by Donald Olsson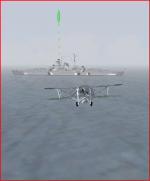 2.29Mb (943 downloads)
One of the major battles in WWII dealt with the scuttling of the huge German battleship Bismarck. There is also a movie about it. A fortunate torpedo hit at the stern of the Bismarck was made by an out-dated Fairey Swordfish, torpedo bomber, bi-plane that rendered the battleship's steering gear inoperable. The Swordfish took off from the aircraft carrier HMS Ark Royal. This mission is more-or-less aimed at simulating that event. You will need: Downloads of the Bismarck, a Swordfish torpedo bomber bi-plane, & the Ark Royal carrier are required.
Posted Sep 26, 2016 17:54 by Donald Olsson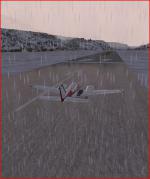 8.41Mb (816 downloads)
Take off in a Beechcraft Baron from Saint Pons airport, France in Barcelonnette on a wintry day with a low ceiling, turn to given headings, locate 7 targets, & fly through them on your way to land at Saint Crepin airport in Mont Dauphin.
Posted Sep 25, 2016 17:07 by Donald Olsson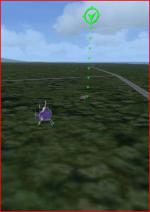 0.69Mb (629 downloads)
Take off from the only airport on Easter Island off the coast of Chile & look for statues positioned around the island. The statues have been numbered in this mission, but may not appear in numerical order as you find them. After you find a statue, a landmark pointer will be placed by it so you won't try to count the same statue more than once. After all 13 statues have been found, you will be notified to land back at the airport for mission success.
Posted Sep 21, 2016 17:14 by Donald Olsson


9.61Mb (1168 downloads)
Costa Concordia Rescue: The Competition, is a spin off on Part 1 of the mission sequel. In this part you're flying the Cessna Caravan shuttling a news crew to Isola Del Giglio, Italy, to record the ship's salute to the island, which went tragically wrong. (Part 2 is flying the EH101 rescuing a fouled lifeboat) Goals include low altitude and low speed flybys for photography and a fast track return to the airport for reporting the tragedy. The competition involves the best flyby results, coupled with shortest return time. The 1st three flight results are documented and preserved for the record.
Posted Sep 15, 2016 20:33 by Jake Rogers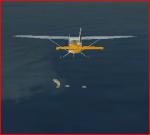 2.80Mb (1038 downloads)
Inverness airport, Scotland, to Loch Ness. Look for, and locate the legendary Loch Ness monster "Nessie" and finally land at nearby Plockton airport.
Posted Sep 15, 2016 13:58 by Donald Olsson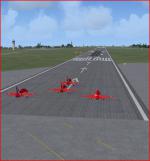 1.31Mb (1380 downloads)
Take off 4 of the Red Arrows (UK air display team) in BAe Hawk T1s from Biggin Hill airport, make 3 low passes and land at Manston airport. Exercise the unusual animation of the 4 aircraft! * Note: This is an FS2002 aircraft situation which works quite well in FSX!
Posted Sep 13, 2016 03:37 by Donald Olsson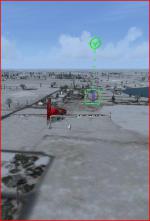 0.38Mb (422 downloads)
In this mission, you are to fly 1 of 4 aircraft from the Devil's Lake airport to the area of the fire rings, some 8nms away. Fly through all 10 fire rings. The mission category is Racing. It is included with the Acceleration addon. If you don't have it, make the appropriate change to the category you want using the FLT file Path. (The line is near the bottom).
Posted Sep 12, 2016 09:34 by Donald Olsson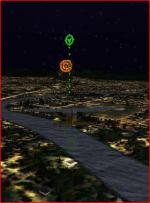 6.19Mb (991 downloads)
Take off, visit 3 sites of fireworks on the 4th of July and land a Cessna 172 Skyhawk back at Skagit airport, Washington, USA.
Posted Sep 12, 2016 09:29 by Donald Olsson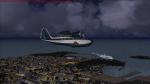 20.80Mb (1100 downloads)
Key West International Airport Tower has picked up a Mayday on the radio from the captain of a yacht that has capsized in the Gulf. He managed to give them his coordinates before the radio went dead. Together with your co-pilot take-off from Key West International and using your navigational skills, fly to the given coordinates, locate the yacht, land on the ocean nearby and rescue the yacht captain, then fly back to Key West. The mission begins at dawn during a major thunderstorm. Lots of turbulence so take along an air sickness bag just in case. You may need Acceleration for this mission.
Posted Sep 12, 2016 02:44 by Geoff Peel