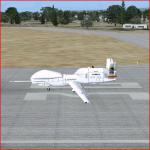 1.80Mb (1028 downloads)
Remotely fly a Drone (mission aircraft is a Global Hawk) from Vandenberg AFB airport in Lompoc to Edwards AFB airport in Edwards. You will be asked to fly to several airports and spot aircraft as part of this check out flight.
Posted Oct 13, 2016 16:34 by Donald Olsson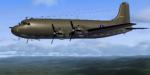 2.43Mb (1423 downloads)
Take off in a Douglas C-54 (DC-4) from Frankfurt/Main airport and deliver badly needed supplies to Tempelhof airport for the people in Berlin. Need to download the C-54.
Posted Oct 13, 2016 16:21 by Donald Olsson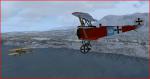 5.07Mb (436 downloads)
In your airborne Fokker tri-plane, follow a SPAD taking off from Aix-les-Bains airport in Chambery, flying to, and both land at Korney Tchukovsky Memorial Airfield airport in Culoz. Downloads of a Spad, Fokker tri-plane & a Red Baron texture are required.
Posted Oct 7, 2016 14:13 by Donald Olsson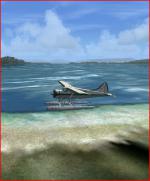 2.57Mb (1086 downloads)
Take off in a de Havilland Beaver DHC2 from Hydaburg, Alaska and fly to Port Protection with several intermediate water landings.
Posted Oct 7, 2016 08:32 by Donald Olsson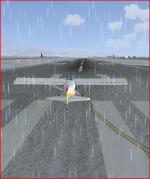 4.25Mb (648 downloads)
Fly from Grand Junction, Colorado to Telluride, CO (for a ski trip) with a stop/landing at Montrose Regional Airport in a Maule with skis. One of my 1st missions made in December, 2007 & revised in October, 2016.
Posted Oct 7, 2016 08:23 by Donald Olsson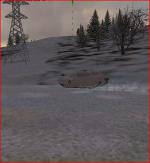 6.93Mb (392 downloads)
Drive a captured tank (M1A1), as a German officer, and meet up with some German tanks waiting for you near Bastogne. This is sort of meant to relate to the Battle-of-the-Bulge. Should you want to drive a German Tiger tank, instead of the M1A1, the download instructions for it are also given. It's name is shown (as alternative) in the Mission FLT file. Downloads are required (M1A1, & a couple of AI German tanks.)
Posted Sep 29, 2016 15:18 by Donald Olsson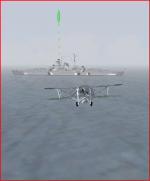 2.29Mb (992 downloads)
One of the major battles in WWII dealt with the scuttling of the huge German battleship Bismarck. There is also a movie about it. A fortunate torpedo hit at the stern of the Bismarck was made by an out-dated Fairey Swordfish, torpedo bomber, bi-plane that rendered the battleship's steering gear inoperable. The Swordfish took off from the aircraft carrier HMS Ark Royal. This mission is more-or-less aimed at simulating that event. You will need: Downloads of the Bismarck, a Swordfish torpedo bomber bi-plane, & the Ark Royal carrier are required.
Posted Sep 26, 2016 17:54 by Donald Olsson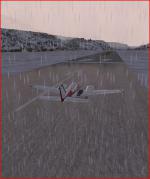 8.41Mb (843 downloads)
Take off in a Beechcraft Baron from Saint Pons airport, France in Barcelonnette on a wintry day with a low ceiling, turn to given headings, locate 7 targets, & fly through them on your way to land at Saint Crepin airport in Mont Dauphin.
Posted Sep 25, 2016 17:07 by Donald Olsson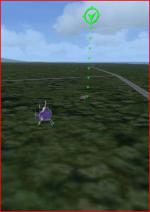 0.69Mb (648 downloads)
Take off from the only airport on Easter Island off the coast of Chile & look for statues positioned around the island. The statues have been numbered in this mission, but may not appear in numerical order as you find them. After you find a statue, a landmark pointer will be placed by it so you won't try to count the same statue more than once. After all 13 statues have been found, you will be notified to land back at the airport for mission success.
Posted Sep 21, 2016 17:14 by Donald Olsson


9.61Mb (1200 downloads)
Costa Concordia Rescue: The Competition, is a spin off on Part 1 of the mission sequel. In this part you're flying the Cessna Caravan shuttling a news crew to Isola Del Giglio, Italy, to record the ship's salute to the island, which went tragically wrong. (Part 2 is flying the EH101 rescuing a fouled lifeboat) Goals include low altitude and low speed flybys for photography and a fast track return to the airport for reporting the tragedy. The competition involves the best flyby results, coupled with shortest return time. The 1st three flight results are documented and preserved for the record.
Posted Sep 15, 2016 20:33 by Jake Rogers