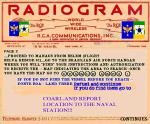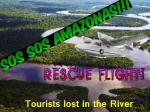 0.37Mb (1630 downloads)
The following Radiograms have been received at the "Amazonas Aero Club" in Belem, Brazil. Amazon River Naval authorities request help in a SAR situation. As the telegrams report it is imperative to search for this boat. The SOS came in three hours ago and a search has been started by the Brazilian Navy in the Amazon River. Your cooperation will be greatly appreciated since the area to search is very large. MBRA Marina Brazileira Rio Amazonas.. (It is suggested that those with amphibians are the best suited for this operation, but any plane will be accepted. Bring your own supplies since this could be a lengthy quest.--The Navy is paying for the petrol!!!
Posted Apr 22, 2013 15:48 by Gera Godoy Canova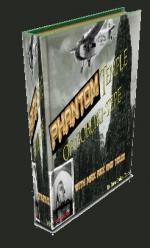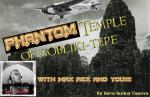 0.57Mb (1006 downloads)
To his surprise another party was asking for his flying services so soon. Max Rex heard the incredible story Dr. Wells and his beautiful daughter Lila told him with a low voice fearing for someone to hear him other than the Pilot. If he accepted their check he would have to fly them and their expedition to the wild mountains of Turkey. The old Dr. was sure that there was a thousand year old machine still working in those mountains. When Max asked him who had placed the so called machine there, the beautiful Lila told him the "Iztakis" seventy three thousand years ago when they first came to earth had done it!!!!..Max almost choked and heard himself say " when do we leave".---Another episode of the famous pilot and gentleman Max Rex and YOU!!!...a true E-Pulp Short Story and Adventure Flight....A New way to enjoy your Sim....
Posted Apr 11, 2013 21:24 by Gera Godoy Canova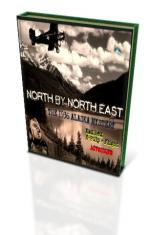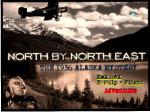 1.72Mb (1794 downloads)
It was getting dark as Max Rex well known aviator and gentleman pulled back the throttle of the Fairchild and started his descent toward the city of Ketchican, barely a city really, in this year of 1936 the place was beginning to grow as more people moved from many countries to the supposedly gold land called Alaska. It was cold and Max was wrapped up in his faithful elephant hide jacket shivering as the clouds passed by and the ground got nearer. For the last five years Max had been nursing his aviation enterprise to the point that he was known as the best pilot for any flying expedition and was sought by many. He wondered what was he going to face in the expedition Dr. Wind had in mind, a well known scientist that had moved from Scotland to Alaska with his daughter Donna. After going to Eritrea and finding proof of alien crystals in the Goofter expedition he presumed this one could be even more interesting specially since it would be in the wild of this piece of land that was once Russian territory. He was hungry and cold since the plane he was delivering to Katz Airways had many wind leaks and night was approaching.....Join Max in this expedition where You will decide if it Succeeds or Fails!!!!
Posted Apr 6, 2013 03:41 by Gera Godoy Canova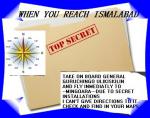 0.13Mb (2730 downloads)
As a pilot for WWA you have made some great flights. Now the company has leased an Airbus 21 from an Eastern company which has in other occasions used our services. This is a Mission of sorts, cloak and dagger stuff, to Islamabad where you will figure out a route to a mystery airport which agent Kurnituki must go so he can pick up the Dragon Lady!!!...She is supposed to be a super spy and quite a lady we are told. Long flight pilot!! and make sure you land at the specific airports since some other personnel will board the plane...do take your yellow socks and your pet rock for luck!!!....If this flight turns ok, the company will pay your apartment rent for one month.....
Posted Apr 2, 2013 00:37 by Gera Godoy Canova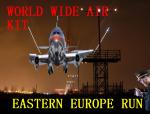 1.39Mb (4717 downloads)
World Wide Air Pilots Information. You are appointed Pilot in Command of a leased JYRGAL 737-800 our company will be using for these Eastern Europe Flights. Our own 737 had a bad landing by Capt. Ernest Burgalowskybun and broke the front landing gear at Kermateskukin Airport last sunday. How many times have you flown from Portoroz or Klangenfurt to Bydgoszcz Ignacy Jan Paderewski Airport,IATA: BZG,or to Henri Coandă International Airport? well here is your chance as well as others not very known ones, seven flights that will keep you busy during this coming end of the month. Yasuri Baclter and Iliana Fskilon will be managing the passengers. Ok, pilots, or Pilotiskis as some Romanian chaps call them, let get the show on the road...
Posted Mar 26, 2013 11:59 by Gera Godoy Canova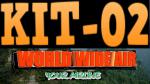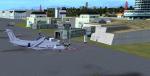 2.40Mb (1260 downloads)
Calling all WWA pilots. You can now pick up your new schedule with new airfields in Tajikistan (3) and four International flights. This kit ends the tour in this country. Kit-03 will soon be available with further flights in areas where most airlines do not venture. These are "Pilot in Command" flights so co-pilots keep practicing!!!
Posted Mar 17, 2013 20:45 by Gera Godoy Canova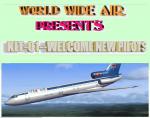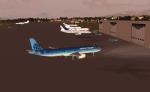 0.57Mb (3646 downloads)
WWAir is presently looking for pilots to fly all types of aircraft in remote areas of the world as well as many International Routes. There are many VAs who require all kinds of parameters for pilots as well as interminable rules and procedures. WWA is the airline that gives the pilot freedom of crazy rules and puts him in the most variable of flight situations. In this first "Kit" pilots who download it will automatically become part of the airline and start flying right away in one of the most out of the way routes in Tajikistan!!. We will suggest aircraft but actually you can fly anyone you have!!!. There is also the airline's website where you can download "special" kits (soon). So come on into our unique group of really dangerous and exciting flights now, don't wait one more minute!!!
Posted Mar 11, 2013 02:25 by Gera Godoy Canova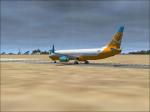 5.79Mb (5991 downloads)
This is a quick mission I tried to make today based on a suggestion so it is not really my work. Anyway hope it kinda works and is not too bad. It is a basic simlated IFR departure. You can use the autopilot as you wish or not. Many thanks, Pierre.
Posted Feb 4, 2013 19:51 by Pierre G. Shlimon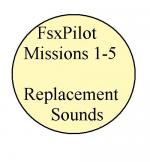 6.09Mb (1136 downloads)
Improved recorded sounds for the FsxPilot Missions 1-5 here at Simviation. Should be easier to hear now. Pierre Shlimon.
Posted Feb 3, 2013 05:47 by Pierre G. Shlimon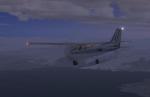 2.52Mb (2953 downloads)
Fly the NDB approach into Narvik Framnes near the Lofoten Islands in the North of Norwaty. You are in an old fashioned Cessna 172! Many thanks. Pierre
Posted Jan 31, 2013 07:24 by Pierre G. Shlimon