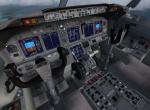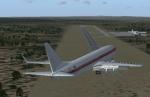 6.29Mb (15373 downloads)
Almost ready for your 737 certification, your last flight is a landing on dreadful crosswinds at Varadero, Cuba. And you'll fell yourself some of the infamous weather tricks: downdrafts. You'll need all your skills and more, and quite a bucket of cold blood to finish happily. You'll get your reward if you manage to land on the runway and stay there fully. Contains English and Spanish language.
Posted Apr 10, 2009 15:02 by Jose Enrique Ariño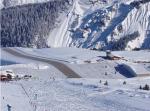 0.82Mb (12778 downloads)
This is my second attempt in creating a mission. I had great fun in creating it. It is base around the most dangerous airports of the world. This particular one airport is Courchevel in the French Alps. Created with FSX Mission Editor by Robbie Albers. Requires the Alps 1 for Scenery files.(above)
Posted Apr 3, 2009 01:19 by Robbie Albers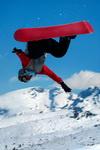 4.20Mb (9271 downloads)
The Most Dangerous Airports: The Alps 1. It is base around the most difficult approaches of the world. This particular one airports is Megeve in the French Alps. This is my first attempt in creating a mission. I had great fun in creating it. Created with FSX Mission Editorby Robbie Albers.
Posted Apr 3, 2009 01:12 by Robbie Albers


5.51Mb (4224 downloads)
Gunateeta Air Shuttle is owned by Ingur Sing, an old pilot who flew for many years as co-pilot for India Airways. One day he desided to quit the airline and open his own business with an Auster which he bought for 70,000 Rupies of that time. He flew passengers and cargo to many towns with just a grass strip near Bombay for about 10 years. He now owns two DH 104 Doves and is to old to fly them. Thus he hires pilots that have the needed credentials to fly his planes to small towns that have a small airfields but are way out in rugged areas. The regular flight is that which leaves Bombay late in the afternoon, around 4:45PM and flies on to Kurpikang, Majuri, Churpikur and finally stops in ::::::::: where the last passengers disembarc. Here the plane is loaded with flowers and rubber plants that must be flown to Bombay where they will be transfered to the late night Flight to N.Y. by Air India...the flowers must be next day in "Bulby Sing" flower shop in Manhattan---that's Ingur's sister business in America..... So, Piloto you have the flight this evening...get over to the airport fast the plane is ready and passengers are arriving at the terminal in this very minute!!!!!
Posted Mar 31, 2009 12:31 by Gera Godoy Canova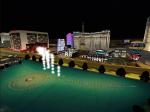 15.83Mb (6039 downloads)
Night Mission in Las Vegas. This mission is also a game: You will have to figure out where to go until you reach your friends' party.If you decipher all hints, you'll find your friends' party and you'll receive your Reward.Your copilot may be Gill Grissom. ENGLISH AND SPANISH VERSIONS IN THE SAME DOWNLOAD.
Posted Feb 28, 2009 06:12 by Jose Enrique Ariño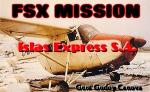 10.93Mb (2628 downloads)
Tiny Courier Air Services abound all over the world, there is one even in Bhutan and another in the Salomons, but the one that concerns us in this Mission, is one in Panama...Late take off from David(MPDA)carrying scuba diving equipment ,picking up a nice lady and taking her to her own island is just one of so many flights. You can fly this one, there is a little rain falling and the humidity is high but the view is just great.....You will need the British Super STOL "Percival Prospector" which you can find here: http://classicbritishfiles.com/index.php?option=com_remosito .. ----it flies great in FSX and has a nice VC.....Now, Piloto! you clear to take off......
Posted Feb 27, 2009 10:29 by Gera Godoy Canova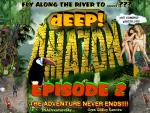 20.26Mb (3787 downloads)
Another "Two Episode FSX Mission"....this one for the hard and true Airline Pilots who take passangers to and from................. Episode 1) Local Airlines have been in business all over the world for many years. In some remote places we still see oldies flying people around as if it was the 1960's. Floro is not a big town in Norway but Hiersung Iglesbum is in charge of some oldie SAS operation in this rugged North where commuters fly day in and day out. Flight 559 from Floro to Bringeland takes off at dawn every tuesday and friday carrying mostly executives who work there in the mine industry. Today's flight is all set to roll with co-pilot Inga Whellisgurd 26 and you, an old buzzard with a bunch of accumulated hours, white hair--mostly of all the "scares" you have had above the clouds and under them--. Nothing new as you rev up the old engines of the 440 and off into the low clouds of Norway-----------You will Need for episode 1: ( FS2004 Scandinavian Airlines System Convair 440 Metropolitan.(cv440SAS4.zip) works fine in FSX). Episode 2)Fligth 322 To Haukasen:-- The old DC-3 just took off into the dark clouds of rain and thunder.....This is usually a nice flight over snow covered mountains, rivers, small lakes and just beautiful country. Today with rain and fairly strong winds many passengers will not enjoy it for the plane will bounce quite a bit, the regular brown paper bags will fill up pretty soon!!..........and ------
Posted Feb 20, 2009 12:14 by Gera Godoy Canova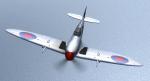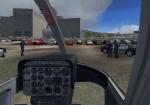 10.10Mb (8000 downloads)
English and Spanish version in the same download.Music, lights,action,rewards...The Guggenheim Museum in Bilbao has been robbed! Thieves are on the run. Police know that they are fleeing to Bayonne (France) aboard an aircraft.But French Police have no jurisdiction over them, so it is up to you to catch them if you can.Our mission is to reach Bayonne Airport before them, and then take them unawares as soon as they land.rnSe ha producido un robo en el museo Guggenheim de Bilbao, y los ladrones han escapado. La policía ha conseguido averiguar que han escapado en un avión que se dirige a Bayona ( Francia).La policía francesa no tiene jurisdicción sobre el caso, por lo que eres tu quien debe detenerlos.Nuestro objetivo es llegar al aeropuerto de Bayona antes que ellos, para sorprenderles y poder atraparles cuando aterricen.
Posted Feb 19, 2009 02:38 by Jose Enrique Arino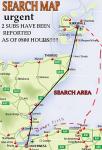 0.33Mb (5726 downloads)
Secret Flight..Scotland 1940... The German Navy moved fast into the English Channel to disrupt British Shipping in 1940. German Submarines started sinking transport ships all over the coast of England. U-Boat 455 and 744 were assigned the north coast of Scotland. Their mission "Sink all shipping along the coast, forgive none". By December 1940 they had sunk four Freighters and 2 Naval Mine laying tugs.----As RAF Coastal Command Pilot officer you have been given the task to find U-Boat 455 and 744. The flight plan has been explained to you which must be flown until the mission is accomplished...Its ealy in the morning as you take off in your outdated Hampden.... Suggested Aircraft: Handley Page "Hampden" Download at: http://classicbritishfiles.com/index.php?option=com_remosito .. This is an FS9 model which flies very well in FSX...VC is nice. -----WW2 Episodes will be uploaded once a month----
Posted Feb 14, 2009 11:50 by Gera Godoy Canova

10.56Mb (6003 downloads)
Pilots from the World Over fly for good "Mula" in the Mountains of all Asia. Captain Dakalm Sakalm from Tinbaktu, Pedro Diaz from Islas Rojitas, Roolf Wulfgang from Peru and many others make a bundle in two or three years ...or are never heard of again!!!!!!!...Flights here are not dull, ever!!!. Just a taste of what can happen anyday: Chief Monk, Kunko-Lambuka, of the Monastery of the Holy Monkey of Diamonds over in Zhet-Maluka, has flown to Gurgharkan to visit his maiden sister who is about to get married to Barkok Hulikun, an unknown, but very well spoken bar tender in Chikolan Village in the Zilikan Mountains. As his plane lands at the mountain airfield he finds that the pilot comes in too fast and (?)..........Meanwhile you are flying the bulky but strong F-123 full of resin oil drums to some new village up in Kundakar. So, since you are close to the mentioned site where the Monk went, you are diverted to it....see,it really is an Adventure flying around these windy mountains (Grandma told you so)....if you decide to take this flight make sure you have at least one or two short airfield landings and takeoffs......you will need them.----PS: If you have ever landed in Lukla---you will smile when you see Gurgharkan.--
Posted Feb 10, 2009 10:35 by Gera Godoy Canova