6.49Mb (198 downloads)
Only textures for the Virtavia Mi-24 'Hind-D' . The real helicopter with this paint was serving in the Croatian Air Force
Posted Dec 5, 2013 04:43 by Hani Michal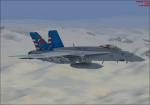 1.72Mb (342 downloads)
Updated repaint for the tac pack 1.4 of the VX-23 CAG. Requires the payware VRS Superbug
Posted Dec 3, 2013 11:36 by Christopher Hammons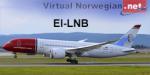 0.67Mb (882 downloads)
Textures for the payware Aerosim Boeing 787-8 . The brand new Norwegian livery EI-LNB, Thor Heyerdahl. Painted by Martin Jonsson. Model design by aerosim
Posted Dec 1, 2013 01:41 by Martin Jonsson
12.64Mb (419 downloads)
Textures for the payware Feelthere Wilco E170 in Air Lituanica livery.
Posted Nov 26, 2013 06:41 by Gediminas Pliura
3.06Mb (194 downloads)
textures only for the payware Cerasim Bell 222b in fictional Oklahoma Highway patrol livery. These are not dxt10 textures but feel free to change to dxt10. Enjoy and happy flying!
Posted Nov 24, 2013 12:32 by Lloyd Horton
2.35Mb (73 downloads)
Tested on Windows XP and Windows 7. This download adds airfield markers and ICAO id's found in FSX, and overlays them on Google Earth. This file is for Maldives X. by Aerosoft . There is also a seperate file with a list of basic airfield location details. i.e: EGBB Birmingham Airport. Birmingham. N52* 27.23' W1* 44.88' alt325. Also the tidying "My places" in Google Earth, file. Other locator files to follow. by Carl Vokes
Posted Nov 16, 2013 02:53 by carl vokes
0.51Mb (89 downloads)
This tool for Microsoft Flight Simulator provides a better random failures experience when you fly some aircraft.
Posted Nov 9, 2013 05:59 by Fazrul Izwan
14.01Mb (2994 downloads)
Centurion Air Cargo is a cargo airline it operates all-cargo services to Central America and South America, serving 16 scheduled destinations. It specializes in carrying seafood, vegetables, flowers and horses to and from Latin America.. Photoreal textures in 32 bit format for paware PMDG 747-400F model. Repaint by: Manuel Jose, Contact Ground. Happy flights.
Posted Nov 8, 2013 15:06 by Manuel Jose Larrahondo Burgos
13.55Mb (7778 downloads)
Demo version: The Airbus A380 is a doubledecker, four-engined airliner manufactured by Airbus S.A.S. It first flew on April 27, 2005 from Toulouse, France. Commercial flights should begin in 2006 after 15 months of testing. During much of ist development, the aircraft was known as the Airbus A3XX. The A380 is now the largest passenger airliner, topping the Boeing 747, which was the largest for 35 years. However, the Antonov An-225 retains the record of being the world's largest commercial aircraft. The media has termed the A380 a "superjumbo", with some comparing it to Howard Hughes's Spruce Goose. The first A380 prototype was unveiled during a ceremony in Toulouse, France, on January 18, 2005. Its manufacturer's serial number is 001, and is registered as F-WWOW. The new Airbus will initially be sold in two versions: the A380-800, carrying 555 passengers in a three-class configuration or up to 800 passengers in a single-class economy configuration. Expected range for the -800 model is 8,000 nautical miles (14,800 km). The second model, the A380-800F dedicated freighter, will carry 150 tons of cargo 5,600 miles (10,400 km). Airbus made the cockpit layout, procedures and handling characteristics similar to those of other Airbus aircraft to reduce crew training costs. Likewise, the A380 features a glass cockpit and side-stick flight controller. Panel, GAUGES, model, sound and textures by www.afs-design.de - Author: A.Meyer. (demo version has banners on model and VC)
Posted Nov 8, 2013 02:53 by Andreas Meyer
6.45Mb (797 downloads)
FSX FS2004 Mistral Air (gruppo Poste Italiane) Boeing 737-300. Textures only for the payware Feelthere Wilco 737 PIC
Posted Oct 29, 2013 14:07 by Ginepro