9.77Mb (76 downloads)
Textures for the payware JustFlight Schweizer 300CBi model for FSX. China Kingwing B-7231.
Posted Feb 12, 2018 05:36 by Liao Yitong
12.40Mb (82 downloads)
Luftwaffe textures for the payware Vertigo Studios Curtiss-Wright P-36
Posted Feb 12, 2018 04:53 by Liao Yitong
9.07Mb (90 downloads)
Real-world repaint for the payware Alabeo D17 Staggerwing. I found a photo of a really great looking Staggerwing, and just had to make it into a repaint.This is a UC-43 belong to Republic Of China AF ( ROCAF )
Posted Feb 11, 2018 20:05 by Liao Yitong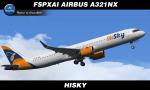 0.01Mb (229 downloads)
This is a modified CFG for you Caranado Cessna 185 Tundra. This will allow your 185 Tundra to skim the water with the bush wheels.
Posted Feb 9, 2018 22:06 by Mike Shearer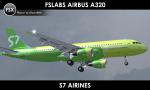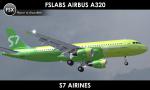 9.51Mb (80 downloads)
S7 Airlines New colors textures for the payware FSLabs (Flight Sim Labs) Airbus A320. Repaint by Sergey Gleba aka serg09.
Posted Feb 5, 2018 14:58 by Sergey Gleba aka serg09
14.99Mb (184 downloads)
Textures for the excellent payware A2A Cessna 172 in the colors of the University of Central Missouri aviation program located in Warrensburg Missouri
Posted Jan 29, 2018 14:37 by Drew Carlson
32.77Mb (222 downloads)
Bi-centennial textures for this Converted water bomber, for the Flight Replicas DC-4 Firefighter. Tested in windows 7 SP1 SP2. Textures by Stephen Browning.
Posted Jan 28, 2018 07:37 by Stephen Browning
76.52Mb (310 downloads)
4 textures fopr the payware Flight Replicas Douglas DC-4. Trans Australia Airlines, Pan Am, British Eagle, South African Airways. Reflective metal finish. By Stephen Browning.
Posted Jan 21, 2018 08:19 by Stephen Browning
5.36Mb (65 downloads)
Textures for payware Flysimware Bell47 People's Liberation Army of China
Posted Jan 20, 2018 08:16 by Liao Yitong
6.76Mb (72 downloads)
Textures for payware Flysimware Bell47 Republic Of China Army Air Force ( ROCAAF )
Posted Jan 20, 2018 08:12 by Liao Yitong