12.31Mb (566 downloads)
Textures for the payware Majestic Dash8-Q400 in LC Peru Liivery. LC Peru is planning to add more Q400 to it's Dash 8-200 and Boeing 737 fleet.
Posted Jul 25, 2017 11:29 by Raoul Beck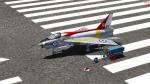 10.10Mb (141 downloads)
Here is a repaint of the Lightning T4 XM969 which first flew in 1961 and had a relatively short flying life having been retired by 1974. She is shown here in the very fetching livery of 226 OCU which its aircraft wore during the sixties while based at RAF Coltishall. Thanks to Eivin for testing the paint in P3D V4. I hope you enjoy the paint. By Cameron Slater.
Posted Jul 14, 2017 16:19 by Cameron Slater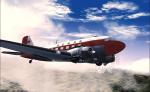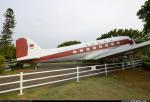 7.24Mb (99 downloads)
China Taiwan Civil Aviation Authority textures for the donationware MAAM C-47A B-126.
Posted Jul 13, 2017 06:37 by Liao Yitong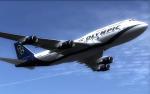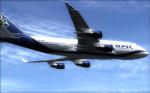 11.73Mb (251 downloads)
Olympic Air fictional textures for the payware Overland SMS Boeing 747-400 model.
Posted Jul 12, 2017 15:28 by Dimitrios Moschos
1.74Mb (72 downloads)
Horizon Air Fictional textures for the payware Virtualcol Dornier 328 Jet. Fully tested in FSX and P3D (All Versions). Textures Only!!!
Posted Jul 12, 2017 04:15 by Will Brown
1.72Mb (43 downloads)
Horizon Air textures for the payware Virtualcol Dornier 328-110 Turboprop. Fully tested in FSX and P3D (All Versions). Textures Only!!!
Posted Jul 12, 2017 04:14 by Will Brown
6.89Mb (167 downloads)
When I first got the Razbam Harrier GR series I was disappointed that they'd forgotten to include an aircraft with a popular tail art for Fleet Air Arm fans. Here is the repaint I have done for that aircraft. It shows ZD406 as she was while in service with 800 Naval Air Squadron in 2009 when seen sitting on the deck of HMS Illustrious berthed in Greenwhich to celebrate 100 years of naval aviation within the Royal Navy. Please read the aircraft history within the readme file if you'd like to know a brief history of the Harrier while in Fleet Air Arm service. By Cameron Slater.
Posted Jul 10, 2017 12:17 by Cameron Slater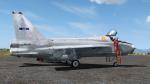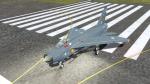 18.93Mb (189 downloads)
Here are repaints showing the Lightning T5 ZU-BEX and F6 ZU-BEW as they were in 2007 when flying with Thunder City. They are released for the payware Aerosoft Lightning series. My repaint of XP693 (ZU-BEY) is also available on simviation. Thanks to Eivin Stenso for testing these paints in P3D V4 and capturing the screenshots for me. Repaint by Cameron Slater.
Posted Jul 8, 2017 06:08 by Cameron Slater
20.51Mb (338 downloads)
Ravn Connect textures only for the payware Carenado Cessna 208EX. Ravn Connect is a regional airline that is based in Bethel, Alaska and carries passengers, freight and mail to the villages.
Posted Jul 6, 2017 21:08 by Musk Ox
3.75Mb (112 downloads)
West Coast Airlines was a regional airline based in Seattle Washington, and started operations in 1946 with DC-3s. It was the first airline in the USA to put the F-27 in service, and the first to to operate turbine powered airliners. West Coast operated until 1968 when it was merged into Air West. You need the payware Fokker F-27 by JustFlight, for this repaint. This aircraft was tested on P3D v3 & FSX-SE.
Posted Jul 6, 2017 02:44 by Ted Giana