23.66Mb (223 downloads)
Three textures for the payware Alabeo Cessna 172RG Cutlass II with colors Blue, Green and Orange in the theme of Sicily, Italy.
Posted Nov 21, 2015 12:15 by Voyager
14.70Mb (228 downloads)
Gold and white textures for the payware A2A C182. Fictional tail number N857KM with custom gold paint gradation and luxury burled wood interior.
Posted Nov 19, 2015 11:42 by Kevin D. Murray Sr.
6.49Mb (245 downloads)
Textures for the Carenado Piper Cherokee 180 with the registration D-EFCJ, orange and white. The plane, built in 1970, was registred in Switzerland, and after decades of flights around all the Europe (expecially in northern Europe) it is actually based in Italy at Thiene airport (LIDH). enjoy!
Posted Nov 7, 2015 11:41 by Carlo Boninsegna
11.02Mb (90 downloads)
Textures for the payware Carenado Cessna 172 in the livery of the aeroclub "Ugo Capitanio" of Vicenza, based at Thiene airport (LIDH), Italy. Registration I-SNDF "Spirit of Vicenza"
Posted Nov 6, 2015 00:45 by Carlo Boninsegna
12.01Mb (90 downloads)
Textures for the payware Carenado Cessna 172 in I-ETAR livery, Aeroclub of Verona, Italy.
Posted Nov 4, 2015 14:46 by Carlo Boninsegna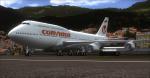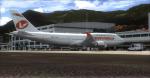 5.55Mb (487 downloads)
Conviasa Wamos Air Boeing 747-400 EC-LNA textures for the SMS Overland Boeing 747-400 Model. Available in SD 1024x1024 FS2004, FSX and P3D. Repaint By Jose Blanco.
Posted Oct 30, 2015 15:57 by Jose Blanco
9.75Mb (483 downloads)
Retro Turkish Airlines textures for the payware Wilco A330
Posted Oct 29, 2015 08:35 by Hakan DAGHAN
6.69Mb (289 downloads)
Conviasa YV10287 textures for the payware CLS A340 model. By Yankyvictor.
Posted Oct 28, 2015 23:52 by YANKYVICTOR
10.27Mb (90 downloads)
This is an updated version of Lee Marrow's DC-10 PAL Old Colors paint updated with new details. Includes e-mail written by Lee Marrow allowing me to post these updates to the public.
Posted Oct 27, 2015 04:52 by Bien Vincent Garsuta Balansag
29.69Mb (673 downloads)
Tarom Skyteam 737-700 textures for the payware PMDG Boeing 737-800NGX WL
Posted Oct 24, 2015 21:51 by Lapusneanu Ovidiu Andrei