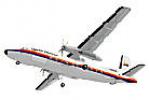 0.46Mb (452 downloads)
The Fokker F27 Friendship is a turboprop airliner developed and manufactured by the Dutch aircraft manufacturer Fokker. Many aircraft have been modified from passenger service to cargo or express-package freighter roles. By July 2013 only 25 Friendships remained in service, operated by 13 different airlines; most were F27-500s. The F27-500 model had a 1.5m (4 ft 11 in) longer fuselage, a return to the Dart Mk 528 engine, and accommodation for up to 52 passengers. Mike's original model wears one airline livery: United Express. By Mike Stone
Posted Oct 29, 2018 06:10 by Ronald Falzon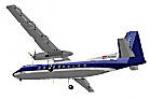 0.61Mb (362 downloads)
The Fokker F27 Friendship is a turboprop airliner developed and manufactured by the Dutch aircraft manufacturer Fokker. It has the distinction of being the most numerous post-war aircraft to have been manufactured in the Netherlands. The F27-200 model was powered by the more powerful Dart Mk 532 engine. As of July 2018, 10 aircraft remain in service operated by 7 airlines. Mike's original model wears two airline liveries: Air Anglia and NLM Cityhopper. By Mike Stone
Posted Oct 29, 2018 05:58 by Ronald Falzon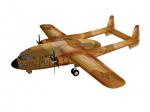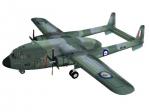 12.63Mb (480 downloads)
Garry Smith archive files: Here is a set of TWELVE custom repaints, created by Garry Smith for Mike Stone's FS2004 Fairchild_C-119_Boxcar model. The Fairchild C-119 Flying Boxcar is an American military transport aircraft designed to carry cargo, personnel, and mechanized equipment, and to drop cargo and troops by parachute. Its cargo-hauling ability and unusual twin-boom design earned it the nickname "Flying Boxcar". And it has become a legendary aircraft due to the movie "Flight of the Phoenix 2004" (one of the custom repaints shows this very aircraft!!). In the Simviation library, you will find additional models and textures. Search using Keyword "c119" in Category "FS2004".
Posted Oct 25, 2018 06:07 by Ronald Falzon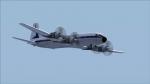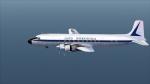 8.65Mb (145 downloads)
This is a repaint of the DC-6B in Lloyd International Airways. The freeware Cal Classic DC-6B by Greg Pepper and Tom Gibson is needed for this repaint. This was the only DC-6 the airline operated, which was from 1964 to 1966. This repaint was tested on FSX-SE. It should work on FS2004, P3Dv1-3 (Not v4) & FSX.
Posted Oct 10, 2018 23:10 by Ted Giana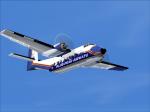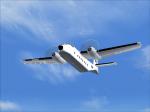 4.52Mb (220 downloads)
Garry Smith archive files: Here is a set of TWO custom repaints, created by Garry Smith for Mike Stone's FS2004 DeHavilland_C7_Caribou model.The de Havilland Canada DHC-4 Caribou (designated by the United States military as the CV-2 and later C-7 Caribou) is a Canadian-designed and produced specialized cargo aircraft with short takeoff and landing (STOL) capability. The Caribou was first flown in 1958 and although mainly retired from military operations, is still in use in small numbers as a rugged "Bush" aircraft.
Posted Oct 9, 2018 09:47 by Ronald Falzon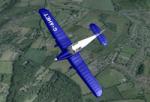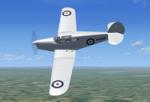 27.41Mb (520 downloads)
Percival K3 Vega Gull. The next development in the Vega Gull was the series 3 (or K3) model. A redesigned windscreen is the most obvious change as well as the loss of the overhead rear passenger windows. K3's were fitted with CSU operated Gipsy Six II or Gipsy Queen II & VP Props. This model tries to represent C/n 105, one of 8 ordered by the Air Ministry & taken on charge by 24 Sqdn Hendon in April 1939. She survived WWII & was sold to Essex Aero Ltd in 1945 becoming G-AHET. The paint scheme depicted as P5989 is shown here, having been totally re-textured under instruction from Nigel Richards, & with a lot of experimentation by me, to try and acheive a more realistic silver paint finish. (I think it looks better in FSX). Nigel also kindly let me use, as a basis for my male occupants faces, his, as used in his Avro 621 series models. G-AHET passed through various other owners, the most famous being Mike Hawthorn, the racing driver. She seems to have met her fate with Noel Husbands, being badly damaged in a forced landing in May 1960. Keith Paine
Posted Oct 9, 2018 05:17 by uploader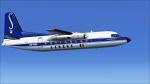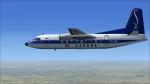 3.80Mb (296 downloads)
Textures for the Calclassic Fokker F-27 in Sabena classic colors. The freeware CalClassic F-27 by Tom Gibson and Bernward Bockheim is needed for this repaint. It was repainted using Bjoern Kesten's paintkit. Sabena operated 3 F-27s, and 3 Fairchild FH-227Bs. This repaint was tested on FSX-SE. Textures are 32bit. It should work on FS2004,FSX, & P3D v1-3. DXT3 textures are also included for FS2004 users.
Posted Sep 12, 2018 23:08 by Ted Giana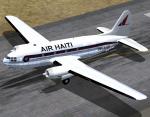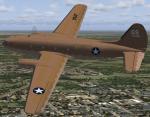 5.51Mb (200 downloads)
Here is a set of five custom repaints, created by Garry Smith for Mike Stone's FS2004_Curtiss_C46_Commando model. EACH new texture folder contains an image of the "Curtiss_C46_Commando" wearing the new airline or air force livery. SHINY textures are included for the THREE liveries: Air Haiti, the BLANK set, and the enhanced USAF livery. These unique repaints are a rare set which used to be hosted at GJSmith.net (now OFFline) and nowhere else.
Posted Sep 12, 2018 06:29 by Ronald Falzon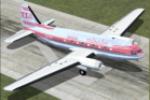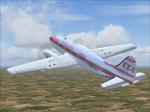 4.58Mb (227 downloads)
Originally intended as a competitor to the highly successful Douglas DC-3, which was the pre-eminent airliner of the time, the Curtiss CW20 was designed to operate on routes of up to 1000km (540nm), which at the time accounted for 90% of the US domestic airline system. This is a Curtiss C-46 in TransAir colours in an early painting. TransAir was one of the early charter airlines in Sweden. Mike Stone made this aircraft , repainted by Ronny Olofsson. Thank you Garry J Smith for your lovely metal texture
Posted Sep 10, 2018 09:48 by Ronald Falzon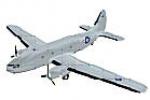 0.86Mb (314 downloads)
The Curtiss C-46 Commando is a transport aircraft derived from the Curtiss CW-20 pressurised high-altitude airliner design. It was used as a military transport during World War II by the U.S.Army Air Forces and also the U.S.Navy/Marine Corps, which used the designation R5C. This aircraft continued in U.S.A.F. service in a secondary role until 1968. The C-46 continues in operation as a rugged cargo transport for Arctic and remote locations with its service life extended into the 21st century. If you search using "c46", you will find additional models and textures, including a special set created by Garry J. Smith.
Posted Sep 7, 2018 02:15 by Ronald Falzon