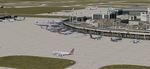 5.00Mb (375 downloads)
KDFW - Dallas-Ft Worth Intl Airport, Texas, USA (ILS fix for runway 18R/36L). This is Ray Smith's FSX file. Ray has given me permission to modify his file for P3Dv4. This is a very accurate version for KDFW to reflect today's situation with two optional files: one version with the Crosswind runways operating where all 7 runways will be used for takeoff/landing and one version as the default airport runway operation. Assigned parking at all terminals now as per their website, extra parking including a gate for the A380 at Terminal D. Start location added to the helipad. Magnetic Variation corrected to 4.0 degrees East. All ILS approaches, taxiways and taxi signs updated and corrected to the latest charts. Extra fuel trucks, support vehicle roads rebuilt and many other scenery improvements and objects added. By Robert Catherall
Posted Jul 15, 2018 06:43 by uploader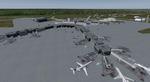 1.93Mb (178 downloads)
KGRB - Green Bay Wisconsin Austin Straubel Airport For P3D. This is the eleventh airport I designed for FSX that I have converted to work in P3D. There will be more to follow. The airport is named for Lt. Col. Austin Strabel, who was the first aviator from Brown County, where Green Bay is located, to sacrifice his life in the service of his country on February 3, 1942. It is the third largest airport in the state of Wisconsin. The airport is served by the following airlines: American Airlines, Delta Airlines, United Airlines. By Patrick Finch
Posted Jul 2, 2018 01:03 by uploader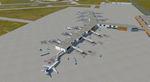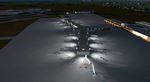 4.66Mb (139 downloads)
Des Moines Iowa International Airport for P3D. Originally created for FSX, this airport has been converted to work in P3D. Several improvements have been made to the default airport. The default terminal buildings have been replaced with buildings created in FSDS; aircraft gates have been correctly coded using Airport Design Editor 1.76.6715; a new airport vehicle network has been built; extra fuel trucks have been added throughout the airport; the tower view has been changed to display from the roof of the control tower; all taxiway designators are correct and all taxiway signs are correctly placed and named; there is the option to open both runways to AI traffic; A large cargo area for FedEx and UPS is included, as well as an area for the 132nd Fighter Wing of the Iowa Air National Guard; and Jim Dhaenen's excellent ramp lights are also included. Please refer to the README FIRST.txt file to insure proper installation of all files.
Posted Jun 27, 2018 02:00 by uploader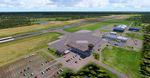 214.42Mb (454 downloads)
Seinajoki is a small privately owned airport located in the western part of Finland. It has a single, 2000-meters, ILS-equipped asphalt runway. Two stands on the main apron can accommodate a B738 or A320. Multiple parking spots for GA planes are also provided. For this scenery the surrounded landclasses were enhanced to include Kyrkosjarvi lake, Kalajarvi reservoir, Friskinlammi river, and more accurate roads to make Seinajoki VFR-friendly. This scenery has seasonal photo background and accurate layout. Compatible with Prepar3D up to v4 and FSX. Made by Dmitriy Kozyrev.
Posted Jun 23, 2018 05:28 by uploader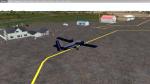 14.47Mb (205 downloads)
Scenery for YBCV Charleville Aiport in Outback Australia. Made by Jean Guiraud.
Posted Jun 16, 2018 16:36 by Jean Guiraud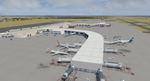 4.26Mb (211 downloads)
The Tucson airport opened in 1919 and was the first municipally owned airport in the United States. Commercial air service started in 1928 with Standard Airlines, which later became American Airlines. The airfield was used during World War II by the United States Army Air Corps. The current airport covers an area of 8,244 acres and contains three runways. In 2008 the East Concourse became Concourse A, comprising of Gates A1-A9. The West Concourse became Concourse B, comprising of Gates B1-B11. At this time the international arrival area was relocated to Concourse A, whereas before it existed as a seperate terminal. Patrick Finch
Posted Jun 16, 2018 05:10 by uploader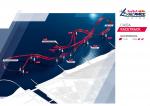 0.66Mb (36 downloads)
P3D-Scenery-Nephis-Red Bull Air Race Chiba 2018. SMOKE ON! Fly the very iconic Japan track of the Red Bull Air Race in Chiba. Scenery by Christophe. Made in Nephis Airlines.
Posted Jun 10, 2018 04:48 by Nephis Airlines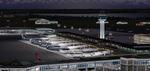 4.56Mb (471 downloads)
PANC - Stevens Anchorage Intl Airport, Alaska, USA. This is Ray Smith's FSX file. Ray has given me permission to modify his file for P3Dv4. This airport scenery has two versions, one with the Crosswind runway operating where all 3 runways will be used for takeoff/landing and one as the default airport runway operation. Alaska airlines terminal completely rebuilt, taxiways and taxi signs updated to the latest charts, the ILS for runway 7R now operating correctly, assigned parking with extra parking, extra fuel trucks, support vehicle roads rebuilt and many other scenery improvements and objects added. By Robert Catherall
Posted Jun 8, 2018 02:04 by uploader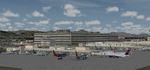 3.71Mb (258 downloads)
KPHX - Phoenix Sky Harbor Intl, Arizona, USA. This is Ray Smith's FSX file. Ray has given me permission to modify his file for P3Dv4. Assigned parking now updated as per their website which now includes allocated gates for American Airlines as well as well as coded for US Airways for those using older flight plans. New control tower, extra fuel trucks, taxiways and taxi signs updated to the latest charts. Helipad, support vehicle roads rebuilt and many other scenery improvements and objects added. By Robert Catherall
Posted Jun 4, 2018 01:57 by uploader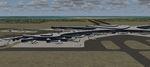 2.15Mb (770 downloads)
OMAA - Abu Dhabi Intl Airport, United Arab Emirates. This is Ray Smith's FSX file. Ray has given me permission to modify his file for P3Dv4. This scenery is a very accurate rendition for Abu Dhabi Intl airport. The new Midfield Terminal included will open in late 2019 with Etihad and its associated partners assigned there. The new Terminal 3 is also included. Terminal 2 is moved to its correct location with its current airlines assigned to the gates there. ILS and transitions updated for both runways. Taxiways and taxi signs updated to the latest charts. Fire stations added, fuel tank farm updated, many other scenery objects also added to further enhance this airport. By Robert Catherall
Posted Jun 2, 2018 05:04 by uploader