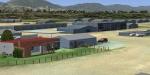 6.59Mb (775 downloads)
Worcester is a small GA airfield about 110 km from Cape Town South Africa. It is used for general aviation , PPL training and is one of the best gliding spots on earth. Surrounded by beautiful mountains and rivers.FSX Acceleration will give the best results.(Also SP2 commpatable).Acceleration users will have more eye candy !
Posted Feb 7, 2013 04:11 by Jacques Botha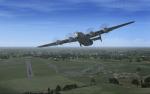 0.12Mb (692 downloads)
USAAF Horsham st. Faith was home to the 458th bomb group during WW2. Horsham st. Faith was previously used by the RAF, and now serves as Norwich Airport. In 1944, the airfield had become a heavy bomber base with concrete runways, and the aircraft flown from this airfield at that time was the B:24 Liberator. I have "shrunk" the city of Norwich to a more appropiate size for the era, and if you have installed IanPs "Rackheath" then you'll start to get an idea how close these fields were!I hope a later update of this quite basic scenery will include barrage balloons over the nearby city of Norwich (I need to research locations).
Posted Feb 6, 2013 07:11 by Norfolk Mike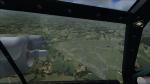 0.13Mb (480 downloads)
USAAF North Pickenham was home to the 491st, and the 492nd bomb groups during WW2.Due to heavy operational losses, the 492nd was replaced by the 491st from April 1944 to May 1945. Both groups used the B:24 Liberator. After WW2 North Pickenham was handed over to the Royal Air Force and during the 1950s was a major "Thor Missile" site. Now the old airfield is home to a large windfarm and the runways used as hardstandings for Turkey sheds!
Posted Feb 6, 2013 05:39 by Norfolk Mike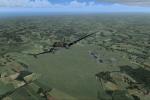 0.17Mb (518 downloads)
RAF Bircham Newton played host to various units during WW2. Bircham Newton was an active airfield in the First World War, so has a very long and distiguished history! Bircham Newton was always a grass airfield, but many of the older pre war buildings were supplimented by more "modern" architecture by 1944. I've tried to make all of my airfield projects representative of 1944, and Bircham Newton, now with it's C-Type Hangars is no exception. Aircraft appropiate to Bircham Newton during this period would have been the Hudson and the Wellington.
Posted Feb 6, 2013 05:05 by Norfolk Mike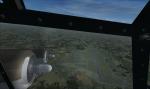 0.11Mb (547 downloads)
Hardwick was home to the 93rd Heavy Bombardment Group US 8th Airforce. This group flew the B:24 Liberator from this airfield in WW2. Today, part of the airfield hosts two P:51 Mustangs owned by Maurice Hammond, as well as a musuem dedicated to the men that flew from here during the second world war.Hardwick had a navigational aid known as Buncher 7, which I have depicted with an NDB. The frequency is 487.00. Buncher beacons were used to assemble the huge bomber formations safely until they were above the weather.
Posted Feb 6, 2013 04:22 by Norfolk Mike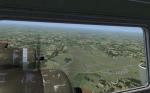 0.15Mb (483 downloads)
Deopham Green was home to the 452nd bomb group, United States 8th Air Force. The 452nd flew B:17s from this remote Norfolk airfield in WW2. This is a basic scenery, forming part of my retro 40s project.
Posted Feb 5, 2013 10:54 by Norfolk Mike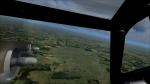 0.12Mb (447 downloads)
Wendling was home to the 392nd heavy bomber group in WW2. This group used the B:24 Liberator. This is a basic rendition of wendling as it would have looked in 1944.
Posted Feb 5, 2013 09:17 by norfolk mike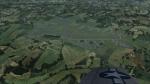 0.07Mb (557 downloads)
Shipdham was home to the 44th bomb group, United States 8th Air Force. It is located in the county of Norfolk in the UK and was a heavy bomber base for the B:24 Liberator. This is a basic scenery but it will give you somewhere else to fly from in your warbird!
Posted Feb 5, 2013 08:02 by norfolk mike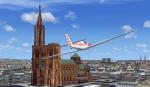 3.77Mb (1223 downloads)
Missing Strasbourg Cathedral for Etienne's and Philippe's wonderful Alsace add-on Alsace_Chateaux_Amers_vol1. This is Philippe's former version of the Cathedral.
Posted Feb 2, 2013 12:25 by Jean-Luc Peters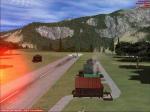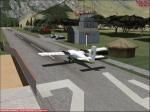 1.26Mb (11499 downloads)
Tenzing-Hillary Airport VNLK, also known as Lukla Airport, is a small airport in the town of Lukla,in eastern Nepal. This airport is used to fly in Mt Everest climbers. The airport's paved asphalt runway is only accessible to helicopters and small, fixed-wing, short-takeoff-and-landing aircraft (STOL), such as the De Havilland Canada DHC-6 Twin Otter, Dornier Do 228 or the PC-6 Turbo Porter. A program titled Most Extreme Airports broadcast on The History Channel in 2010, rated the airport as the most dangerous airport in the world. Updates by Harry Patten
Posted Feb 2, 2013 11:29 by uploader