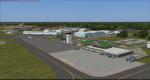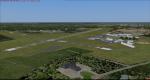 12.27Mb (318 downloads)
Athens Ben Epps Airport is a public use airport located 3 miles East of Athens, Georgia, USA. The real airport has seen extensive construction since the 2006 default. Including the construction of a new Terminal, Demolition of the old Terminal, demolition and rebuilding of some taxiways, and changes to the instrument approaches. This scenery will bring the airport to its current state. I've also re-done the land class around the airport as well. Includes custom made buildings and updated instrument approaches. Tested in FSX, Should work with P3D V3 and earlier. Not tested on P3D V4 but may also work, feel free to try.
Posted Mar 17, 2019 21:55 by CountryFlyboy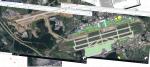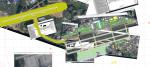 71.86Mb (357 downloads)
UUEE_Moscow Sheremtievo with functioning R06L/24R. Navaids as per last AIRAC. Gates and parking as per last available charts. Deactivate FTX APB_UUEE.bgl before installing if applicable.
Posted Mar 16, 2019 22:03 by Sergey Stoyanov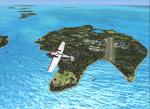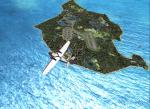 22.81Mb (592 downloads)
Custom remake of Little Darby and Darby islands in the Bahamas. Made just for fun.
Posted Mar 10, 2019 03:17 by Gary Shetter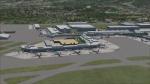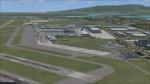 5.31Mb (1881 downloads)
Daniel K.Inouye International Airport also known as Honolulu Intl (PHNL) Hawaii, USA. This is a reasonably accurate and up-to-date version of Honolulu Intl airport with two optional files, and made only for FSX users, do not use in P3D: There is one version with the Crosswind runways activated where all 4 runways will be used for takeoff/landing and one version as the default airport runway operation: assigned parking as per their website with extra parking including gates for the A380, taxiways and taxi signs updated to the latest charts, hazardous cargo pad and buildings added, fuel tank farm, helipad, Lagoon Dr also included, support vehicle roads rebuilt and many other scenery improvements and objects added, airport views are from the roof of the control tower (when in tower view) please view the readme before installation. By Ray Smith
Posted Mar 7, 2019 01:30 by uploader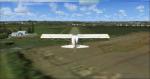 5.31Mb (256 downloads)
LFHC, Perouge-Meximieux forgotten in FSX. This airfield is located about 30 km north east of Lyon in France. The location has been checked and corrected by SBuilderX, Taxiways, car parks created with ADE. In order to make this scene more alive, I added the buildings (with Sketchup) some objects and people.
Posted Mar 3, 2019 06:59 by uploader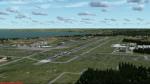 0.21Mb (183 downloads)
KTVC, Cherry Capital Airport, Traverse City Michigan USA, for FSX. New setup of this airport. I used FreeMeshX for mesh. Tim van Ringen
Posted Mar 2, 2019 11:49 by uploader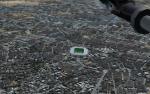 1.30Mb (287 downloads)
The home of the English rugby team, always visible to the south on westerly approaches to London Heathrow Airport. Improved - now with rugby posts - as requested!
Posted Feb 21, 2019 18:44 by James Cartner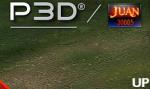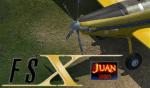 6.62Mb (1151 downloads)
"Texture Terrain HD for: FSX / P3D" this time with the correct instructions for P3D users 1)texture 1024 x 1024: standard quality but the same is good 2)texture 2048 x 2048: more detailed high quality -PREPAR3D install : copy 1 texture "detail1.bmp" to: .Prepar3D v4\Scenery\World\Texture -Flight Simulator X install : copy 1 texture "detail1.bmp" to: C:\Program Files..\Microsoft Games\Microsoft Flight Simulator X\Scenery\World\Texture delete the previous version of this add-on
Posted Feb 8, 2019 17:51 by juan30005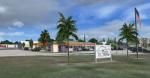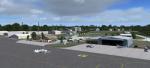 31.07Mb (507 downloads)
Flagler Executive (Florida) Airport (KFIN). Flagler Executive Airport evolved from a WWII Navy training field to a dragstrip, to uncontrolled X47 airport, to KXFL with a control tower, and now to the KFIN designation. The airport has recently undergone a runway relocation and lengthening, taxiway changes and a name change. FSX shows the airport as X47 for the city of Bunnell, and it is now KFIN with this scenery update for the city of Palm Coast. This scenery package includes a photoreal airport background and models of actual buildings on the airport so you can fly in and have lunch at the Highjackers restaurant (your table has been reserved). The airport also has a water runway on adjacent Gore Lake. Scenery is based on Google Earth, Google street view and photos taken locally, and it is optimized for use with UTX-USA. Since changing the airport designator eliminates AI traffic previously programmed for X47, an AI traffic file is included as well as static aircraft to populate the airport. A modification is included for use with EditVoicepack to revise the ATC sound file to include "Flagler" in communications to/from the tower, etc. Includes fix. By: Art Poole
Posted Feb 4, 2019 07:45 by uploader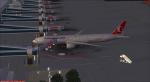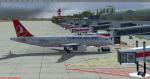 83.98Mb (1212 downloads)
Izmir Adnan Menderes Menderes Airport LTBJ in the west of Turkey for FSX/P3D. All of the Main Terminal and other buildings model have been designed using Sketcup 2018. ADE has been used parking,aprons and taxiway and taxisign and some objects.Free photo real satalite image from SBUilderX313. This also places a few objects from the default FSX scenery library. Before upload to fsx please read me file…Version LTBJHD2019V1. By Hakan DAGHAN
Posted Feb 4, 2019 03:07 by Hakan DAGHAN