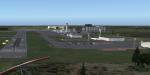 8.77Mb (159 downloads)
FSX/FSX-SE KIXD Update Gardner KS. This is my update of the KIXD, Gardner, Kansas, USA airport. Earlier build was the default KIXD file redone and part of my small KS airport variety package. This has much more detail and both on airport and off airport buildings and static traffic. Fly around the area and you will be able to pick up on all the additions. There is both military as well as general aviation parking at the airport. New additional housing and apartment areas added into package also. By Dick Mohatt.
Posted Jul 13, 2019 16:24 by uploader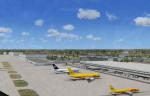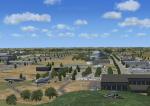 49.33Mb (2225 downloads)
Here comes my newly designed Munich Airport EDDM with many details up to date 2019 with associated parking rights Lufthansa Terminal 2 and satellite terminal were also assigned to the A380 parking. Roads and terrain have been rebuilt, as well as the visitor hill and the Cargoplatze. Installation: Simply place and activate the Scenery folder EDDM in Addon Scenery. All roads have been assigned and AI traffic is working properly.
Posted Jul 13, 2019 11:17 by Jamaika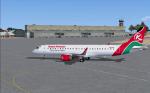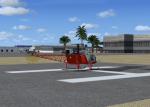 70.67Mb (395 downloads)
Today, after half a year of construction, I introduce you to my new Mombasa airport, which I built because I was on vacation in Mombasa and found nothing useful in freeware in FSX. The airport Mombasa was tested in FSX (Steam should also work) and is published by me as freeware. Ai traffic works / approaches work as well as road traffic and jetways work. Go on safari and discover the animals of Africa start with a small plane or heli from the small runway towards the coast in low flight and find the animals, (Tip: at the waterholes ................ Visit the coast of Kenya with the hotels ................ make a harbor cruise and see many details ...............
Posted Jul 13, 2019 07:36 by Jamaika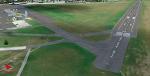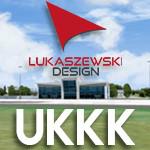 252.10Mb (638 downloads)
Completely free scenery of Kiev Zhuliany Airport! Supports: FSX, P3Dv2, v3 and v4! Included: High resolution ground poly, Photoscenery similar to ORBX, Dynamic lights (P3Dv4 only), Friendly performance and more cool things. You must have it! Includes P3D4 fix. By Jakub Lukaszewski
Posted Jul 4, 2019 03:46 by uploader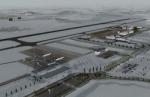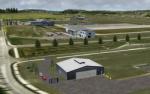 105.33Mb (887 downloads)
The 5th version of this Add-On for FSX approaches the reality with photo-realistic ground textures, accurate buildings, runways, taxiways and the official approaches with waypoints, localizers and glide paths. More than 1200 objects, 60 individual scenery-models, approx. 100 custom ground polygons and lines have been created. One big problem was to adopt the terrain mesh to fit the new airport. The actual state of January 2019 has been adapted to the scenery. Photorealistic ground textures have been reworked. High resolution textures you find at the aprons and the vehicle parking areas at the General Aviation and Business Terminals. Accurate Night Lighting and winter textures have been added. All buildings, Hangars and a lot of objects have been designed individually (no library objects). Even the taxiway and apron markings are hand-made. For P3D a different version can be downloaded. Works with VFR Germany and ORBX Northern Germany.
Posted Jun 30, 2019 12:48 by uploader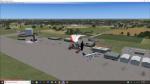 1.10Mb (192 downloads)
FSX-SE/FSX KGRI Grand Island, Nebraska (NE), USA. Redesign of default KGRI Grand Island Airport with a few additions outside of the airport. Mostly added more parking new buildings at airport along with static aircraft and vehicles and made it a more fun airport to fly in and out of. By Dick Mohatt
Posted Jun 14, 2019 11:14 by uploader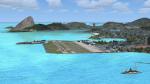 445.23Mb (1844 downloads)
This is, probably, the last version of Rio de Janeiro from us. It includes Rio and Niteroi. There is nothing complicated about it, just add as an "area". It does contain a small mesh that might conflict with other meshes you might already have. There are three small hangars at SIAN that won't show in P3D. By Newton D., Luis V. and Fern Marques.
Posted Jun 10, 2019 11:36 by Fern Marques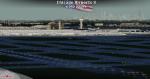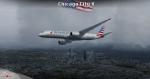 135.23Mb (1121 downloads)
CHICAGO X DEMO features an extremely detailed scenery of large area of Chicago, USA, fully compatible with FSX, FSX SE, P3D v1/v2/v3/v4 and FSW by Dovetail. With Chicago X you are free to fly to any of 3 airports: KORD O'Hare International Airport, KMDW Midway International Airport, KPWK Chicago Executive Airport and admire some of the world-renowned landmarks, bridges, harbours, heliports, seaplane bases, ships, etc. This Demo version features both - the City and the Airports packages (commercial poducts) and includes some downtown buildings as well as all airports with terminals but with low resolution textures, non-animated jetways and generally much less details. This ensures no problems with online (VATSIM, IVAO and multiplayer) flying in case some users have the payware scenery and some don't. It's equipped with an automatic installer, which means that the scenery will be automatically added to the Flight Simulator Scenery Library. Please uninstall all previous versions of the above-mentioned airports you may have installed before. Please make also sure that no duplicated AFCAD files are installed. Enjoy your virtual flying with Drzewiecki Design!
Posted Jun 4, 2019 12:23 by Drzewiecki Design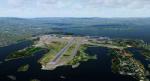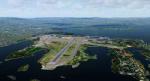 77.27Mb (693 downloads)
Fornebu was the main airport serving Oslo and Eastern Norway from 1939 to 1998. It was then replaced by Oslo Airport, Gardermoen and the area has since been redeveloped. This is a recreation of what the airport used to look like in the 90s. The airport has two asphalt runways, as well as two water runways and docks for floatplanes. The scenery features photorealistic ground-coverage and custom made 3D models. No tested but may also work in FSX
Posted Jun 3, 2019 04:42 by uploader

17.24Mb (524 downloads)
Stanfield Int. CYZH, Halifaz, Nova Scotia, for FSX. All new. Wherever possible builings are modeled on photos. Rwy 6/24 changed to 5/23 and extended to 10,500'. Rwy 15/33 changed to 14/32. By Sidney Schwartz
Posted Jun 1, 2019 22:26 by uploader