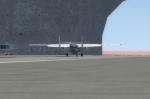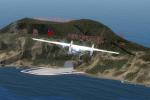 56.16Mb (506 downloads)
A fictional China/Japan Diaoyu/Senkaku Islands Island Airport V1.1. This is a group of unihabited islands controlled by Japan in the East China Sea. They are located roughly due east of Mainland China, northeast of Taiwan, west of Okinawa Island, and north of the southwestern end of the Ryukyu Islands. China claims the discovery and ownership of the islands from the 14th century, while Japan had ownership of the islands from 1895 until its surrender at the end of World War II. Ownership of the islands is disputed.
Posted Feb 10, 2018 22:24 by Liao Yitong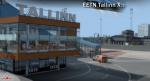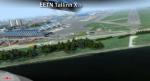 10.36Mb (680 downloads)
EETN TALLINN X DEMO features an extremely detailed scenery of EETN Lennart Meri Tallinn Airport in Tallinn, Estonia, fully compatible with FSX, FSX:SE, P3Dv1, P3Dv2, P3Dv3, P3Dv4 and FSW. It's a fully functional DEMO version of the commercial payware product. It features same airport layout as in the full version but with limited 3D objects and low resolution textures. Using this free demo ensures no problems with online (VATSIM, IVAO, multiplayer etc.) flying in case some users use the payware scenery and some don't. Lennart Meri Tallinn Airport (TLL / EETN) is the largest airport in Estonia and home base of the national airline Estonian Air. The airport has a single asphalt-concrete runway that is 3070 metres long and 45 metres wide (large enough to handle wide-bodied aircraft such as the Boeing 747). It's equipped with an automatic installer, which means that the scenery will be automatically added to the Flight Simulator Scenery Library. Please uninstall all previous versions of this airport you may have installed before. Please make also sure that no duplicated AFCAD files are installed. Enjoy your virtual flying with Drzewiecki Design!
Posted Feb 3, 2018 15:11 by Drzewiecki Design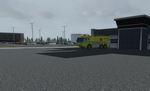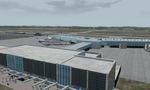 18.25Mb (692 downloads)
Knoxville Mcghee Tyson Airport KTYS (V 1.0). The purpose of this scenery is to Update the default P3D scenery and AFCAD of Tennessee's 3rd largest airport, Knoxville (KBTV). Owned by the Metropolitan Knoxville Airport Authority, at present writing it is served by the legacy airlines offering flights to their respective hubs, as well as Allegiant and Frontier. Most real-world commercial flights are 2 hours or less, making it a great destination for regional hops. The airport employs nearly 3,000 people and is a quick 30-minute drive to the Great Smoky Mountains National Park, making for great GA flying as well. By Matthew Derr
Posted Jan 24, 2018 08:28 by uploader


19.58Mb (380 downloads)
FSX/P3D RAF Bury St Edmunds (USAAF Station 468), UK. RAF Bury St Edmunds (USAAF Station 468) is a former Royal Air Force station located 3 miles (4.8 km) east of Bury St Edmunds, Suffolk, England. Built in 1941 it was first home to the 47th Bombardment Group. After the 47th BG moved to RAF Horham, the 322nd BG moved in with their B-26's. The final occupants of USAAF Station 468 were the 94th BG (Heavy) flying B-17's. This scenery has been tested in P3DV3 and P3DV4. It should work in FSX. The scenery is fairly accurately modeled from the RAF site plans. The main site and all dispersed sites are modeled. A big thanks to Ian P. for his superb models. Note: You must download and install Ian's libraries (see the readme). By Terry Flemming.
Posted Jan 20, 2018 07:23 by uploader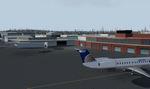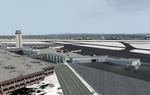 24.26Mb (668 downloads)
Brooksville-Tampa Bay Regional Airport (KBKV). This is former World War II military airfield used by the 9th Bombardment Group to train B-17 and B-24 crews and is now the largest airport north of the Tampa Bay-St. Petersburg/Clearwater region in Florida with two active runways, including a 7000-foot ILS runway, and a control tower. The scenery package includes a photoreal airport background and models of actual buildings on the airport and in the vicinity. Scenery is based on Google Earth including street view, and it is optimized for use with UTX-USA. By Art Poole
Posted Jan 16, 2018 03:58 by uploader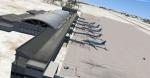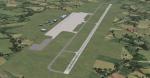 0.77Mb (467 downloads)
URRP Rostov-on-Don Platov Airport, Russia. Platov airport was build prior to the soccer world championchip were Rostov-on-Don hosts some of the matches. It opened in December 2017. The new Platov International Airport have been constructed for the upcoming 2018 FIFA World Cup.
Posted Jan 9, 2018 15:17 by Mario Kassmann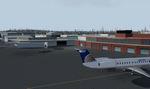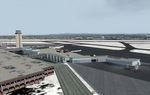 33.65Mb (810 downloads)
Burlington International Airport, KBTV, Vermont. The purpose of this scenery is to enhance the default scenery of Vermontís largest airport, Burlington International (KBTV). Burlington is Vermontís largest city; a regional college town, it is home to 2 colleges and Vermontís largest hospital. The airport is a joint-use civil-military airport and presently served by legacy airlines as well as JetBlue and Porter (Seasonal) with connections to their respective hubs. The airport is a 1-hour drive from the Canadian border. Approximately 40% of the passengers come from Quebec. Most real-world commercial flights are 2 hours or less, making it a great destination for regional hops. The surrounding scenery also makes for great GA flying. Designed and tested in P3Dv4. May also work in FSX. By Matthew Derr
Posted Jan 9, 2018 03:20 by uploader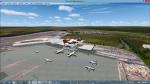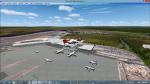 46.14Mb (946 downloads)
This is the Abuja , Nigeria (Nnamdi Azikwe Int'l Airport) DNAA Photoreal for FSX and P3D, created by a Nigerian Simmer Raheem Adeleke. DNAA, Abuja is the capital's Airport in Nigeria and second busiest Airport in Nigeria.
Posted Jan 5, 2018 12:39 by Ibrahim Abdulazeez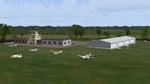 6.77Mb (283 downloads)
EGCL, Fenland Airfield, Lincolnshire, UK. The taxiways and parking spots in this scenery are present but not visible so watch the included AI traffic for clues as they go about their duties. As I have ORBX Global textures installed on my PC I have no idea what this scenery will look like with default FSX textures or how it reacts to other scenery addons but it should at least be an improvement over the FSX default ugly green rectangles. Wether it works with FSX SP1, Accelleration or P3D I have no idea, just try it you can't possibly break anything by installing this. Andre Kemner
Posted Jan 4, 2018 05:59 by uploader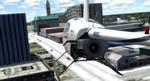 30.68Mb (927 downloads)
FSX/P3D/FSW Scenery Ottawa 2018 Extensive scenery for the city of Ottawa, capital of Canada. Contains more than 200 custom and default objects, including landmarks like Parliament Hill, many buildings in the downtown core and the Byward Market, shopping areas like Bayshore and Carlingwood Mall, sports facilities like Lansdowne Park and the Canadian Tire Centre, and many more. Also adds many roads, some with ground traffic, and extensive areas of landclass. Several Easter Eggs are visible to pilots willing to search. Tested in FSX, P3D v3, P3D v4, Dovetail Flight Sim World By Andy Johnston.
Posted Jan 4, 2018 04:59 by uploader