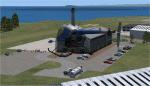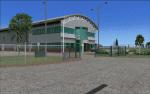 2.86Mb (632 downloads)
Vol.29 is Tremorfa Heliport at Cardiff EGFC. This is situated near the docks, about two miles SE of Cardiff City centre.
Posted Oct 29, 2014 06:11 by Alf Denham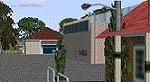 4.43Mb (438 downloads)
YBLT (Ballarat Aerodrome) is a regional 'airport' in the central west of the State of Victoria, Australia and utilises infrastructure from the days of RAAF operations which lasted till the early 1960's. Thus the buildings are now a bit outdated but this file does not reflect that as I have not done any custom texturing so everything in this package tends to look a bit new and crispy. Note the name of this 'airport'. The locals are adamant it is an aerodrome, not an airport. I have not found any freeware or commercial offerings for an alternative to the default and so I have put one together. This is a reasonable approximation of the airport /aerodrome but is not entirely accurate as the hangars/buildings I have modelled myself are generic ones I have done and do not look exactly like the ones at that facility. The connecting road is not in true alignment as I have created it so as it blends into the surrounding default scenery.
Posted Oct 28, 2014 22:48 by Robert Budd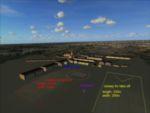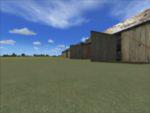 16.05Mb (304 downloads)
Air Station Poznan-Lawica is one of the oldest airports in Poland. Built in 1913 was one of the most important Polish airports in the interwar years. By Rob Kowalski.
Posted Oct 28, 2014 06:47 by Rob Kowalski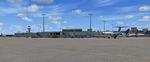 1.09Mb (357 downloads)
Palm Beach International Airport (KPBI) - Beta Fix. Description: In my first attempt at scenery using the ground poly editor included in new versions of ADE, I failed to include the GP textures in the uploaded package. For those who don't already have the textures, I am providing them along with specific KPBI GP textures in this update to the Palm Beach International Airport (KPBI) - Beta scenery. By Art Poole
Posted Oct 28, 2014 04:34 by uploader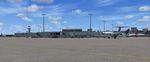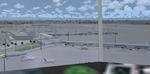 2.52Mb (543 downloads)
Palm Beach International Airport (KPBI) - Beta. This scenery is not complete due to missing scenery objects in some GA areas but is issued for testing and performance comments pending it's final completion. The terminal area is complete including assigned airline gate parking with moving jetways. All runways, taxiways, aprons, control tower, etc. have been brought up to date. The scenery includes custom scenery objects, placement of library objects and landclass changes. Scenery is based on Google Earth and Bing Maps Birds Eye, and it is optimized for use with UTX. I find it flyable with low framerates on my computer with scenery complexity set to extremely dense, extensive WOAI airline traffic enabled to activate jetways. By Art Poole
Posted Oct 27, 2014 03:22 by uploader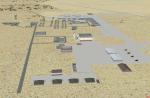 17.81Mb (2089 downloads)
Area 51 Groom Lake USAF Air Facility. The correct names for the facility are Homey Airport (ICAO: KXTA) and Groom Lake. This V1.1 continues my work on AR51. In V1.0 I added tower comms, and taxiways/signs, in this Version I have gone thru the rest of the airport, and adds the Traffic file and includes 'Janet' 737 & F117 aircraft. You should be able to drop in the files, an go there an see the F117's parked at one end, the 'Janet' flights at the other. If you don't look past the flight line you wont notice anything. I just lightly touched-up things, put what was already there in a sensible orderly manner-buildings are 90 to the road, an have pavement, parking lots, walkways. There's gravel roads that go through all those warehouses, a couple more gravel roads go through the fence to the flight line pavement, sand maintenance roads to the power station and water tower. The pool an ball field have been 'prettied' up, and the fire station has been turned towards the flight line and has fire trucks an ambulance parked. The whole flight line is fenced in and a blast shield behind the F22's parking. That's about it, if you've read this far, your wasting time!- go see have a look around beyond an behind the flight line. I heard rumor there's a UFO hidden in one of the back hangars but I cannot confirm that, its fenced off. Created by Jeff Reed
Posted Oct 25, 2014 04:04 by Nick Neveau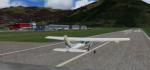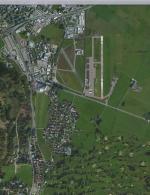 94.77Mb (1630 downloads)
This is a completly new Scenery of LOWZ Zell am See in Austria. It works in FSX and P3D V 2.x. Zell am See Airport is a public use airport located 4 kilometres south of Zell am See, Salzburg, Austria. Usable for airplanes up to 5.7 tonne. Thanks to oe3gsu for some Objects. Guenter Vogele (c)
Posted Oct 23, 2014 14:34 by Guenter Vogele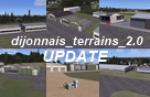 1.76Mb (584 downloads)
Update for the 2.0 Version of Five FSX Terrains Around Dijon, France, Improved or New. Beaune, Darois, Nuits-Saint-Georges, Pouilly, Til-Chatel. Needs dijonnais_terrains_2.0.zip. Comes with a French readme too
Posted Oct 21, 2014 08:38 by G. Guichard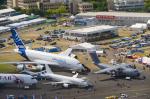 0.10Mb (2334 downloads)
Another scenery which is devoted for airshow fans. Farnborough International Airshow 2014. Farnborough is one of the UK major international airshows. V1 includes arrangement of aircraft as real as I could. Thanks to 'Capt. Mohamed' for his work and taking time to place the objects. Farnborough ICAO:EGLF. BlackHawk [Uzman]
Posted Oct 21, 2014 02:01 by BlackHawk [Uzman]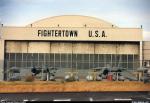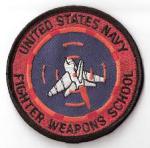 0.23Mb (1875 downloads)
Hey Guys BlackHawk Here. Greetings From BlackHawk[Uzman] Hello folks and here we present the official VF-101 TopGun FighterTown scenery Or known As Beutfort MCAS simply the airbase in the movie TopGun Remember Maverick:D .. well this is built from scratch and added lots of detailed scenery well there is a payware scenery for this while its being payware i got an idea to do a decent freeware with more suff and release it to you all well first things first a big load of thanks goes to Capt. Mohamed from VF-101 Virtual FighterTown Squadron he has helped thorugh providing some detail objects as well as placement details for this fantastic airbase you know everyone like to become Maverick well lets come to the subject apart from the airport some special scenery is being placed for people who interested in making videos for an example "A FSX movie" it is that an entrance to the airport is created and many military objects have been placed through out the airbase,upto 10 single hangars,seven huge hangars out posts and roadways for a drive through for the entire airbase to enjoy the scenery in a ground vehicle the best I would suggest is the Humvee by Bruce Fitzegerald. your choice folks well especially apart from the base two specific scenery a space station and an aircraft carrier docked by the lake near the airport for carrier ops guys we hope you will like it. It's all freeware please do not publish elsewhere without permission. Till next time watch your six Happy Landings Humvee by Bruce Fitzegerald
Posted Oct 19, 2014 09:57 by BlackHawk [Uzman]