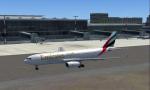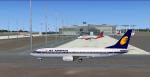 10.68Mb (3962 downloads)
Rajiv Gandhi International Airport (VOHS), also known as Hyderabad International Airport, or simply RGIA, is an international airport serving the metropolis of Hyderabad located at Shamshabad, about 22 km (14 mi) south of Hyderaba, India. It is named after former Prime Minister of India, Rajiv Gandhi. It replaced the former international airport at Begumpet and commercial flight operations began on 23 March 2008. Rajiv Gandhi International Airport is the second public-private partnership venture after Cochin International Airport. In 2010-11, it was the sixth busiest in India by international and overall passenger traffic. The airport features as the top among Indian airports in the ranking of world airports for the year 2013 by Skytrax. It serves as a hub for SpiceJet, Lufthansa Cargo and Blue Dart Aviation and as a focus city for Air India, Jet Airways, and JetLite. See optional textures below which may be required.
Posted Aug 6, 2014 16:58 by Ratan Lewis
3.10Mb (622 downloads)
These texture files are needed if you see some dark(black)buildings at VOHS airport scenery (above). Since these are repeated texture files some of you may not need these files at all. To resolve the issue of dark building objects please move these BMP files to the texture folder of VOHS-AR619 scenery.
Posted Aug 6, 2014 16:36 by Ratan Lewis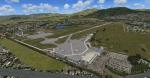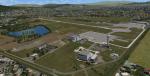 15.44Mb (9307 downloads)
This is a scenery of Florence (Peretola) LIRQ airport for FSX. The scenery includes the photoreal area of the airport and surroundings area with a realistics autogen. The airport has been created faithfully and it has a correct position of the terminal with parking, hangars, static airplane, airport vehicles, trees and lights.
Posted Aug 6, 2014 10:55 by Matteo Veneziani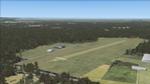 0.30Mb (478 downloads)
That freeware scenery for FSX represents the small, Tournus-Cuisery airfield (LFFX) in Burgundy, France, which is located between Chalon and Macon. Comes with a French readme too
Posted Aug 6, 2014 06:54 by G. Guichard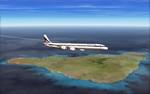 66.85Mb (857 downloads)
Photoscenery for Easter Island, for fsx. This is a much reworked photo of Easter Island compiled with FSEarthTiles. Actually it is a mix of two different files to remove maximum of clouds, before palette adjustments.
Posted Aug 3, 2014 03:20 by Jean-Marie Guieau
1.57Mb (299 downloads)
Avio Club Rieti (airfield) Aeroclub Rieti airfield in central Italy. For this small airport has attempted to play area with the highest possible realism but, to make the scenery and lighter fluid for FSX elements were used only by default, however the Epron corresponds to reality as well as several car parks, residential area and tower location etc etc..
Posted Aug 2, 2014 12:28 by Voyager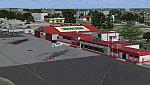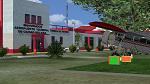 84.71Mb (1823 downloads)
FSX/Prepar3D Scenery - Ciudad Bolivar (SVCB) - Venezuela The National 'Tomas de Heres' Airport, located in the city of Ciudad Bolivar, to the south of Venezuela, near the Orinoco River. is one of the airports with more domestic and tourist traffic, due to his geographical position Photo-terrain area improved with Autogen files. Only compatible with versions to FSX, P3Dv1.x or P3Dv2.x. Also includes a friendly Auto-Install. By David Maldonado
Posted Jul 28, 2014 03:50 by David Maldonado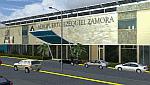 61.28Mb (1247 downloads)
The National Airport "Ezequiel Zamora" is an airport located in the city of San Carlos, being the most important of the Cojedes State Recently remodeled which includes the adequacy of the runway for aircraft such as the McDonnell Douglas DC-9, Boeing 737, Airbus A319. Photo-terrain area improved with Autogen files. Only compatible with versions to FSX, P3Dv1.x or P3Dv2.x. Also includes a friendly Auto-Install.
Posted Jul 27, 2014 07:06 by David Maldonado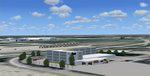 15.49Mb (987 downloads)
Wichita, Kansas Scenery. This version adds several General Aviation hangars, the UPS Freight Hangar, as well as the Doubletree Hotel. It works and looks best with the Megascenery Kansas package. By Mike Epright
Posted Jul 26, 2014 05:49 by uploader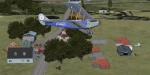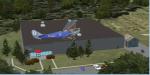 9.79Mb (375 downloads)
The airport named Taylor field (on 1970's sectional charts) is a small 1800' strip not shown in the stock FSX list of airports. There is no ICAO code or other designator I could find with extensive research. I used my own code of NY3C. This is a part reality part historic scenery as it represents the modern day airport, the Glenn Curtiss Museum, and adjacent to the Airport a facsimile of the original horse racetrack that was used by Glenn Curtiss to fly his June Bug on July 4th 1908. It is a close As I can determine to the original spot using archival photos and conversations with the Director of the Curtiss Museum, Traff Doherty. Extensive use of new land class is also employed to give a better representation of the geographic area. This will work with FSX stock scenery, but is designed with UTX (Flight One Software) in mind. It will work with ORBX Global and Global Vector as well. With these latter two there may be some missing roads but it won't affect the scenery.
Posted Jul 24, 2014 01:39 by Jon Davidson