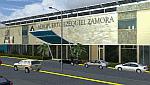 61.28Mb (1330 downloads)
The National Airport "Ezequiel Zamora" is an airport located in the city of San Carlos, being the most important of the Cojedes State Recently remodeled which includes the adequacy of the runway for aircraft such as the McDonnell Douglas DC-9, Boeing 737, Airbus A319. Photo-terrain area improved with Autogen files. Only compatible with versions to FSX, P3Dv1.x or P3Dv2.x. Also includes a friendly Auto-Install.
Posted Jul 27, 2014 07:06 by David Maldonado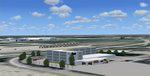 15.49Mb (1047 downloads)
Wichita, Kansas Scenery. This version adds several General Aviation hangars, the UPS Freight Hangar, as well as the Doubletree Hotel. It works and looks best with the Megascenery Kansas package. By Mike Epright
Posted Jul 26, 2014 05:49 by uploader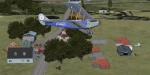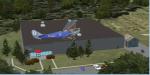 9.79Mb (425 downloads)
The airport named Taylor field (on 1970's sectional charts) is a small 1800' strip not shown in the stock FSX list of airports. There is no ICAO code or other designator I could find with extensive research. I used my own code of NY3C. This is a part reality part historic scenery as it represents the modern day airport, the Glenn Curtiss Museum, and adjacent to the Airport a facsimile of the original horse racetrack that was used by Glenn Curtiss to fly his June Bug on July 4th 1908. It is a close As I can determine to the original spot using archival photos and conversations with the Director of the Curtiss Museum, Traff Doherty. Extensive use of new land class is also employed to give a better representation of the geographic area. This will work with FSX stock scenery, but is designed with UTX (Flight One Software) in mind. It will work with ORBX Global and Global Vector as well. With these latter two there may be some missing roads but it won't affect the scenery.
Posted Jul 24, 2014 01:39 by Jon Davidson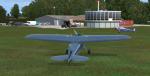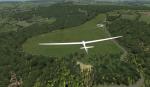 38.16Mb (716 downloads)
Can also be used with default scenery with limitations. This is a departure for me, away from the Appalachians over the pond to Merry England. Sutton Bank, also known as Roulston Scar, is a hill in the Hambleton District of North Yorkshire in England. It is a high point on the Hambleton Hills and the North York Moors National Park with extensive views over the Vale of York and the Vale of Mowbray. It is also home to the Yorkshire Glider Club on top of the hill. This will be the first of a small series of UK glider fields and WW2 airfields. This is specifically designed to work with ORBX England. It will show nicely on FSX stock scenery BUT the field will be not flat, but very hilly.Also works with ORBX global same caveat. ORBX Global Vector will improve the roads and vector data as will UTX Europe.
Posted Jul 24, 2014 00:57 by Jon Davidson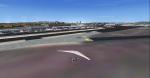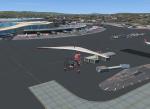 41.69Mb (2201 downloads)
Chhatrapati Shivaji international airport (Mumbai India) has been renovated with the addition of a new terminal and new ATC. This is not a complete version of VABB but unfinished WIP. Still, its fun to fly this scenery.
Posted Jul 20, 2014 12:48 by Ratan Lewis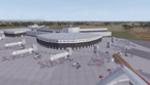 0.22Mb (1001 downloads)
That freeware FSX scenery is adding the new terminal in FSX default Algiers' Houari Boumediene airport (DAAG), with some more updates. Comes with a French readme too
Posted Jul 16, 2014 08:54 by G. Guichard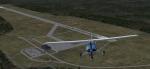 0.01Mb (222 downloads)
This replaces the files from airport Mocopulli Chile V.12 designed by Juan Lucero. Corrects problem generated by design software in the orientation of the runway. Tested with FSX / Acceleration Pack.
Posted Jul 14, 2014 14:35 by Juan Lucero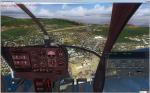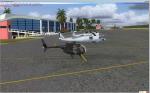 405.25Mb (2916 downloads)
Finaly here's St.Kitts scenery for FSX. Saint Kitts is an island in the West Indies. The west side of the island borders the Caribbean Sea, and the eastern coast faces the Atlantic Ocean. I do not feel that it is complete, but I will send it to you since you asked. I have this scenery placed with "PWS Vol 5" and my own "St.Eustatius" particularly because of the mesh. Besides, I used objects from the "JL Valladier " its scenery "St Kitts and Nevis Antilles". They are placed in the folder "St-kitts_Airport" which ranks at the top. Then comes "St.Kits Caribbe" and "PWS Vol 5" Hope you enjoy it. 00 - St-Eustatius Mesh 01 - St-kitts_Airport 02 - St.Kits Caribbe 03 - PWS Vol 5
Posted Jul 12, 2014 02:10 by Harald Sandvik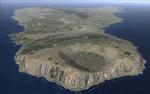 5.30Mb (2057 downloads)
This project rebuilds Easter Island / Isla de Pascua. Mataveri Intl (SCIP) is completely overhauled, and all airport objects are aligned from satellite imagery. Landclass polygons and coastlines were meticulously hand-drawn directly from satellite imagery to provide the most detailed and accurate scenery available for this region. AI road and boat traffic is activated for the region. Accurate coastlines and road data, as well as corrected land and waterclass are provided based on the latest available satellite imagery. GA flights use default aircraft and include an option to add Chilean Air Force planes around the island. Numerous Moai (Easter Island heads) have been placed around the island according to satellite imagery. Scenery was created using Airport Design Editor X v1.61.5298, SBuilderX 3.13, and the FSX Object Placement Tool. Scenery objects were added and modified from stock FSX scenery to resemble as closely as possible the actual airports. The FSX apron lights included are from the terrific set created by Jim Dhaenens.
Posted Jul 11, 2014 15:10 by Carlyle Sharpe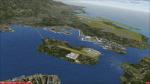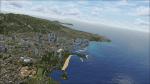 7.85Mb (2561 downloads)
Pearl Harbor and Waikiki Update v1.2. This is a simple landclass and waterclass update for FSX with SP2/Acceleration that does the following: - A complete make-over of Ford Island so that it more closely matches its present day appearance, including addition of the USS Missouri - Some updates to the South East Lock in Pearl Harbor to more closely match it's present day appearance - Updates to Sand Island in an attempt to more closely match reality - Uses a darker waterclass for Pearl Harbor and Kaneohe Bay in an attempt to more closely match reality - Adds some missing beaches along the southern coast of Oahu, including Waikiki - Adds shallow, coral reef waterclass where appropriate along the southern coast of Oahu in an attempt to more closely match reality - Diamond Head uses a volcanic rock texture. Previous version had 2002 downloads.
Posted Jul 7, 2014 14:46 by malibu43