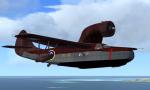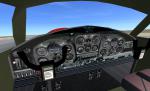 13.16Mb (1058 downloads)
The Fairchild 91 was a single-engine eight-passenger flying boat airliner developed in the United States in the mid-1930s. Fairchild designed the aircraft in response to a Pan American Airways request for a small flying boat to operate on their river routes along the Amazon and Yangtze. The result was a conventional high-wing cantilever monoplane with its radial engine mounted above the wing in a streamlined nacelle. The red "Kono" belonged to explorer Richard Archbold. This an FSX update of the fs2004 F-91 by Chris Herring. The package features entirely revised panels and includes the three default and three new liveries by other authors. Smoke and additional camera views (cabin and co-pilot) added. FDE optimized for FSX. All credits go to Chris Herring for the original model, new panels and other updates by Michael Pook.
Posted Dec 8, 2017 07:14 by Michael Pook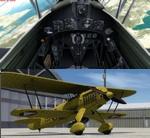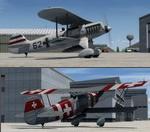 33.61Mb (2265 downloads)
FSX/P3D 3 & 4 Heinkel He 51 4 livery pack. Simple assembly of this high quality model and VC to include the following liveries: Swiss, Italian, German and Russian. The Heinkel He 51 was a German single-seat biplane which was produced in a number of different versions. It was initially developed as a fighter, a seaplane variant and a ground-attack version were also developed. It was a development of the earlier He 49. 1st put into service in 1935 it was retired in 1939 but continued in Spain until 1952. Model created by Craig Richardson. Paint by Craig Richardson and Bernard Lechner. Packaged for P3D 4/3 and FSX by Chris Evans
Posted Oct 26, 2017 09:20 by chris evans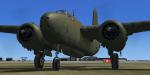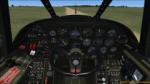 193.61Mb (3467 downloads)
Douglas A-20 Havoc Rel v1.0 for FSX/P3D Only (Will NOT work in FS9) by Milton Shupe, Tom Falley, William Ellis, Nigel Richards, Roman Stoviak, Huub Vink, SteveB. Original Pilot figures by Jan Visser and Bill Ortis. Thanks to GLH for his early research and work on the aircraft.cfg data. Thanks to Huub and SteveB for allowing use of two each of their texture sets. Great stuff! Links to more of their paints included. Pkg incl 4 models, 20 model variants, authentic sounds by Nigel Richards, custom Flight Model, and great paints for each model. Contents: FSX aircraft: A-20C, A-20G, P-70A1, P-70A2 Effects: two The paint kits for this package are available at Sim-outhouse uploaded by Wellis. http://www.sim-outhouse.com/sohforums/local_links.php?catid=8 More Paints by Huub Vink: http://www.sim-outhouse.com/sohforums/local_links_search.php?action=show&userid=14&sort=d More Paints by Steve "Stalin" Baldwin: Thread showing SteveB's paints progress: http://www.sim-outhouse.com/sohforums/showthread.php/95258-Douglas-A20-Havoc?p=1088048&viewfull=1#post1088048 Other aircraft paints by Steve: http://www.sim-outhouse.com/sohforums/showthread.php/107002-My-Repaints Milton Shupe October 12, 2017
Posted Oct 13, 2017 19:54 by Milton Shupe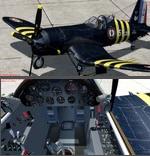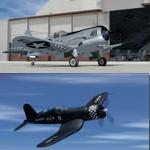 55.55Mb (5423 downloads)
FSX/P3D 3/4 Chance Vought F4U-7 Corsair package. Liveries include US Marines, Blacksheep, VMA, VMF, French Navy, Royal Navy. The Vought F4U Corsair is an American combat aircraft that made it's name in World War 2 and Korea. The aircraft was so popular that Vought was unable to meet demand and called in additional manufacturing by Goodyear and Brewster. Original fantastic ALPHA BLEU CIEL model converted to FSX native format by LLS. VC converted to FSX native with P3D v4 panel adaption by Chris Evans using gauges from Milton Shupe. Tested in Prepar3D V4 and 3.4 and should be OK also in FSX. Zip preview for images. Assembled for FSX Acceleration and P3D 3 & 4 by Chris Evans.
Posted Sep 12, 2017 11:06 by chris evans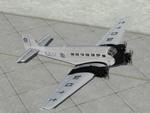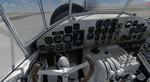 29.33Mb (2039 downloads)
Junkers Ju-52/3m China Eurasia NO.17 package Model by O.Fischer, featuring detailed virtual cockpit, 2d panel and sound. Textures by Liao Yitong. Works in FSX and P3D up to V3 (not v4).
Posted Aug 17, 2017 05:41 by Liao Yitong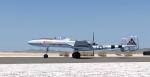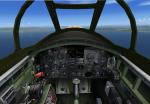 289.15Mb (2582 downloads)
The Vultee XP-54 for FSX Native v1.1 Flight Simulator aircraft package by Milton Shupe, military panel and VC textures by Nigel Richards, gauges by Scott Thomas, exterior paint map and textures by Mike Kelley and prototype flight models by Shupe/Falley; racing FM and textures versions by James Banks. Includes three models, 12 liveries, custom panels and flight models. Be sure to read the XP-54_Aircraft_Index that explains differences in the models and their performance, Model Designer : Milton Shupe Flight Dynamics : Military original by Milton Shupe, Tom Falley, racing FMs by James Banks Panel and Gauges : Nigel Richards, Scott Thomas, Milton Shupe, James Banks XML Gauges : Scott Thomas with mods by Nigel, Milton, and James Textures : Mike Kelley and James Banks Sounds : Nigel Richards and James Banks Special Effects : Copyright by Microsoft Documentation : Mike Kelley Research Assistance : Members of Sim-outhouse Testing : Team Alpha testing, SOH membership - Beta Tests. Works in FSX and P3d >v3 and v4. Milton Shupe August 2017
Posted Aug 8, 2017 08:43 by Milton Shupe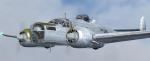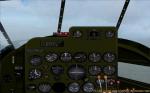 165.93Mb (3205 downloads)
The Beechcraft AT-11 for FSX Native v1.0 Models by Milton Shupe, panel and gauges by Scott Thomas, textures by the late Damian Radice, and Sounds by Nigel Richards. Four models and ten textures included. Damian's Paint kit is available at SOH and Flightsim.
Posted Jul 19, 2017 15:12 by Milton Shupe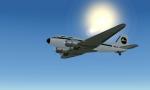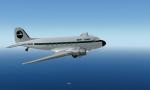 4.87Mb (255 downloads)
West Coast Airlines was a regional airline based in Seattle Washington, and started operations in 1946 with DC-3s. The DC-3 was the workhorse of the airline from its introduction in 1946, until the 1968 merger into Air West. You need the Douglas C-47/DC-3 by Manfred Jahn for this repaint. This aircraft was tested on P3D v3 & FSX-SE.
Posted Jul 6, 2017 04:50 by Ted Giana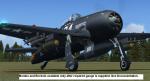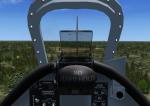 49.95Mb (3616 downloads)
FSX Native Grumman F8F-2 Bearcat Conversion by Milton Shupe June 2017 Original Designed by Oldliner52 with Gmax Gauges by Jean Pierre Langer Flight Dynamics: Jean Pierre Bourgeois, Benoit Dubé Original "Ray Dieckman" Textures by John Terrell FSX Native Modified Text Modified Bearcat F8F-2 by Milton Shupe - Objective - FSX Native May 28, 2017 Summary of changes ------------------ Straight up conversion of materials/textures, animations, and attach points. The way some things were implemented was changed for FSX Native accommodation. No flight model changes were made to affect performance or handling. A basic HUD was added. Bump and spec maps were added (neutralized) as place holders. Sounds by Nigel Richards Bombs and Rockets xml modeled to show (hidden by default) but requires a gauge to manage (see enclosed folder explanation).
Posted Jun 8, 2017 21:03 by Milton Shupe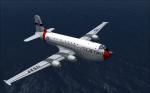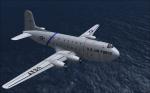 44.26Mb (2416 downloads)
FSX/P3D Douglas C-124 Globemaster II By Jens B. Kristensen. Version 2.0 FSX and P3D (up to v4) only. The C-124 Globemaster II was the standard USAF strategic transport during the 1950s and 60s, until it was replaced with the Lockheed C-141 Starlifter. The C-124A and C-124C are both included in this package. With Jens gracious permission, updated to FSX, MDL X animations and definitions, some added features, see readme.
Posted May 15, 2017 07:49 by LLS