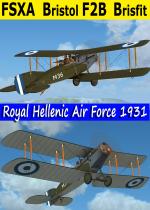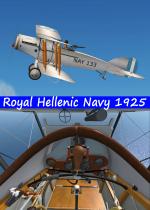 39.29Mb (2094 downloads)
FSX Acceleration Bristol F2B Greek Tourer RHN/RHAF complete package with twin Livery of 1925 Royal Hellenic Navy(All Silver) and 1931 Royal Hellenic Air Force (Dark Green). The superb model by Robert Bruce features detailed virtual cockpit animated pilots and sound. As usual I have included all historical info and photos in the package. The 2 liveries resemble the 81A type(Greek tourer). Textures in DDSx32 bit format(FSX only) by Hellenic Aircraft/Yiannis Katehis Tsetsas
Posted Dec 29, 2012 12:48 by YIANNIS KATEHIS TSETSAS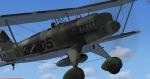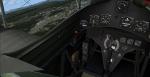 38.54Mb (2585 downloads)
The Heinkel He 51 was a German single-seat biplane which was produced in a number of different versions. It was initially developed as a fighter, and a seaplane variant and a ground-attack version were also developed. It was a development of the earlier He 49. Full animations, 3D gauges and Baked Textures. By Craig Richardson @ www.Classicwings.net. Many thanks to: Huub Vink (Textures), Tom Falley (Flight Model) and Mathias Pommerien for help on the 3d gauges and XML.
Posted Dec 29, 2012 09:12 by uploader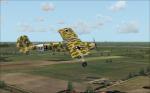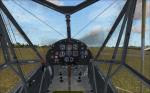 25.94Mb (8845 downloads)
Tim Conrad's superb Fieseler Fi-156C Storch, now flyable in FSX with full working VC and other extra's. 2D-panel by Erwin Welker. All credits are for them! Seven different liveries, all necessary gauges included.
Posted Dec 29, 2012 05:20 by erik hertzberger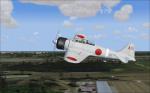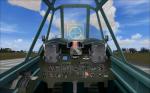 9.55Mb (5024 downloads)
Great worn-out/battle damaged Microsoft's stock CFS2 Mitsubishi A6M2 Rei-sen (Zero/Zeke), updated for FSX. Full working VC, gun-effects for fun.
Posted Dec 28, 2012 17:31 by erik hertzberger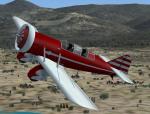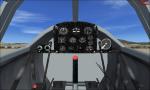 8.46Mb (1065 downloads)
FSX/FS2004 Yakovlev Air-7 vintage racer The "AIR-7", was a tandem-seat air racer / courier aircraft. It was inspired by contemporary American air racers such as early Granville Brothers (Gee Bee) machines and had a fair resemblance to them as a low-wing monoplane with landing gear in streamlined trouser fairings. It was powered by a Shvetsov M-22 nine-cylinder radial engine driving a two-bladed propeller. The M-22 was a copy of the British Bristol Jupiter radial, providing 360 kW (480 HP). It was of mixed metal-wood construction and featured overwing struts, as well as bracing wires, to permit a lighter wing. The AIR-7 performed its initial flight on 19 November 1932 and quickly set a national speed record of 325 KPH (202 MPH).GMAX mdl by A.F.Scrub
Posted Dec 28, 2012 12:00 by A.F.Scrub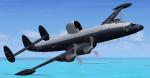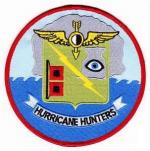 2.37Mb (568 downloads)
WC-121N Hurricane Hunter textures for Team 1049's FSX EC-121/WV-2 Updated Package. This is a repaint of a WV-2 as A/C# 143198 WC-121N of the VW-4 Squadron "Hurricane Hunters", NAS Jacksonville, Florida. 1960s era.
Posted Dec 25, 2012 06:26 by Michael E. Roberts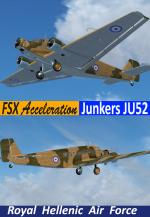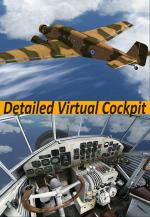 30.62Mb (6847 downloads)
FSX Acceleration Junkers Ju-52 RHAF package. Three Ju-52 aircraft were delivered in June 28 1938 to supplement the existing 4 Ju G24he's of the First Hellenic Airways (EEES) fleet. With the outbreak of War in 1940 they were send to the Royal Hellenic Air Force as transporters. Painted in camouflage colors (Light earth dark green) and bearing roundels on the underside of the wing and fuselage. Model by O.Fischer, featuring detailed virtual cockpit, 2d panel and sound. Repaint for FSX by Hellenic Aircraft/Yiannis Katehis Tsetsas.
Posted Dec 23, 2012 02:47 by YIANNIS KATEHIS TSETSAS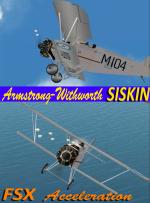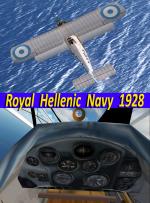 12.59Mb (1225 downloads)
FSX Acceleration Armstrong Withworth Siskin RHN package. The specific repaint resembles an ATLAS type Armstrong-Withworth that was buid by the Hellenic Aircraft Industries(Later KEA) at 1928 ordered by the Royal Hellenic Navy Air Service. The Hellenic ATLAS had differences from the British type such as the motor, wing structure slats, etc. They had codes M101-M112 and light blue roundels on the wings. All painted with aluminum paint and black. Unit: 12 aircraft: Naval Air Service [until 1930]as Naval-Army cooperation,RHAF. [after 1930] Model by: A.F.Scrub with all moving parts, full virtual cockpit, 2D panel, gun effects & sound. All 32 bit DDS5 semi-transparent textures. I have added the missing glass texture and fixed the prop disk transparency for Acceleration. Modifications & repaint for FSX by Hellenic Aircraft/Yiannis Katehis Tsetsas.
Posted Dec 22, 2012 01:44 by YIANNIS KATEHIS TSETSAS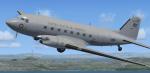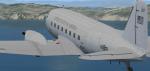 9.95Mb (510 downloads)
FSX Braddick DC-3TP repaint textures for the Manfred Jahn and team Braddick DC-3TP, which you must have previously installed in FSX, for the US Navy Naval Air Station Patuxent River 207, an aerial jack of all trades in subdued gray navy livery and now sporting VIP transport lettering above the cabin windows as she is pressed into service as an executive, congressional, diplomatic, and high ranking naval officer VIP transporter, handling such missions as low and slow natural disaster VIP aerial tours, naval force aircraft test squadron VX-20 support missions, and veteran hardship and family medical emergency repatriation flights stateside, as well as diplomatic and good will transport missions overseas, mostly in 3rd world countries where short field capabilities at unimproved airstrips in hostile territories are required. Screenshots enclosed. Easy installation. By Tom Tiedman.
Posted Dec 22, 2012 00:24 by Tom Tiedman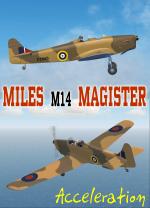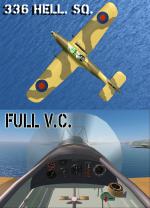 5.98Mb (1500 downloads)
FSX Acceleration Miles M14 Magister RHAF package.At least three M14's were recorded in Royal Hellenic Air Force Log books (ORBS) of the 336 Fighter Sq, at 1944 operating in North Africa under RAF command and markings. They where used for training and also transporting flyers and parts during the constant maneuvering of the command. We know also of its role in search and rescue operations. This is Ted Cook's model of FS2004 adopted for FSX. All animated parts, full virtual cockpit, 2D Panel and custom sound by Mike Hambly of Pegasus Aviation Design. Historical photos & info along with desert camo color codes and RAF decals are included. Repaint by Hellenic Aircraft/Yiannis Katehis Tsetsas.
Posted Dec 20, 2012 17:31 by YIANNIS KATEHIS TSETSAS