0.24Mb (7375 downloads)
This revised 777 package inclues: - Correct 777 performance and feel based on airline FAA Level D simulators and documentation. - Use of MSFS payload and fuel editor. - Use of MSFS flight planner and Navigation Log for flight/fuel planning. - Use of true 777 landing gear footprint as default gear points. Standard 3-wheel points have been included as an additional option [courtesy of Philip Foglar, POSKY] in this update along with more new variants of 777-200ER [PW4098, GE90-90B]. Engine start-up time has been modified again for more realistic timing [YouTube Video was used as a reference]. Also included are the FDEs for the recently released 777-300 series. AES Compatability files included. The FDEs included for this series are copyrighted by Project Opensky, Brandon D. Henry, and Warren C. Daniel.
Posted Jan 1, 2009 04:55 by Project Opensky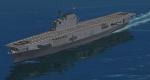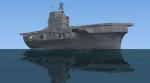 5.74Mb (12003 downloads)
FEATURES: - hardened flight deck and hangar deck - Operational arrestor cables (Acceleration users) - Air Boss camera view for watching deck operations - Stable water dynamics / top speed in the low 30's - radar and screws ambient animation - custom wake effect - night textures ** Tested in single and Multiplayer at different realism settings using Acceleration and DX9 ; compiled with the FSX SDK for FSX ONLY * By Bruce Fitzgerald
Posted Dec 31, 2008 15:18 by Bruce Fitzgerald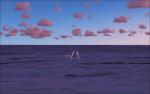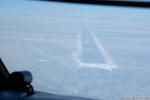 0.09Mb (1980 downloads)
The Wilkins Runway is located approximately 70km south-east of Casey Polar Base and serves as the Antarctic terminal for the intercontinental air service. It is a E-W runway with a papy 4 glide visual indicator. Fly from Hobart International Airport to Wilkins Runway in Airbus A319-115LR, operated by Skytraders for the Australian Antarctic Division with the PLN joined, and enjoy ! By GaŽl LE BRIS
Posted Dec 31, 2008 08:54 by Gaël LE BRIS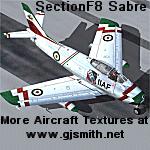 1.97Mb (1017 downloads)
Textures only. This is a rendition of the Imperial Iranian Air Force Golden Crown Aerobatic Team Sabe created for use with the excellent SectionF8 Sabre aircraft. Another 24 liveries for this girl available at: http://www.gjsmith.net.
Posted Dec 31, 2008 08:27 by Garry J. Smith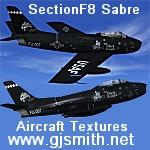 1.05Mb (1355 downloads)
Textures only. This is a fantasy black livery for the excellent SectionF8 Sabre - livery has chrome highlight effects - Created just for some visual fun. 24 other Sabre Liveries available at http://www.gjsmith.net
Posted Dec 31, 2008 08:22 by Garry J. Smith

7.61Mb (1080 downloads)
This is another fictional repaint for the FSX Default A321. The tail represents the Washington Monument in Washington, D.C. The Landmark Airlines variation is not included in the A321. Splash Screen included. By Victor Vu.
Posted Dec 31, 2008 07:11 by Victor Vu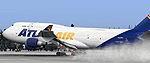 13.08Mb (2994 downloads)
Boeing 747-400 BCF Atlas Air Cargo. Model by Project Opensky.
Posted Dec 31, 2008 04:33 by Ryan C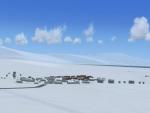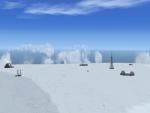 0.41Mb (5778 downloads)
(NZPG, NZIR, NZWD): These airports are better than the FSX standard airports. I did some corrections and additional objects. McMurdo is an ice station near the South Pole / Antarctica. It consists of 3 airports (NZPG, NZIR and NZWD). NZPG is the most southern airport of FSX (You will get some rewards in FSX when you approach here). All airports are no really airports, but better snow/ice runways with a length of about 10.000 ft. The additional objects (observatory, tourist ships and oil rigs) are fiction, but could be/maybe are possible. Design by Bernhard W.
Posted Dec 31, 2008 04:15 by Bernhard W.

7.15Mb (3541 downloads)
This is the 80's livery for the British Airways A321 repaint. The aircraft went into service in 2004. However, no A321 was painted in this 80's livery. The repaint was painted in this manner to demonstrate if this A321 went into service in the 1980's. By Victor Vu.
Posted Dec 31, 2008 00:21 by Victor Vu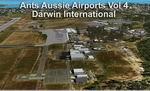 47.50Mb (2822 downloads)
Ants Aussie Airports VOL 4 : Darwin International. This download contains scenery for FSX and includes Darwin International as well as Royal Darwin Hospital helipad and the military helipads at Robertson Barracks. This scenery contains photoreal backgrounds and these are designed to blend in with the payware FTX textures (available from www.fullterrain.com). It is therefore recommended that you have the FTX textures installed if you wish to see these airfields at their best. I try to make these airfields as accurate possible. This means that almost all of the models are custom made with the use of library objects kept to the minimum. Note: Each airport pack I make is a standalone pack. You do not need to have Ants Aussie Airports Vol 1, 2 or 3 (which is payware dependant so we do not host this file) installed to use Vol 4. You can download and install any other volume later if you want.
Posted Dec 30, 2008 15:35 by Anthony Lynch