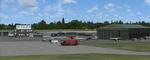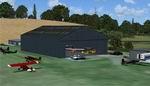 8.57Mb (2640 downloads)
FSX Alf's UK Airfields Volume 15. Upgrades many small UK airfields whose default versions have little or no detail. Based on Google Earth and airport guides. This volume includes Eggesford X2EG, Eshott EG18, Swansea EGFH. By Alf Denham.
Posted Feb 25, 2009 04:54 by Alf Denham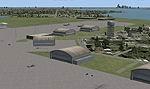 0.11Mb (4263 downloads)
FSX McDill AFB (KMCF), Tampa, Florida (FL). Taxiways and aprons have been relocated according to Google Earth, and some buildings have been changed, taxiway designations corrected, parking added, connecting roads added, landclass and boundary fences around the airfield changed and some library objects placed (including B52s on the ramp). By Art Poole.
Posted Feb 25, 2009 03:29 by Art Poole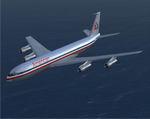 8.14Mb (7936 downloads)
Boeing 707-323B Collection American Airlines Textures only. Also includes two bitmaps to fix the double panel image on Night / VC Mode. By Guzman Artes. Libardo Guzman
Posted Feb 25, 2009 03:12 by Libardo Guzman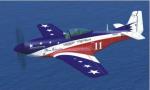 1.19Mb (1808 downloads)
This is an update for FSX acceleration of the P-51D Reno Air Races by Roger Dial, Steve Small, and Mike Hambly. I have updated the flight dynamics and changed the panel a bit from my previous update for FSX without acceleration. You will need to add up trim for take off now. You will need the original aircraft for this update to work. You won't need any other update for this one to work. No virtual cockpit. Bob Chicilo.
Posted Feb 25, 2009 03:12 by Bob Chicilo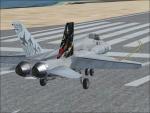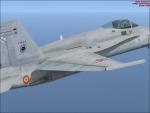 7.82Mb (4883 downloads)
Two Repaints for the default F/A-18 Acceleration in the ALA 12 colors, 12-12 and 12-50 special scheme. By Luis Lopez
Posted Feb 24, 2009 19:40 by Luis Lopez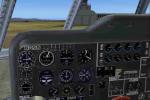 21.72Mb (7317 downloads)
Original model by Tom Gibson, Greg Pepper, Dave MqQueen. I added some extra gauges in the virtual cockpit. RADIO, ATC, GPS and MAP icons. Also include Automatic Pilot, Cowl Flaps and Lights Siwchs, even a Clock with Wind Direction Vector (click on the center of the clock, gauge from Tom Gibson's California Classics DC6-B).
Posted Feb 24, 2009 18:20 by Jorge Buiatti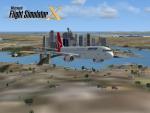 6.19Mb (4547 downloads)
This is another repaint for the FSX Default A321. This is a fictional repaint of the A321 because there are no A321s in service. A repaint is portrayed if there is A321s in service. Splash Screen Included. By Victor Vu.
Posted Feb 24, 2009 17:44 by Victor Vu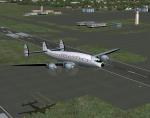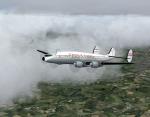 3.80Mb (774 downloads)
FS9 Skyways of London Airlines textures for ALPHASIM BOAC L-049 Constellation. G-ALAK was built for TWA but served with B.O.A.C. sold to Skyways of London, ACES, and Trans Bolivian. Later broken up at Miami in 1974. Textures by Gary Harper.
Posted Feb 24, 2009 15:57 by Gary Harper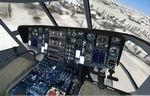 8.26Mb (87311 downloads)
CH-53/Pavelow Package. Built in Gmax The model features specular lighting, Compressing Wheels, opening doors, and DVC (virtual cockpit). 2 textures Marines and Army Grey. Built for FS2004 and adapted for FSX by Danny Garnier. FSX default gauges added into panel to make it compatible. Thank you to Rory kelly for a great model.
Posted Feb 24, 2009 10:57 by Garnier D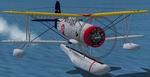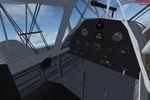 0.85Mb (3430 downloads)
FSX Curtiss SOC-3 Seagull The Seagull served as a catapult launched Scout for Battleships and Cruisers from the late 1930's well into WW2. This is a FSX Acceleration native project. It includes the usual animations, reflective glass, bump maps and .dds textures. It is painted for squadron VO-3 assigned to the USS Idaho. The VC has animated flight controls and working gauges. There is a minimal 2D panel. By Paul Clawson
Posted Feb 24, 2009 03:45 by Paul Clawson