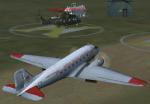 10.72Mb (2710 downloads)
You are a commercial pilot in South America to assist the Governement sponsored archaeologists who are working in an area controlled by the River Pirates. The regular pilot, Captain Ron, has a broken arm and so can only be co-pilot. It is early morning, the weather is getting worse – You will fly to a small strip to pick up supplies and then fly down the river to drop the supplies at the base camp. The Pirates are on the alert so you will need to keep below 1,500 feet to avoid their radar. They still have anti-aircraft missiles. The mission compass will appear occasionally but you can easily follow instructions regarding headings. Remember to press 'B' to set your altimeter. There is no flight plan or gps. The mission takes about 40 minutes.
Posted Jan 9, 2012 23:10 by David Blake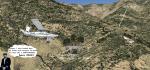 3.69Mb (1366 downloads)
You are flying your regular weekly route over the Peruvian Andes. Suddenly revolutions drop and you notice your oil gauge acting up. Sure that an engine stop is coming you check your map for an alternate airfield.....The Infamous Glowing Temple airfield is the nearest.You head for it knowing that Danger awaits you, but what else can you do in the most dangerous area of the high and mighty Andes????...For Experienced Bush Pilots Only!!! Set your time at early dusk for a really Scary Flight!!!!!
Posted Jan 3, 2012 09:53 by Gera Godoy Canova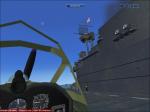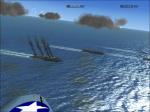 26.61Mb (5102 downloads)
Just after having passed the Aviation Cadet Program and the E base (Elimination base), The first month we spent our time flying the primary trainers or N3N's better known as "Yellow Perils." Transferred to Wheeler air base (Honolulu) Its the first time that we see the new Horse of Battle of the Navy, the Douglass Sbd3 Dauntless, It was a beautiful plane for is time!. two mount later we receive our first instruction of the war, rejoining the U.S.S Yorktown. Here five exiting mission that will return you back in the skin of a couragous US NAVY Pilots or a IJN pilots. Make your flight plan, Check the wind and Calculate the wind drift and flight time whit your "E6b" navigation tool and wind tool in board of your plane. and prey to come back alive !. In this old time, all was made by hands. Good luck !. Here some new feature of Fsx Midway 1942 Mission v3.00: "Dummy carrier" replaced by Wonderful Yanco San I.J.N and U.S carrier ! two new exiting mission added, "Attack on Midway" and "First mission rejoining U.S.S Yorktown" Now you will fly accompanied by 2 ai wing man. Require file:FSX Battle of Midway Yanco San USNAVY Aircrafts Carriers and Ships. FSX Battle of Midway Yanco San IJN Aircrafts Carriers and Ships. Enjoy !
Posted Dec 27, 2011 18:06 by Ronald Dandurand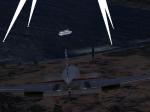 9.99Mb (2169 downloads)
A FSX Acceleration mission. Just a short delivery hop - or is it? Then comes the secret black box, the professor, the marines. Spend a day with Captain Ron - about 50 minutes.
Posted Dec 25, 2011 20:52 by David Blake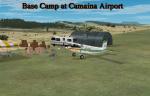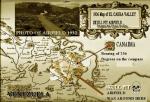 3.41Mb (1409 downloads)
In 1934 Pinford Ferefer discovered one of the largest gold mines in Venezuela. He built an airfield and soon his aeroplanes started taking the gold to his safe in Canaima. The Burunga Tribe built their settlement around it and started to venerate both the Skull rock and the huge Pit with its lagoon. Now Dr. Alina Frutters has formed an expedition to look for the mine and hopes the airfield can be used since it was by the Mine entrance. A difficult Flight to say the least, very little documentation has been given to you since you have agreed to transport the woman scientist and her crew....Not for beginners, no sir!!!!
Posted Dec 18, 2011 21:44 by Gera Godoy Canova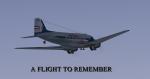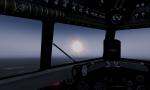 77.23Mb (2286 downloads)
The sunday afternoon flight from Birmingham, Alabama to New Orleans, Louisiana in 1941......
Posted Dec 11, 2011 15:04 by Gera Godoy Canova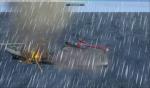 28.60Mb (2673 downloads)
Hi pilots, Here is a mission for the Bell JetRanger. This missions is extract from the pack "RAS Helicopter Missions Vol.2". -RAS Helicopter Missions Vol.2 – JetRanger – Tromsø (Norway) -Estimated time to complete: 4 hours and more -Aircraft: Bell 206B JetRanger -Objectives: You are a pilot for the Norwegians coast guard. You will have to make a patrol above the North Sea. (Norway) You are a pilot for the Norwegians coast guard. The small fishing boats went out today. You have to make a patrol along the Norwegian north coast. Weather conditions are very bad today. Radio communications are not very clear. Think of adjusting your altimeter. You will start at Tromsø airport. In this mission you will have to use your NAV.1. The first two doors are not indicated, it will be necessary to you to find them with your NAV.1. Have fun. Mathieu.
Posted Dec 8, 2011 09:00 by Mathieu O'HARE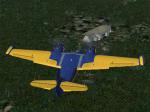 18.23Mb (1281 downloads)
An FSX Acceleration mission - Sea Cave - a Warlock Mission. Fly a Grumman on an early morning delivery run. There is a mission compass some of the time if you wish to enable it in FSX. Just a short delivery hop - or is it? Another Warlock Mission. Problem with effects on some computers so here is the revised file - without the volcanoes....
Posted Dec 7, 2011 18:13 by David Blake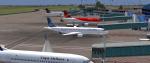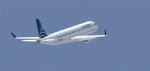 42.28Mb (11760 downloads)
All passengers on Copa Flight 559 to San Jose, Costa Rica, Tegucigalpa, Honduras and Guatemala City please board your plane trough gate 59. Captain here is your coffee, have a nice flight.....Pasajeros en el vuelo 559 de Copa favor de abordar su avion por la puerta 59...Nos vamos chicos!!!!
Posted Dec 5, 2011 23:23 by Gera Godoy Canova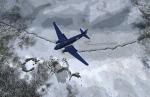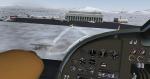 2.59Mb (1723 downloads)
In 1947 the temple of Mashara was discovered in the valley of Markusma, district of Burgassa in Mongolia. Since then a crowd of scientists of all kinds have been studying it without finding what it is all about, until yesterday. As Dr. Emer Guttzman and Farina Megelmer were verifying some of the mysterious fog around 2:35 pm local time, a bluish light covered them and both vanished and have not been found since. Dr. Berthen Amudsenhud, the Swede, thinks that the vanishing of his peers "proves" that the temple is really a "Door to another dimension" that it is a door to the future!!!! as you might guess.....all hell has broken loose. You will fly more scientists to the site, bring back others with strange artifacts and finally get a bunch of them out of the area to their laboratories via Bishkek....good flying my friend.
Posted Dec 1, 2011 12:21 by Gera Godoy Canova