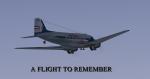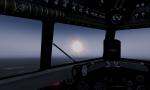 77.23Mb (2269 downloads)
The sunday afternoon flight from Birmingham, Alabama to New Orleans, Louisiana in 1941......
Posted Dec 11, 2011 15:04 by Gera Godoy Canova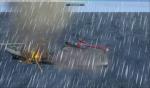 28.60Mb (2654 downloads)
Hi pilots, Here is a mission for the Bell JetRanger. This missions is extract from the pack "RAS Helicopter Missions Vol.2". -RAS Helicopter Missions Vol.2 – JetRanger – Tromsø (Norway) -Estimated time to complete: 4 hours and more -Aircraft: Bell 206B JetRanger -Objectives: You are a pilot for the Norwegians coast guard. You will have to make a patrol above the North Sea. (Norway) You are a pilot for the Norwegians coast guard. The small fishing boats went out today. You have to make a patrol along the Norwegian north coast. Weather conditions are very bad today. Radio communications are not very clear. Think of adjusting your altimeter. You will start at Tromsø airport. In this mission you will have to use your NAV.1. The first two doors are not indicated, it will be necessary to you to find them with your NAV.1. Have fun. Mathieu.
Posted Dec 8, 2011 09:00 by Mathieu O'HARE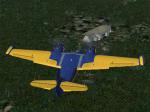 18.23Mb (1272 downloads)
An FSX Acceleration mission - Sea Cave - a Warlock Mission. Fly a Grumman on an early morning delivery run. There is a mission compass some of the time if you wish to enable it in FSX. Just a short delivery hop - or is it? Another Warlock Mission. Problem with effects on some computers so here is the revised file - without the volcanoes....
Posted Dec 7, 2011 18:13 by David Blake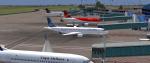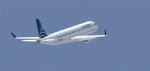 42.28Mb (11722 downloads)
All passengers on Copa Flight 559 to San Jose, Costa Rica, Tegucigalpa, Honduras and Guatemala City please board your plane trough gate 59. Captain here is your coffee, have a nice flight.....Pasajeros en el vuelo 559 de Copa favor de abordar su avion por la puerta 59...Nos vamos chicos!!!!
Posted Dec 5, 2011 23:23 by Gera Godoy Canova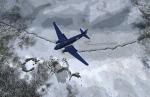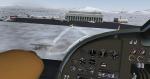 2.59Mb (1720 downloads)
In 1947 the temple of Mashara was discovered in the valley of Markusma, district of Burgassa in Mongolia. Since then a crowd of scientists of all kinds have been studying it without finding what it is all about, until yesterday. As Dr. Emer Guttzman and Farina Megelmer were verifying some of the mysterious fog around 2:35 pm local time, a bluish light covered them and both vanished and have not been found since. Dr. Berthen Amudsenhud, the Swede, thinks that the vanishing of his peers "proves" that the temple is really a "Door to another dimension" that it is a door to the future!!!! as you might guess.....all hell has broken loose. You will fly more scientists to the site, bring back others with strange artifacts and finally get a bunch of them out of the area to their laboratories via Bishkek....good flying my friend.
Posted Dec 1, 2011 12:21 by Gera Godoy Canova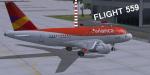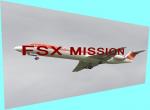 21.97Mb (7540 downloads)
Episode II of the series Latin American Airlines from FSadventureSky. Fly From Panama City, Panama to three cities in Colombia on Avianca, Colombia's oldest airline. This mission uses the Airbus-319 and the Fokker-100 aircraft used widely by many airlines in the region.
Posted Nov 24, 2011 11:28 by Gera Godoy Canova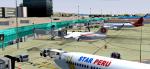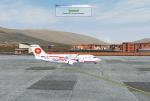 0.72Mb (3737 downloads)
Welcome to Star Peru Airlines flight 559 from Lima to Cusco. A Mini-Mission to introduce you to your new job flying over the Andes in one of Peru's local airlines.... This is episode I of the new series from FSadventureSky about Latin America Commercial Aviation . Are you going to show your professionalism??.. you will need Premier Aircraft BAe-146-200 plus Star Peru Texture if you want to look good.
Posted Nov 24, 2011 10:05 by Gera Godoy Canova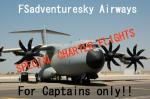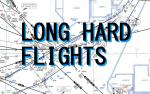 0.81Mb (5097 downloads)
Once more your personal VA has received a signed contract for two special flights. The company has leased an Airbus 400a for the task. Heavy cargo will be carried in two long flights which require the best of the company's captains. You are on the roster, but since its a voluntary assignment, you may decline the privilage. Take a nice cushion along since you will eat and drink flying this beautiful new lady of the skies.
Posted Nov 17, 2011 12:10 by Gera Godoy Canova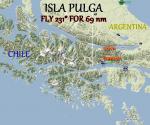 4.63Mb (1977 downloads)
There thousands of "Forgoptten Airfields" around the world. Some were great during WW2 and much needed others went bankrupt due to very little trafic and others just faded away....Have you wanted to fly out to one of these?? or maybe more??..Well here is your chance. Not an easy one to find in Alaska, a truly forgotten one in cold Russia and one that was shut down after a doomed expediiton in Chile...It will not be a piece of cake finding them but you sure will have fun trying!!!...The kit includes everything, you put the planes and experience.....
Posted Nov 7, 2011 21:05 by Gera Godoy Canova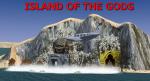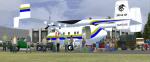 2.29Mb (1321 downloads)
In 1916 Explorer Edrain de la Fuente found the incredible island with the chained budda.He told of the strange "fog" which emanated from the shore in front of the Temple and provided a little map of the area. It was not until 1999 that Ashrow Mundrecon found the document and asked the Chinese government for a permit to visit the area....it was denied. Now, in 2011 the Prime Minister of China, an archaeologist from the University of How-Kome, has allowed his schoolmate, Dr. Vilanova DeVecchi to proceed with an expedition to the area of the lakes where the island mentioned in de la Fuente manuscript says it is....Are you to be the Chief pilot in this quest??? or what?
Posted Nov 3, 2011 01:25 by Gera Godoy Canova