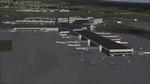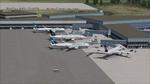 2.69Mb (836 downloads)
CYYC - Calgary Intl Airport, Alberta, Canada. This is a mopdified version of Ray Smith's (fsx_cyyc_rs.zip) scenery for CYYC. Ray has given me permission to make his file available for Prepar3D. Ther are two optional files, one version with the Crosswind runways operating where all 4 runways will be used for takeoff and landing and one version as the default airport runway operation: assigned parking as per their website with extra parking, the new international terminal added, concouse D and Concourse E, a new midfield control tower. Sunwest Aviation has now moved to its new location with its buildings and hangar also included together with coded the parking spots for those using their flight plans. Taxiways and taxi signs updated to the latest charts, lighted helipad, extra fuel trucks, support vehicle roads rebuilt and many other scenery improvements and objects added. Airport views are from the roof of the new control tower (when in tower view). Please view the readme before installation. By Robert Catherall
Posted Dec 6, 2016 05:56 by uploader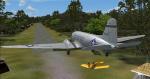 0.53Mb (625 downloads)
In the jungles of Congo lies a road, and that road functions as a playground for children and a grazing site for goats, besides its regular functions. But this particular road also functions as a runway, with a bend halfway. Welcome to Walikale, an airstrip most people will never have heard of. Its challenging take-off and landing conditions have led me to recreate this airfield. Made using ADE and default FSX objects and placed using google earth and reports from frequent visitors. Tested in FSX SP2, might work in FSX:SE or P3D More info in the readme.
Posted Oct 24, 2016 14:09 by Seblines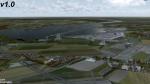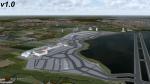 0.06Mb (160 downloads)
Eemland Airport is a fictive international airport near Amersfoort, the Netherlands. The runway (12-30) is based in the Eemmeer. The area is also called "Eemland" because of the beautiful river that flows through the area, the Eem. About the airport: The runway (12-30) has a length of 2500 meters and is 60 meters wide. On each side is a overrun of 200 meters and 20 landing lights. Also both runways have an Instrumental Landing System (ILS) and the airport has full Air Traffic Control (ATC). The airport has 27 Small gates, 5 Medium gates, 4 Heavy gates and 3 Cargo parkings. The airport also has 19 small, 10 medium and 5 big Genaral Aviation (GA) parkings. The airport furthermore has it's own fuel supply, air traffic radar, and logistics center. The airport doesn't have AI traffic of it's own, only some static planes. You can download the AI Flight Planner here: http://stuff4fs.com/open.asp?Folder=AIFP&JS=TRUE Scroll all the way down till you find: "The current release of AI Flight Planner is..." and click on the current version to download. With this tool you can add AI traffic to this airport with any traffic addon you are using or any default AI traffic.
Posted Oct 16, 2016 16:27 by Joeri Veenhuizen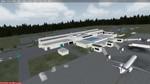 36.91Mb (608 downloads)
KGNV, Gainesville, Florida. This airport has been designed and tested for use in FSX and P3D. All buildings, taxiways and ground textures have been modeled after the real airport. Note that Jetway's are currently stationary but will updated to function in later versions. Add-on Airport designed by LKP Designs.
Posted Jul 17, 2016 02:27 by uploader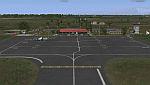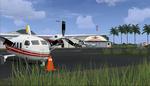 58.42Mb (979 downloads)
FSX/Prepar3D Scenery - Santa Barbara del Zulia-SVSZ The "Miguel Urdaneta Fernandez" National Airport serves the cattle town of Santa Barbara del Zulia, located south of Lake Maracaibo in Zulia state. Serves air link between South Lake region and the capital of Zulia state, Maracaibo. Photo-terrain area improved with Autogen files. Only compatible with versions to FSX or P3Dv1v2v3.x. Also includes a friendly Auto-Install. By David Maldonado
Posted Jul 10, 2016 11:42 by David Maldonado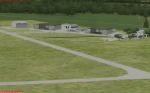 1.61Mb (494 downloads)
Landing Cz, Stochowa-Rudniki (IATA airport code: CZW, airport code ICAO: EPRU) - post-military airport near Rudnik, Poland, lying at a distance of approx. 16 km from the center of Czestochowa in the north-east at the national road No. 1 Gdańsk-Cieszyn, now private property. Landing admitted to flight operations performed by airplanes, helicopters, gyroplanes, gliders, paragliders, paragliders drive, powered gliders, parachutes in accordance with the visual flight VFR day and night aircraft with a total take-off weight (MTOW) up to 5700 kg.
Posted Jun 24, 2016 06:56 by Captain X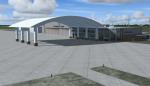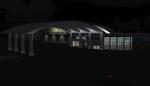 102.21Mb (381 downloads)
Austin Executive Airport (KEDC) is a public use general aviation airport serving the Austin, Texas area. Scenery includes all original models of airport buildings, photoreal terrain, and AI traffic. Can be used in FSX (see instructions included)
Posted Jun 17, 2016 12:08 by James Shaddox and Lyman Lundquist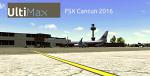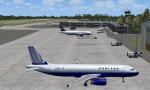 23.42Mb (2800 downloads)
FSX/P3D/FSX:SE Scenery--SE Cancun Airport (UltiMax). A brand new release, this time of Cancun international airport (MMUN) in Mexico. New features include: updated layout to include new runway; all parking; updated landclass, added city, golf courses, etc.; full AI compatibility; full ATC compatibility; animated jetways; automatic installer; full taxi signs; full runway lighting; hundreds of custom placed objects; static/animated ground vehicles; new HD static aircraft; 'back of airport' car parks, etc.; new control tower, using a generic object; new terminal layout; new lighting. Barely an impact on FPS. By UltiMax FSX Sceneries.
Posted Jun 12, 2016 14:36 by UltiMax FSX Sceneries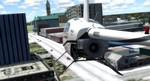 27.46Mb (487 downloads)
Prepar3d Scenery - Ottawa 2016. Extensive scenery for the city of Ottawa, capital of Canada. Contains more than 200 custom and default objects, including landmarks like Parliament Hill, many buildings in the downtown core and the Byward Market, shopping areas like Bayshore and Carlingwood Mall, sports facilities like Lansdowne Park and the Canadian Tire Centre, and many more. Also adds many roads, some with ground traffic, and extensive areas of landclass. Several Easter Eggs are visible to pilots willing to search. By Andy Johnston.
Posted Jun 12, 2016 00:44 by uploader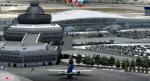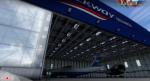 14.32Mb (347 downloads)
Baku X DEMO is the scenery featuring a highly detailed representation of UBBB Heydar Aliyev airport in Azerbaijan. This product is fully compatible with all versions of Prepar3D. It's a fully functional DEMO version of the commercial payware product. It features same airport layout as in the full version but with limited 3D objects and low resolution textures. Using this free demo ensures no problems with online (VATSIM, IVAO, multiplayer etc.) flying in case some users use the payware scenery and some don't. Heydar Aliyev International Airport (IATA: GYD, ICAO: UBBB) (former Bina International Airport) is the main international airport in Azerbaijan, the home of Azerbaijan Airlines, the national flag carrier. It's equipped with an automatic installer, which means that the scenery will be automatically added to the Flight Simulator Scenery Library. Please uninstall all previous versions of this airport you may have installed before. Please make also sure that no duplicated AFCAD files are installed! Enjoy your virtual flying with Drzewiecki Design!
Posted May 21, 2016 15:21 by Drzewiecki Design