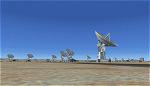 3.35Mb (992 downloads)
The VLA or "Jansky Array", managed by the National Radio Astronomy Observatory (NRAO) consists of 27 independent radio telescope dishes, each with a diameter of 82 feet and weight of over 200 tons. Each antenna is found along the three arms of a track shaped in a Y configuration measuring 13 miles long. Using the rail tracks that follow each of these arms the antennas can be physically relocated to a number of prepared positions. At one point, the arms intersect with U.S. Route 60 which passes right through the middle of the array. It has been featured in numerous films, such as Armageddon, Independence Day, Terminator Salvation, a Bon Jovi music video, and was featured most prominently -and correctly- in the Carl Sagan novel Contact, as well as the film of the same name. Also updated is the closest airport to the VLA - Magdalena, NM - N29. It's a small dirt strip a few miles to the east, between Socorro and the VLA. It serves as a nice staging area for flights to the VLA. Includes a helipad startup location with NM99 ident. Scenery by Jason L. Terry.
Posted Aug 23, 2014 01:04 by Jason L. Terry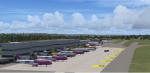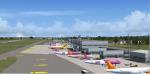 8.00Mb (3520 downloads)
Dortmund Airport (EDLW), is a minor international airport located 10 km (6.2 mi) east of Dortmund, North Rhine-Westphalia, Germany. It is mainly used for low-cost and charter flights and served approximately 2.3 million passengers in 2008. Dortmund Airport serves the eastern Rhine-Ruhr area, the largest urban agglomeration in Germany. The nearest major international airport is Dusseldorf Airport approx. 70 km (43 mi) to the southwest. Klaus-Peter Kniffka
Posted Aug 22, 2014 15:57 by Klaus-Peter Kniffka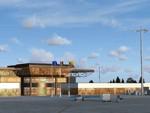 46.17Mb (1700 downloads)
FSX scenery LFJL Metz-Nancy-Lorraine (France). Complete rework of my former scenery for FS2002. Photorealistic ground texture with seasonnal and night variations, static plane, cars, animated flags, AGS vehicles, peoples, birds, etc. VAC chart included. Works with FSX and FSXA. By D. Bur
Posted Aug 21, 2014 08:32 by uploader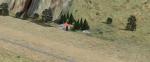 0.00Mb (386 downloads)
This is a new scenery for Mackay Bar Idaho. Mackay Bar is an outfitters and guest ranch that is located on the Salmon river in the Frank Church Wilderness area. This file will add buildings and trees to the airstrip making it more realistic as well as adding extra buildings to Warren airport.
Posted Aug 21, 2014 00:40 by Don Christopherson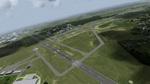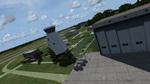 205.06Mb (1012 downloads)
Version 1.1 (corrected ILS & terminal Jetways) This is a total reworking of KMKG - Muskegon County Airport in Muskegon, Michigan - USA. Photo scenery includes two seasonal photo real ground textures (winter included) covering the airport and on the south side of the airport. New buildings include a custom Terminal & Parking lot, FBO (Executive Air Trainsport), Control Tower, Terminal Shed, and Hanger for West Michigan Flying Club. All new buildings have night textures. Runway 32/14 has been lengthened to the current real world length & the old Runway 36/18 has been closed and turned into a taxiway.Various other changes include taxiway/sign modifications and autogen changes. This has been tested on FSX as well as P3d 2.2. Both work. The only difference is in P3d the night lighting will not "cover" the tarmac like in FSX. Special thanks goes out to Jim Dhaenens and allowing me to use his lighting objects. All other custom items where made by myself using google sketchup. ByMatt Wohlford
Posted Aug 19, 2014 03:51 by uploader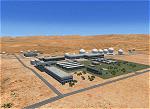 1.25Mb (850 downloads)
Joint Defense Facility Pine Gap is a satellite tracking station in the Australian outback operated by the United States intelligence community. The location is strategically significant because it controls United States spy satellites as they pass over the one third of the globe which includes China, the Asian parts of Russia and the Middle East. Central Australia was chosen because it was too remote for spy ships passing in international waters to intercept the signal. The facility has been described as the ground control and processing station for geosynchronous satellites engaged in signals intelligence collection. JDF Pine Gap is ran by the CIA, NSA, and NRO and is a key location in the global ECHELON surveillance network. Includes a helipad startup location with YPGP ident. Scenery by Jason L. Terry.
Posted Aug 16, 2014 00:51 by Jason L. Terry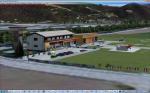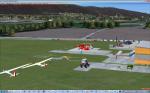 40.94Mb (1397 downloads)
Kapfenberg Airport (German: Flugplatz Kapfenberg, ICAO: LOGK) is a public use airport located 3 kilometres (2 mi) east of Kapfenberg, Steiermark, Austria.
Posted Aug 14, 2014 10:07 by manfred marbler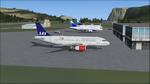 1.45Mb (1547 downloads)
This is a rework of the default Vagar Airport which represents the airport close to its current state. Vagar Airport is the only airport in the Faroe Islands and is the home base of Atlantic Airways. Added gates and helipads, aprons and taxiways moved/adjusted to match aerial views, runway 13/31 extended to 1779 m / 5902 ft., turning circles added to the ends of Runway 13/31, control tower and fire station added, fuel truck added, runway lighting updated, airport views are from the roof of the control tower when in tower view. Made with the latest version of ADE (Airport Design Editor).
Posted Aug 13, 2014 14:10 by Joseph Friesen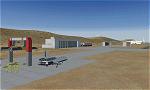 28.29Mb (663 downloads)
Australis is a joint private/military operations center located near Alice Springs in the Australian outback. It is the main base of operations of Aeroworks Technologies in the eastern hemisphere and conducts military missions in the far east of the globe. It acts very much the same as a normal AFB except that it is outside the US boundaries, and lies in a canyon very near the NSA Pine Gap facility. Occasionally some Russian and Chinese-built aircraft are trafficked through here. It also doubles as a spaceport and has shuttle recovery facilities similar to the ones in Railroad Valley. Scenery by Austin Gardner and Mike Vivaldi.
Posted Aug 13, 2014 01:18 by Austin Gardner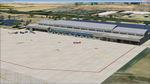 50.49Mb (1102 downloads)
YUMA MCAS / YUMA International Airport, Arizona, USA KNYL (previous KYUM) Version 1.0 for FSX/P3DV2 This Yuma Airport scenery was a side venture for a local expert on Yuma who got me interested in making the scenery for this airport. I agreed to this as a side project but it actually grew to become a medium detail level scenery project. I used mostly default elements for the aprons and taxiways and many other default objects. However, it still came out looking half decent. Shehryar 'Shez' Ansari/Brian Kircher
Posted Aug 11, 2014 06:21 by admin