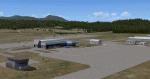 64.63Mb (817 downloads)
CYCD (2012) is an update to Ken Peter's CYCD Nanaimo-Collishaw Airport (Vancouver Island, British Columbia, Canada). The airport has recently completed a major runway extension and installed an ILS for Rwy 16. The five flashing-red beacons that guide the way on a night approach to Rwy 34 are included. To the extent possible, this update reuses Ken's custom buildings and objects (but you don't need to have Ken's version installed). As well, a selection of SAMM-generated static aircraft are scattered around the aprons supplemented by a number of AI aircraft that do touch 'n gos from time to time. CYCD (2012) is compatible with ORBX FTX USA Canada Pacific Northwest and both versions of Ultimate Terrain. Generally, this new version is visually identical to its predecessor - even though quite different internally. As well, to the extent possible, it is compatible with Prepar3Dv2. (v3.03 fixes a vehicle texture issue in 3.02)
Posted Jun 21, 2014 21:24 by Don Grovestine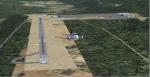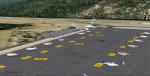 15.88Mb (1157 downloads)
FSX-Scenery -- LESU - Aeroport Pireneus la Seu d'Urgell - Catalonia, Spain La Seu d'Urgell airport, officially Pirineus - la Seu d'Urgel airport and also known as Pirineus-Andorra airport is an airport facility owned by the Government of Catalonia and hosts general aviation and emergency flights. It is located in the comarca of Alt Urgell, south of la Seu d'Urgell (Catalonia) and 12 miles south of Andorra, in the mountain of Ensiula between the towns of Montferrer i Castellbo and Ribera d'Urgellet on an elevation of 2,628 ft.
Posted Jun 19, 2014 16:50 by Klaus-Peter Kniffka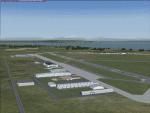 74.49Mb (869 downloads)
CZBB (2011) for FS9, FSX and Prepar3D (Version 2) CZBB (2011) portrays the Boundary Bay (British Columbia, Canada) Airport (CZBB) - Canada's fifth-busiest airport by number of operations - and surrounding area as it appeared in mid-2011. Every significant structure on the airfield (50+) is included - all modeled with GMax and 'painted' with hand-drawn textures. CZBB (2011) is compatible with ORBX FTX USA Canada Pacific Northwest, Ultimate Terrain and Vancouver+. A selection of SAMM-generated static aircraft are scattered around the aprons supplemented by a number of AI aircraft that do touch 'n gos from time to time. Aside from the new custom approach and airfield lighting, generally, this new version is visually identical to its predecessor - even though quite different internally. As well, to the extent possible, it is compatible with Prepar3Dv2. By Don Grovestine
Posted Jun 18, 2014 20:42 by Don Grovestine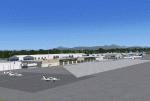 110.86Mb (1156 downloads)
CYXX (2012) portrays the , (British Columbia, Canada) Airport - home of the Abbotsford Air Show - and surrounding area as it appeared in late 2012. Abbotsford lies just east of Vancouver and only a short distance north of the US border. CYXX is home to Conair Aviation (a large operator of forest fire-fighting air-tankers), Cascade Aerospace (a major aircraft maintenance operation) and several helicopter training, service and operations facilities.) The recently completed major runway and taxiway extensions are reflected in CYXX (2012). This add-on includes a large selection of custom AI and static aircraft painted to represent airline and privately-owned aircraft based or often seen at CYXX, including every aircraft type currently operated by Conair. CYXX (2012) is compatible with BC Roads (FS9 only), Vancouver+, ORBX FTX USA Canada Pacific Northwest and both FS9 and FSX versions of Ultimate Terrain. Generally, this new version is visually identical to its predecessor - even though quite different internally. As well, to the extent possible, it is compatible with Prepar3Dv2.
Posted Jun 18, 2014 20:21 by Don Grovestine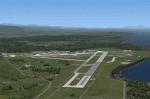 33.43Mb (1889 downloads)
CYQQ (2010) portrays Canadian Forces Base Comox (Vancouver Island, British Columbia, Canada) (CYQQ), the Comox Valley Air Terminal and surrounding area. It is fully compatible with Ultimate Terrain Canada/Alaska for FS2004, Ultimate Terrain X - Canada for FSX and ORBX's FTX NA Blue. CYQQ (2010) includes over 100 "hand-crafted" buildings and other structures and 10 different vintage aircraft on static display, as well as aircraft and traffic files for a realistic AI scenario that causes a variety of military aircraft that come and go. (Use BC Regional AI - also available from this file library - for scheduled traffic.) Civilian AI is now routed so as not to transit military aprons. Aside from the new approach lighting, generally, this new version is visually identical to its predecessor - even though quite different internally. As well, to the extent possible, it is compatible with Prepar3Dv2.
Posted Jun 18, 2014 19:17 by Don Grovestine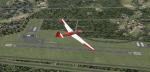 0.01Mb (341 downloads)
Corning-Painted Post Airport (FAA ID: N1) is a public use airport in Steuben County, New York. It is categorized it as a general aviation facility. For the 12-month period ending September 19, 2012, the airport had 9,025 aircraft operations, an average of 24 per day: 99.7% general aviation and 0.3% air taxi. At that time there were 28 aircraft based at this airport: 96% single-engine and 4% helicopter.
Posted Jun 17, 2014 07:08 by Jon Davidson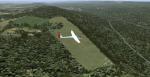 16.51Mb (477 downloads)
Eagle field- 09PA Port Matilda PA Private Glider field Owned by Karl Striedieck. Karl is a world record setting glider pilot and a member of the U.S. Soaring Hall of Fame. He was an early pioneer of ridge soaring in the Ridge-and-valley Appalachians in the 1960s, ultimately setting nine world records flying gliders there. He was selected for the U.S. national soaring team 12 times, and won a silver medal in the world championships in 1978 and 1983. Mr. Striedieck was a U.S. Air Force pilot from 1959 to 1962, flying the F-86 Sabre and F-102 Delta Dagger, then continued his military service until 1981 in the Pennsylvania Air National Guard, where he transitioned to the A-7 Corsair II. A year before graduating from Pennsylvania State University in 1965, he started flying gliders when he and Bill Clark co-founded the Nittany Soaring Club, flying out of the former State College Air Depot. He has over 15,000 flying hours, with nearly half of that total in gliders. Mr. Striedieck moved his home to the Eagle Field private airport on top of Bald Eagle Mountain, near State College, Pennsylvania in 1966, and now lives there with his second wife, Iris. Basically a manicured farm field, this private glider field offers access to the famous ridge lift of central Pennsylvania. Nearby Ridge Soaring is another one of my airfields available.
Posted Jun 15, 2014 23:00 by Jon Davidson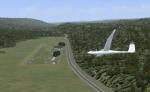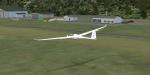 16.52Mb (497 downloads)
Ridge Soaring 79N Ridge Soaring Gliderport (79N) is a public-use glider airport located two nautical miles (4 km) southwest of the central business district of Unionville, in Centre County, Pennsylvania, United States. It is privately owned by Knauff & Grove, Inc. Tom Knauff and Doris grove are among the whos who in American and International soaring community. Portions of the 1999 movie The Thomas Crown Affair were filmed here. Co-owner Thomas L. Knauff set five FAI world records, and over 50 NAA national records flying from this airport. Co-owner Doris Grove set three FAI feminine world records flying from this airport, and was the first woman to fly a glider more than 1000 km. This FBO airport is world famous for ridge, thermal and wave soaring. It is located on U.S. Route 220 (alternate) 8 miles south of Interstate 80, between Unionville and Julian, at the base of the Bald Eagle Mountain ridge. It is approximately 10 miles from State College and approximately midway between Altoona and Lock Haven in the Bald Eagle Valley. Visitors can look at an entire wall of U.S. National and World records that have been set from this airfield. Sadly as with so many small airports, Ridge Soaring is in risk of disappearing. for sale for many years, with no takers it may be sold to developers and disappear forever. In FSX the airport was on the wrong side of the highway and cut into a mountain, I moved it to its proper location and heading, made the runway the correct size and heading, and added all the current buildings.
Posted Jun 15, 2014 22:53 by Jon Davidson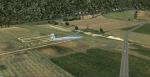 0.00Mb (301 downloads)
Harris Hill Emergency Field This is a simple add on for those who want the ultimate realism for their Harris Hill scenery by me. See my Harris hill scenery here. This is the Emergency landing strip for gliders that can't make the main field due mostly to congestion at the end of a busy competition day, but also serves for those who find themselves to low to make the field. There is no ICAO code for this field so it is simply designated HHEM for FSX. I changed the land class for the valley in which it resides so as to reflect more accurately what is actually there.If your using another landclass product you may see some difference from the screen shots. I tested with ORBX World and UTX.
Posted Jun 15, 2014 22:47 by Jon Davidson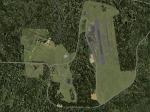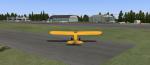 16.52Mb (461 downloads)
4NY8- Harris Hill Harris Hill is known as the soaring Capital of the U.S. because of its' history, Martin Schempp(German soaring pioneer) "discovered" the area while traveling on business in the 1930's. (He worked in Pittsburgh PA at the time) Elmira NY is situated in a valley surrounded by hills facing several different prevailing wind possibilities. Presented with outstanding bungee launch points for any wind condition, several national soaring contests were held there before World War Two. Harris Hill is the only remaining of the original slope sites, and is now home to Harris Hill soaring Corporation and the National Soaring Museum. The former Schweizer Aircraft Co.is located below Harris Hill at KELM, was before its closing, the only family owned sailplane manufacturer and aerospace contractor in the U.S. They ceased making sailplanes in the 1980's and continued in the Aircraft manufacturing business until selling to Sikorsky in 2004. If you like this scenery I also plan to publish a new KELM - Elmira Corning Regional Airport, as well as the Harris Hill emergency field with new land class. Feel free to contact me via email directly if you are interested and can't locate it online. All my sceneries will be published on AVSIM, and Simviation. Included: This package includes Harris Hill field, The Harris hill Youth camp site, and Harris hill Park and Driving range.All buildings are represented as close as possible to the actual structures.
Posted Jun 15, 2014 22:44 by Jon Davidson