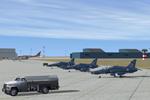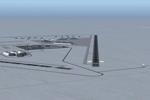 14.90Mb (1870 downloads)
CFB North Star (version 7) fictional Canadian arctic military/commercial base for FSX. Features triple runway configuration of the earlier versions, along with custom buildings and effects. Three alternate scenery configurations are provided for, including opened hangars, with unique library objects that may be used in other freeware scenery projects. Also includes flightplans and AI ship traffic (the icebreaker CCGS Louis St-Laurent). FREEWARE by Brian Sturton.
Posted Aug 14, 2011 15:33 by Brian Sturton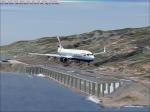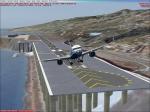 22.87Mb (27656 downloads)
This is Madeira Island Airport for FSX. Madeira lies in the Atlantic, north of the Canary Islands and is a part of Portugal. The airports runway was lengthened and placed on stilts in order to compensate for the steep 200 foot cliffs. The airport fully recreates this effect and makes for a very fun airport. The runway also has custom textures to increase the eye candy. The approach brings you to as little as 200 ft. to the mountains. It also includes photoscenery for a beautiful approach. I could not make lights on the physical runway as it is a custom model but has glide slope lights and edge lights. This shouldn't be a problem at night as there is also an ILS. Enjoy! (If anyone could add lights on the runway and upload it that would be great!)
Posted Aug 13, 2011 02:45 by Scenery Dude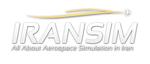 2.49Mb (701 downloads)
Persian Gulf Airport or Khalije Fars Airport (IATA: PGU, ICAO: OIBP) is an airport in Iran.The airport has been operating since 2005 and, though small, enjoys one of the most modern passenger terminal buildings recently built in the region.This scenery adds OIBP airport to FSX together with related AI traffic, structures and etc...The airport was not available in default FSX database.
Posted Aug 12, 2011 13:42 by Touradg Morassaei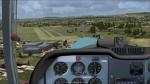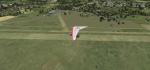 0.01Mb (711 downloads)
This is an Addon for Gorlitz airfield in Germany. The airport represents realistic layout of the runway and buildings.
Posted Aug 10, 2011 15:42 by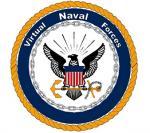 0.01Mb (388 downloads)
OICC - Shahid Ashrafi Esfahani/Kermanshah Airport, Located in Kermanshah, Iran. Airport edited by the Virtual Naval Forces. The VNF uses it for some training operations, this airport is still being edited. (beta version)
Posted Aug 9, 2011 22:02 by NYVictor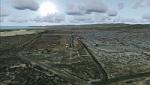 39.83Mb (1087 downloads)
National airport located in the city of Coro, capital of Falcon state, in western Venezuela. With photo-terrain scenery from satellite imagery in Google Earth. Not compatible with versions prior to FSX. This scenery includes terminal building and hangars with realistic textures from images obtained from Internet. Also includes a friendly Auto-Install.
Posted Aug 5, 2011 10:50 by David Maldonado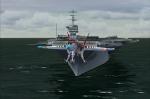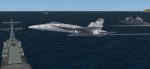 18.98Mb (5538 downloads)
This is Fictional scenery for the USS Nimitz Version 2.0 + This scenery after activated will placed this USS Nimitz and other 4 battleships in static position near the Rio de Janeiro city of Brazil. + By default compatible for any Multiplayer game (gamespy or other) + The sounds, effects and The traps work fin but assistance launcher no. For assistance launcher you will need use the arrcab26 included in this package
Posted Aug 1, 2011 06:12 by Hani Michal
10.62Mb (504 downloads)
Realistic layout for the Virginia Airshow held at the Warren County Airport in Virginia, USA.
Posted Jul 30, 2011 03:42 by Michael Adkin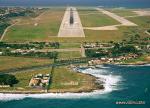 15.10Mb (5276 downloads)
Palermo Punta Raisi, Italy (also known as Falcone-Borsellino Airport) is a big airport situated on Punta Raisi cape. It was built to replace Boccadifalco Airport, because the air traffic was too high for a small airport like that. It is made for a high density air traffic, with many jetways and many parkings. Many planes, from small turboprop to huge jetliners come from many part of the world. There are charter flights from Russia and many other countries! This first version (we will update it soon) Is made to replace the poor, wrong, inaccurate, (and who want to add somethig else is welcome!!!!) default airport. Aprons setted as the real Airport. Jetway linked to another building, linked to the main terminal, like in reality Airport full of objects 4 Fueltrucks
Posted Jul 29, 2011 13:22 by Skara Scenery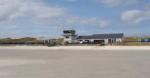 11.85Mb (3335 downloads)
Barra Airport in Scotland (also known as Barra Beachport) is the unique airport which operates scheduled passenger flights on a beach. You can see British Airways, Flybe planes,( operated by Loganair) land on the sand. It's one of the most dangerous airport in the world. There is a small terminal, a car park, and 3 runways with red poles to sign where runway starts and finishes. Flights are operated in most of the time in the day, but sometimes you might find a nightime flight.It operates when there's low tide, when the wind blows also just a bit or there's high tide, all flights are cancelled. Usually are operated flights with a DHC 6 Twin Otter, which is one of a very few planes can land on the sand.
Posted Jul 29, 2011 12:22 by Skara Scenery