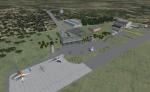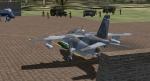 2.07Mb (1154 downloads)
This regional airport is close to the Andes Mountains, has been conditioned depending on the situation, but not the architecture of the terminal. As can be seen on satellite photographs that are attached, the taxiways, the length of the runway, hangars and design in general, coincides with reality. He placed the fire station and airport police, air service hangars and private aircraft, fuel truck, included parking for medium and small aircraft. He placed the beacon location systems like DME for ILS + VOR, which originally had no stage. At the northern end was put back in operation for shelters fighters, along with military personnel, force vehicles and tent. A more realistic effects, it left a static fighter plane (check it out inside). According to the aeronautical charts (also attached) this airport is characterized by migratory birds near the airport, which were added to the stage for greater realism, and risk areas were added in the nav. chart (attached) of warning from the airport for pilots. The northern end NDB was added according to nav. charts from the airport (freq. 307) for ease of air navigation. Jim Dhaenens artificial lighting included. Author: Cristobal Laje
Posted Nov 5, 2009 21:06 by Cristobal Laje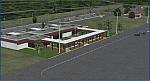 14.22Mb (1707 downloads)
This scenery includes detailed terminal building, control tower, fire station, with very realistic textures, heliport, taxiway signs, parking, vehicles and much more. Uses many objects of the FSX's library. Also includes a detailed VFR scenery (with traffic roads), approximately 15 nm, around to the airport. In addition, corrects the erroneous position of the runway to the real-life coordinates. By David Maldonado - November 2009
Posted Nov 5, 2009 17:56 by David Maldonado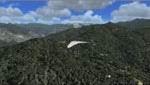 59.29Mb (1601 downloads)
FSX 30cm generic project textures forests - Missing part Missing conifer textures. Only summer textures are in this pack. Aime Leclercq.
Posted Nov 5, 2009 09:14 by Aime Leclercq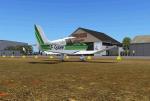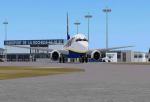 16.75Mb (5794 downloads)
Scenery package for La Rochelle International Airport in Western France. This airport accommodates low cost carriers including EasyJet and Ryanair. Detailed scenery with all the buildings, static planes, etc.
Posted Nov 4, 2009 09:00 by Alexandre Remy and Randolph Ch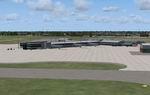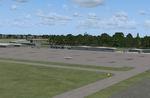 1.11Mb (1897 downloads)
A few previous building objects were lost from the object library file (Airport_Buildings_AP.bgl) when it was compiled with additional objects for this airport. Therefore some objects at KGNV and other airports in Florida will not appear in FSX. To correct this, the old Airport_Buildings_AP.bgl file has been restored and a new file Airport_Buildings_01_AP.bgl has been added. Also, a new file KPNS_ADE_AP.bgl is included to utilize the new object library arrangement. The previous scenery files are not needed to install the Pensacola, FL airport scenery from this download.
Posted Nov 3, 2009 13:31 by Art Poole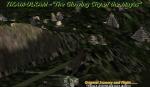 1.53Mb (1286 downloads)
FSX SCENERY "THE RUINS OF TIKAM-ULKAM" ---Episode I of the Series "Mystery Temples" by FSAdventureSky.The Ruins of Tikam-Ulkam were found by Dr. Antonino Bitti only a decade ago in Guatemala and near the border of Belize. These Mayan temples are unique in that some of the rocks they are made off produce a "glow" at dusk and all through the night. Many scientists asure the scientific world that this is a great mystery to science since the rocks are of very unusual izotronic structure. Dr. Bitti, is sure that these rocks are not of this plante!!!!! making the old temples a mystery that many do not talk about it too much. Could it be one of the places the so called "Gods from Beyond" came to construct in this planet?.......well here is your chance to fly out to it and see for yourself....Please note that the Airfield is very dangerous since it was hakked out just for very small aircraft, fly around the Ruins and plan your landing very carefully.
Posted Nov 2, 2009 11:41 by Gera Godoy Canova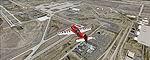 95.21Mb (5568 downloads)
FS2004/FSX Denver Photo-Scenery (KDEN), Colorado (CO). This package region covers Denver, the capital of Colorado which is also nicknamed Mile-High City because its elevation is one mile. The sixth runway (16R/34L) of Denver Int'l Airport is the longest commercial runway in the US with a length of 16,000 feet. This allows fully loaded B747's to take off in Denver's mile-high altitude during hot summer days, when density altitudes can approach 9000 feet. The airport's distinctive white tent-like fabric roof is designed to be reminiscent of the snow-covered peaks of the Rocky Mountains which you can see on approach or departure. Other important airports covered by this region are Centennial Airport (KAPA), Buckley AFB (KBKF) and Rocky Mountain Metropolitan Airport (KBJC). Provides another 3500 sq km in 4.7 m/pix quality. By Gottfried Razek.
Posted Nov 2, 2009 11:00 by Gottfried Razek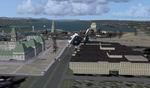 64.77Mb (3044 downloads)
Quebec City version 2.00 for Flight Simulator X. Quebec city is the capital of the Canadian province of Quebec. Founded in 1608, it's the oldest city in North America. This highly detailed scenery include more than 135 custom buildings built during the past 3 years. Come and see what Quebec City looks likes with it's majors landmarks in your flight simulator. Many new FSX features have been used to build this great scenery like animations and custom special effects. Also, see the CYQB airport scenery by Gilles Boily then enjoy flying in Quebec City.
Posted Nov 1, 2009 07:26 by Uploader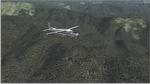 259.16Mb (8023 downloads)
FSX 30cm generic project textures forests - part3/3. Tropical forests. All forest around the world are updated from 1m to 30cm. Only summer textures are in this pack. (Other parts are Conifer forests and Seasonal forests) Aime Leclercq.
Posted Oct 31, 2009 14:41 by Aime Leclercq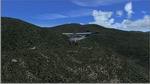 252.26Mb (2256 downloads)
FSX 30cm generic project textures forests - part1/3. All forest around the world are updated from 1m to 30cm. Only summer textures are in this pack. (Other parts are Seasonal forests and Tropical forests) .
Posted Oct 31, 2009 13:00 by Aime Leclercq