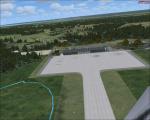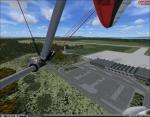 1.09Mb (1024 downloads)
This is an update to my first publication Samana International Airport, a small new airport in the Dominican Republic that started operations on novenber 6 2006 with not so many flights a year, this airport was tested on FSX acceleration pack (SP1) but it's supposed to work on (SP2), not tested in FSX without service pack, made some fixes with the terrain and some buildings, also included some screenshots and how to install, hope you enjoy fliying this new destination at dominican republic.
Posted Nov 21, 2009 11:35 by Kelvin R. Perez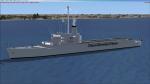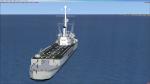 4.76Mb (3486 downloads)
Here's Jeanne d'Arc, modelled in GMAX with full details and effects included. There is also an animation of the radar. The flight deck is landable and can be found on Map/GPS under the name PHJ.
Posted Nov 21, 2009 06:33 by Tony MEZIERES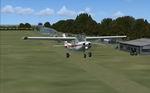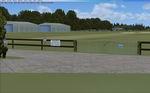 11.37Mb (1451 downloads)
Popham-EGHP 6nm SW of Basingstoke Two grass runways 08/26 and 03/21. Circuits at 800ft to the North. Permanent dead side to the South. Any aircraft not exceeding4500 lbs all up weight. Approach to Rwy26 marked with white arrow to avoid filling station. NO touch & go on Rwy26. Approach to Rwy 08 over silver grain silos to avoid houses. Note: Water tower in NW of airfield, 60ft above airfield (610ft amsl). Some tree along boundary up to 50ft above ground level. Popham Radio 129.800 INFORMATION FOR FLIGHT SIMULATION ONLY This is designed to fit FSX generic scenery and will probably not match photo-realistic scenery especially as I have used some 'real' landclass objects for part of airfield. 'Tree' objects are more suited to Spring/Summer rather than Autumn/Winter operation. Alf Denham
Posted Nov 21, 2009 03:46 by Alf Denham
0.02Mb (866 downloads)
This is my second work, now for FSX the Samana International airport, a small new airport in the Dominican Republic that started operations on novenber 6 2006 with not so many flights a year, this airport was tested on FSX expansion pack.
Posted Nov 17, 2009 08:21 by Kelvin R. Perez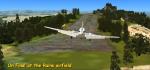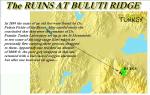 2.72Mb (1366 downloads)
These Ruins prove that Dr.Felicia Fickle's laboratory is right here. In 1854 she constructed very large kites that were able to carry up to three passengers to very high altitudes. This airfield, very old indeed, was used in the latter part of the 19th century to launch her kites in the windy ridge. Now the ruins are visited by most tourists viciting this part of Turkey. A Bed and Breakfast Hotel is busy all summer and Igor Turksvyok flies his Cessna 206 full of humans and other freight to the dangerous airfield making a lot of money on each flight. Welcome says the ruins ticket stand and all pay and usually when they come out also buy a hot 'Drukkor'(Like a Hot Dog) with a sweet drink called 'Zukkor' that tastes like Pineapple and Orange juice.....will you come and see and also taste these sights???...welcome to the Ridge of old kites.
Posted Nov 16, 2009 12:27 by Gera Godoy Canova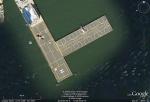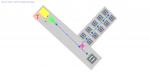 0.93Mb (4066 downloads)
Here is the Downtown Manhattan Heliport for all you rotorheads to fly out of. I designed this using Airport Design Editor. I added all the helo spots as depicted in Google Earth imagery. It displays fairly accurately in FSX. I added helo pad lights for the big landing spot at the head opposite the tower and small hanger.
Posted Nov 16, 2009 00:39 by Don Harris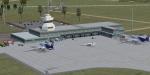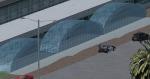 2.74Mb (1714 downloads)
The intl. Airport "Valle de Conlara", has been enriched FSX default elements, except the lights (exclusive credit Jim Dhaenens). The terminal has been developed taking into account the modern style in reality has, but does not atch its current architecture. Given that the airport is nestled in a mountain landscape, the environment is prioritized and adapted the around with that area, giving the scene a new sensation. Despite the modern look of the stage, in the environment can be animals and farms, wood fences and the typical pine forest of the mountains of St. Luis. The airport has fuel service truck, installed a walkway for passengers (jetway) parking for small and medium-sized aircraft, a service sector for aircraft hangars school, reducing power supply voltage for the air station, and added a ILS service does not count the originaly fsx version, but this way are true (in a virtual way) with the requirements to become an international airport, whose frequencies are enclosed in aeronautical charts. By Cristobal Laje (2009 - Argentina)
Posted Nov 15, 2009 09:00 by Cristobal Laje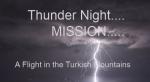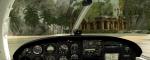 3.04Mb (1019 downloads)
FSAdventureSky Series...Morocco is famous for its incredible delicious food. Visiting the food markets at around 8:00PM is one of the delights of both regulars and tourists alike. When the temple of Artemus was found no one could believe what they were seeing.--Before their eyes and above the ruins of this long gone temple they could see a Floating Lake! .. and water pouring from it into the structure with roaring rage!...You can now take some tourists there and check this novelty of a long gone past and hear the roar of the waterfall. Due to its position you will have to fly by and check the landmarks of the mountains and deserts. Sand storms and treacherous winds can be a calamity. There is a juice stand as you set up your approach which can be useful.:)
Posted Nov 11, 2009 12:36 by Gera Godoy Canova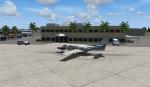 0.81Mb (1629 downloads)
The Naples, FL airport does not currently have airline service, and the terminal is being used for general aviation while the general aviation terminal is being remodeled. This scenery includes the GA terminal as it was before remodeling. Changes in this package are based on Virtual Earth images and the latest airport diagram. This is a complete redo of the default FSX KAPF; surrounding landclass changes; new terminals and FBOs; and revised taxiways, aprons and hangers. Also includes placement of library objects and a library of new airport buildings.
Posted Nov 10, 2009 20:49 by Art Poole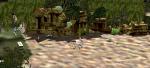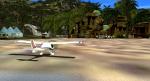 1.27Mb (967 downloads)
It is said in the tribes of Ethiopia that many centuries ago "There was a man that jumped from tree to tree, talked to the Monkeys and all animals understood and liked him. His name was Trarza-Trem, meaning King of the Jungle. He lived for 600 years and took care of all trees and animals as well as teaching them to be good animals. The Temple to this strange man was found only two years ago and is now a tourist trap!!!...Check it out you might enjoy the flight to it and the temple itself.....(Kit includes: Photo-temple, airfield, Route Map, two post cards and a lot of fun)
Posted Nov 9, 2009 11:39 by Gera Godoy Canova