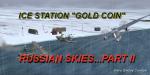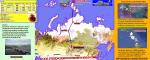 6.92Mb (1681 downloads)
Part II of 'Russian Skies Series'--Scenery and Flights: Numbers: 1079, 1086, 1083, 1086, 1090, 1072, 1103, 1084, 1086, 1085, 1077, 1090, 1072( Gold Coin)). Gold Coin Air Station was built in 1964 and since then it has become a 'Cold Weather Survival School' for the Russian Navy. Once a year other Navies are invited to the 'Gold Coin two weeks Special Super Cold survival training'. This year the British, Greek and American Navy have agreed to participate. The Gold Coin Station is located almost at the North Pole and has to be provided by sea and air the needed supplies every three months. The flight usually leaves from KRASNOYARK__ stopping at_ALYKEL____ for special anti-frost boots which wear out very fast. On this flight a another stop will be made at the hometown of Admiral Georgeol Kraprinsky in _SAKLIN___ (New Landclass, airfield and scenery here) since he has to return after a three week vacation with Avna, his wife. There is a complication: The American C-130 participating is lost in some mountains and a SAR operation has been mounted and the weather station called 'North Star' must be re-supplied since they ran out of gas. Pilots participating in this scenery and flights should have some experienced flying in very cold weather. Do take your yellow socks for luck if you go to the meeting.
Posted Feb 23, 2010 12:46 by Gera Godoy Canova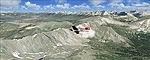 93.89Mb (2285 downloads)
FS2004/FSX Gunnison Colorado (KGUC) photo-scenery. Extends the Aspen CO scenery to the south from Crested Butte to Gunnison (KGUC) and beyond. Contains the West Elk Wilderness Area and the Curecanti National Recreation Area around Morrow Point Reservoir. This scenery brings you another 3500 sq km of beautiful Colorado in 4.7 m/pix quality. By Gottfried Razek.
Posted Feb 23, 2010 10:20 by Gottfried Razek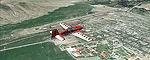 90.83Mb (1427 downloads)
FS2004/FSX Buena Vista, Central Colorado Regional (KAEJ, formerly 7V1) photo-scenery. This region covers the area around Buena Vista and Central Colorado Regional (KAEJ), CO. It extends the Leadville scenery to the south and brings you another 3500 sq km of beautiful Colorado in 4.7 m/pix quality. By Gottfried Razek
Posted Feb 23, 2010 10:19 by Gottfried Razek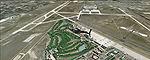 95.63Mb (2360 downloads)
FS2004/FSX Colorado Springs South (KCOS), CO photo-scenery. This region covers the area of Colorado Springs. Just west of the city you can fly around Pikes Peak. At 14, 115 feet it is the easternmost of Colorado's 54 fourteeners. Northwest of the city lies the Garden Of Gods with its many vertical rock formations. They are made of sedimentary beds red and white sandstones, conclomerates and limestone that were deposited horizontally but have been tilted vertically and faulted by the immense mountain building forces caused by the uplift of the Pikes Peak massiv. By Gottfried Razek.
Posted Feb 22, 2010 06:35 by Gottfried Razek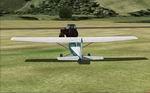 0.81Mb (1624 downloads)
Swiss Airfields Volume 5 - Mollis LSMF.
Posted Feb 20, 2010 08:20 by admin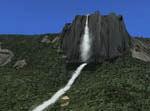 0.03Mb (3342 downloads)
Angel Falls, Canaima National Park, Venezuela, for Flight Simulator X. Jean St-Cyr. Contains Salto Angel - the World's Highest Waterfall.
Posted Feb 18, 2010 09:43 by Uploader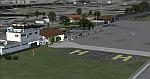 16.17Mb (1915 downloads)
Is a national public commercial airport located in the city of Merida, in the Venezuelan Andes. The airport has one runway of 1640 meters long and 60 meters wide including security zones. This scenery includes terminal building, control tower, fire station, heliports, with very realistic textures. Also includes a detailed VFR scenery with vehicular traffic, approximately 40 nm, around to the airport.
Posted Feb 17, 2010 20:57 by David Maldonado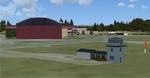 13.58Mb (1719 downloads)
Alfs UK Airfields Volume 17. This Volume consists of: Currock Hill X5CH Kirkbride EG86 Lands End/St. Just EGHC. Although FSX scenery is a great improvement on FS2004, there are still many small airfields in the UK with little or no details. I have tried to improve this in a small way. I do not not aim to make them accurate, only better. They were compiled using aerial views from Google Earth, Pooleys UK Flight Guide, and the FSX SDK Object Placement Tool and Airport Design Editor v1.40. Extra items were produced using Instant Object Maker v1.2 from FlightSimTools.com. Alf Denham
Posted Feb 17, 2010 06:10 by Alf Denham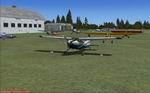 0.98Mb (2272 downloads)
Swiss Airfields Vol 3 Sitterdorf LSZV east of Sulgen, Switzerland.
Posted Feb 16, 2010 03:45 by Miles Hanna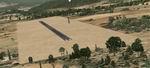 4.34Mb (933 downloads)
Gliding airfield in the Pyrenees mountains in southern France. Mathieu O'HARE.
Posted Feb 15, 2010 17:42 by Mathieu O'HARE