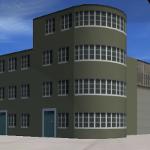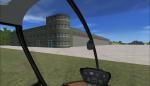 2.63Mb (1343 downloads)
These package includes ED2E Eilenburg, Z11K Juterbog and the new version of EDBT Allstedt.
Posted Dec 3, 2009 08:43 by Guido Weiss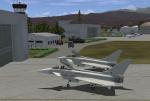 1.09Mb (3762 downloads)
LOXZ Zeltweg Austria v.2 Scenery made with a aerial image of the original base. Includes the Eurofighter Service Hangar, some parked Eurofighters and a Hercules. Also some background scenery.rnIf you install this scenery over the old LOXZ scenery, do not forget to delete the old LOXZ folder from your Addon Scenery first! ILS Approeach possible at runway 26 - Frequency "111.30". Credits to Guy Diotte for the excellent Scenery Planes!
Posted Dec 2, 2009 18:25 by Karl Meindl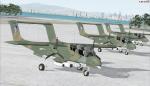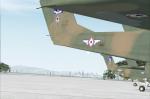 26.10Mb (2130 downloads)
This AI traffic features the following: (1) Seven OV-10a Broncos, highly detailed (grand salute! Tim Conrad) (2) Each of the OV-10 have a unique tail number corresponding to their call sign (3) Accurate decals and Camou paint as used by the 15th strike wing around 2000 (4) Animated flaps, landing gear and propellers (another toast Tim Conrad) (5) All seven ov-10 will taxi at the same time and will wait in line at runway 7. The first ov-10 will take0ff at 2400 hrs GMT and will come back after a few hours (6) The schedule is fictitious as I can't get an actual schedule from the military. I doubt if there is a regular schedule. Anyways they look great when coming down the taxi way all seven in line! This ai traffic is made for "Sangley Airbase and Naval Station, Manila" scenery package, also by Oliver Imperial (above)
Posted Dec 2, 2009 11:03 by Oliver R. Imperial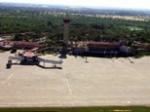 0.02Mb (3158 downloads)
La Chinita International Airport, Maracaibo, Venezuela. Airport scenery. Maracaibo is the second-largest city in Venezuela after the national capital Caracas and is the capital of Zulia state. The airport serves internal flights and international flights to Aruba, Bogotá, Barranquilla, Cartagena, Curaçao, Miami and Panama City. Adalberto Fernández
Posted Dec 1, 2009 13:26 by Adalberto Fernández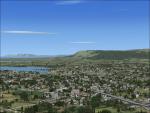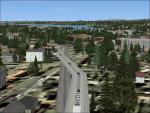 3.92Mb (1413 downloads)
I have released a stream of new payware addons. Here is a free LITE version of my Sligo Town Scenery addon. This version includes the town centre with autogen trees and buildings, National roads coming out of the town with road traffic. It includes the whole of County Sligo with a number of towns and villages around the county and many more roads are available with traffic. This will maximize your FSX experience for those who fly around Sligo!
Posted Nov 30, 2009 15:44 by Ryan Challis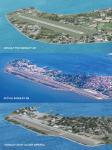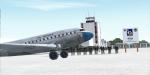 8.02Mb (2856 downloads)
Located in a narrow and long peninsula just off Manila bay. It was major Spanish colonial naval base since the 17th century. Site of U.S. Admiral Dewey's victory of 1898 where he sank the whole spanish fleet with the now famous command "Fire when you're ready Gridley" It became the home base of the U.S. Asiatic Fleet prior to WW2 and was turned over to the Armed Forces of the Philippines in 1971 after seeing extensive use in the Vietnam war. Now home of the "TROJANS" the 15th Strike Wing of the Philippine Airforce. This scenery package includes photo real backgrounds, correct shorelines, accurate roads with traffic, correct airport facilities and shows the naval yard with ships. By Oliver Imperial. See AI Package below.
Posted Nov 29, 2009 22:16 by Oliver R. Imperial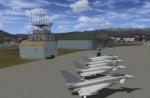 0.94Mb (2683 downloads)
Fightertown Austria - Home of the Luftueberwachungsgeschwader 1 of the Austrian Airforce. Including Eurofighter and Hercules scenery objects and a fixed airport scenery with a restricted sector with the Eurofighter hangars and corrected taxiways. Thanks to Guy Diotte for the excellent scenery planes I have used for the scenery!
Posted Nov 24, 2009 18:18 by Karl Meindl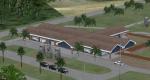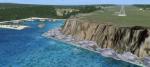 5.33Mb (6414 downloads)
The "Mataveri International Airport" (SCIP), is the most remote of our planet. It has been enriched with elements of the FSX default, and added Jim Dhaenens lights. The terminal has been built in the style typical of the place but not exactly match your architecture. Have been located, and in reality, the MOÁI, both in Terminal and the rest of the island, that must be discovered by the "adventurers". The airport has fuel service truck and has a main section of parking you can park a heavy aircraft (B747-400, B767-300 or B777-200) and another medium, and also has a parking other medium and small aircraft hangars sector (southern area). The orientation of the runway and the frequencies are the originals to ensure navigation on line. The island now has the Rano Kau volcano crater, the exclusive beach "Caleta Anakena" and another to discover. He added the hotel resorts, communication antennas, the port, and fuel supply dock to the local population, and volcanic deposits the northeast corner land. He positioned the reef Motu Nui, with a lighthouse at its peak. For more fun in such a remote place, you can fly a SAIL race. You can see dolphins swimming close to a pleasure cruise on the high seas near the island, a small convoy of supply ships, a facility for extracting gas and oil (pure fiction), and can fly too, a cruise Luxury for New Guinea (statics) has just set sail. The delivery includes the charts air navigation, satellite photos, screenshots fsx, instructions for installation and how catch the statics elements over the island. By Cristobal Laje (2009)
Posted Nov 22, 2009 07:29 by Cristobal Laje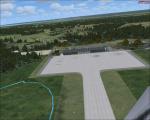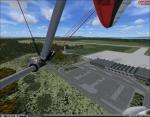 1.09Mb (1089 downloads)
This is an update to my first publication Samana International Airport, a small new airport in the Dominican Republic that started operations on novenber 6 2006 with not so many flights a year, this airport was tested on FSX acceleration pack (SP1) but it's supposed to work on (SP2), not tested in FSX without service pack, made some fixes with the terrain and some buildings, also included some screenshots and how to install, hope you enjoy fliying this new destination at dominican republic.
Posted Nov 21, 2009 11:35 by Kelvin R. Perez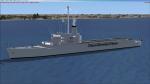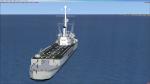 4.76Mb (3599 downloads)
Here's Jeanne d'Arc, modelled in GMAX with full details and effects included. There is also an animation of the radar. The flight deck is landable and can be found on Map/GPS under the name PHJ.
Posted Nov 21, 2009 06:33 by Tony MEZIERES