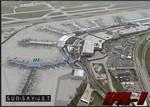 210.92Mb (4090 downloads)
Philadelphia International Airport(KPHL) high detail scenery package. KPHL is a major airport in Philadelphia, Pennsylvania, United States, and is the largest airport in the Delaware Valley region and in the state. The airport is the third largest hub and the primary international hub of US Airways and has service to destinations in the United States, Canada, the Caribbean, Latin America, and Europe. Most of the airport property is located in Philadelphia. The international terminal and the western end of the airfield are located in Tinicum Township, Delaware County. With 460,779 aircraft movements in 2010, Philadelphia International Airport ranks 12th busiest in the world in terms of aircraft movements. In 2010, 30,775,961 passengers passed through Philadelphia International Airport, a 0.3% increase compared to 2009. Shehryar Ansari, Ian Gibson.
Posted Sep 24, 2016 08:09 by Kevin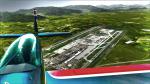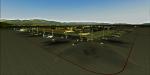 12.89Mb (1404 downloads)
SCEL Aeropuerto Internacional Comodoro Arturo Merino Benítez. Chile's largest and busiest international airport. This is just another freeware upgrade ("lift surgery") over the default fsx airport. Layout is modified following satellite coordinates and background textures are replaced by DAY/NIGHT, SPRING/ FALL AND WINTER Photoscenery.
Posted Sep 20, 2016 22:24 by Orlando Veas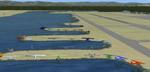 14.24Mb (979 downloads)
PAFA Fairbanks International, Alaska, for FSX. Completely re-done. Photo-textured custom terminal and tower. Custom buildings and ground markings. Rwys 1/19 updated to rwys 2/20. The only additional files required is my Lights SS V2+ object library, but only if you don't already have it installed. If you don't already have it, you can download it here. By Sidney Schwartz
Posted Sep 17, 2016 02:29 by uploader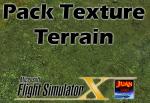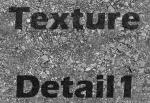 3.83Mb (1786 downloads)
FSX Pack Texture detail 1 for Flight Simulator X. Characteristic: - Bmp textures - Size 1024x1024 - DXT1 - high quality - This package includes 6 varieties of textures. Look at your image preview and choose 'A'. It includes backup of the original detail1.bmp texture (Good idea to make your own backup too)
Posted Sep 16, 2016 14:28 by juan30005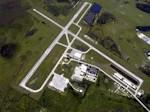 9.74Mb (630 downloads)
FSX Lake Wales, Fl (X07) USA. The Lake Wales Municipal Airport is located approximately 2 miles southwest of the downtown business district of Lake Wales, Florida within an area having the highest elevation in the state at 127 feet above mean sea level.
Posted Sep 15, 2016 01:04 by uploader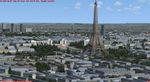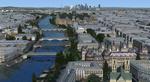 417.86Mb (4370 downloads)
City of Paris, France - Light version. For years I've planned this scenery. I started to work on summer of 2013. I did not imagine at those time it would take me so long time to build it. I wanted to create a very specific autogen based on news "extrusions" to render more accurately the density of buildings in Paris. This is the purpose of this scenery. Everything else is only the standard improvment. By Marc Guitteny
Posted Sep 9, 2016 07:15 by uploader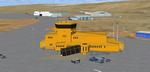 7.85Mb (638 downloads)
Iqaluit CYFB 2010 FSX scenery, Nunavut, Canada. Founded in 1942 as an American airbase, Iqaluit is now the capital city of the northern Canadian province of Nunavut. It is the smallest Canadian capital in terms of population and the only capital that is not connected to other settlements by a highway. The airport is of critical importance to the community, especially when ice makes boat travel impossible. At 62 degrees latitude (approx. the same as Yellowknife), Iqualuit offers some of the most severe weather you are likely to encounter at any airport, and has been used for cold weather testing of new airliners. This is a conversion of my FS9 scenery showing CYFB circa 2010. The airport is currently undergoing extensive renovations so I did try and update it, except for the following: RWY 17/35 changed to 16/34 FYF NDB added. West ramp and hangers added. By Sidney Schwartz
Posted Sep 6, 2016 08:14 by uploader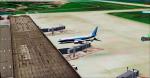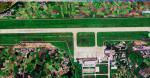 27.47Mb (667 downloads)
China Huangshan City airport for FSX. Huangshan Tunxi International Airport is an airport in Tunxi, Huangshan City, Anhui Province, China, serving mainly tourists visiting Mount Huangshan, one of China's top tourist destinations. This scenery supports GSX, so you can enjoy ground service. Created by Alpha Development Team. Welcome visit www.chinafsu.com
Posted Sep 4, 2016 02:22 by LufthansaDir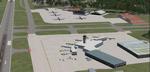 1.81Mb (386 downloads)
KCRW Charleston-Yeager, West Virginia for FSX. Completely re-done. RWY 15-33 converted to taxiway C. Custom buildings and ground markings. The only additional files required is my Lights SS V2+ object library, but only if you don't already have it installed. If you don't already have it, you can download it here. By Sidney Schwartz
Posted Sep 3, 2016 02:37 by uploader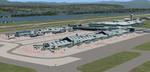 6.29Mb (1599 downloads)
KPDX Portland International Airport, Oregon, for FSX. Almost all buildings are custom. The terminal and run-up structure are taken from my FS9 version of KPDX and are photo-textured. The rest of the buildings were made for this version; they use mostly FSX stock textures but are accurate in shape and placement. Custom gate markings, gate numbers and taxiway runway number signs. Many correction to taxiways and aprons. Bomb objects on ANG ramp created by Isaac B. By Sidney Schwartz
Posted Aug 30, 2016 06:13 by uploader