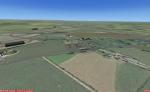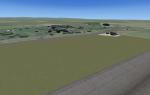 2.55Mb (184 downloads)
The airfield was opened in 1941 for use by the Royal Air Force (RAF) but by 1942 the aerodrome had been taken over by the Royal Canadian Air Force (RCAF) for training as part of No. 6 Group RCAF. The station is now more famously known as the site of Croft Circuit, a motor racing circuit which hosts various car championships including the British Touring Car Championship. Source:Wikipedia
Posted Feb 22, 2017 12:34 by Terry Boissel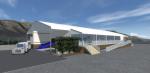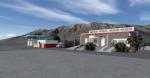 62.94Mb (625 downloads)
A Project: FSCV - Flight Sim Cabo Verde GVSN - One of the 6 airports at Cabo Verde archipelago- off the coast of Africa. Preguiça (IATA: SNE, ICAO: GVSN) is an airport in Cape Verde located in the island of São Nicolau, about 3 km south of the island capital Ribeira Brava. This is a non professional work. Credits: Mesh - Steven Correia Scenario/Afacad: Paulo Figueiredo. Thanks to Helio Cruz for the photos. IMPORTANT: Not compatible with TerraBrasilis scenery.
Posted Feb 20, 2017 12:16 by Paulo de Figueiredo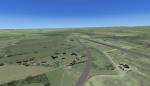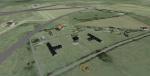 2.52Mb (305 downloads)
RAF Scorton was opened in October 1939 as part of 13 Group Fighter Command and a satellite station of RAF Catterick. It was located near the village of Scorton in North Yorkshire. It was used by the Royal Air Force, the Royal Canadian Air Force, and the United States Army Air Forces Ninth Air Force during the war. The location was chosen for its flat terrain and its situation close to the now disbanded Eryholme-Richmond branch line that had a sub branch line to Catterick Garrison and RAF Catterick. The famous No. 56 Squadron RAF flew Spitfires from Scorton during the Second World War. Also the USAAF 422d and 425th Night Fighter Squadrons were stationed at Scorton flying the Northrup P-61 "Black Widow" fighter. The Aerodrome closed in 1945 and most of the concreted areas have been extensively quarried away for sand and gravel extraction. Most of what was the airfield is now under a lake or a quarry. There are a few military pre-fab buildings remaining in the area – they were dismantled after the war and moved to local farms to be used as agricultural buildings. Source:Wikipedia
Posted Feb 20, 2017 05:32 by Terry Boissel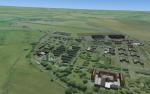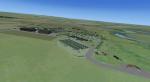 1.90Mb (441 downloads)
RAF Catterick is located alongside the A1 on the outskirts of Catterick Village. Operationally it falls under the command of Catterick Garrison. It currently houses 5th Regiment Royal Artillery and 32 Engineer Regiment. Catterick airfield first opened in 1914 as a Royal Flying Corps aerodrome with the role of training pilots and to assist in the defence of the North East of England. It came under RAF administration in 1918 and housed Number 49 Training Depot. In 1927, it temporarily came under the administration of the British Army, under the Army Air Co-Operation Command which would supply the army with any air support needs that would be required. This continued until 1939 when the station was handed back to the RAF. During the Second World War, the airfield operated a small satellite station called RAF Scorton near the village of Scorton. Catterick's runway could not be extended from its existing 3,350 ft (1,020 m) for the jet age due to the perimeter being bounded by the Great North Road (A1) and the River Swale. Therefore, Catterick's importance declined after the Second World War, though it still housed training institutes for many years. Source: Wikipedia
Posted Feb 18, 2017 12:35 by Terry Boissel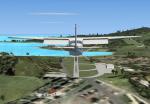 0.82Mb (1843 downloads)
St Barts, Caribbean. This airport is not very well represented in default FSX scenery so I have made an addon scenery to try to improve it. This scenery adds water on one end and a sloped hill on the other side. This is NOT Photoreal scenery but is an improvement from the origional scenery
Posted Feb 18, 2017 10:34 by Kyle Thomson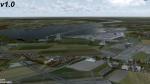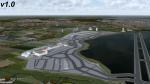 0.06Mb (352 downloads)
Eemland Airport is a fictive international airport near Amersfoort, the Netherlands. The runway (12-30) is based in the Eemmeer. The area is also called "Eemland" because of the beautiful river that flows through the area, the Eem. About the airport: The runway (12-30) has a length of 2500 meters and is 60 meters wide. On each side is a overrun of 200 meters and 20 landing lights. Also both runways have an Instrumental Landing System (ILS) and the airport has full Air Traffic Control (ATC). The airport has 27 Small gates, 5 Medium gates, 4 Heavy gates and 3 Cargo parkings. The airport also has 19 small, 10 medium and 5 big Genaral Aviation (GA) parkings. The airport furthermore has it's own fuel supply, air traffic radar, and logistics center. The airport doesn't have AI traffic of it's own, only some static planes. You can download the AI Flight Planner here: http://stuff4fs.com/open.asp?Folder=AIFP&JS=TRUE Scroll all the way down till you find: "The current release of AI Flight Planner is..." and click on the current version to download. With this tool you can add AI traffic to this airport with any traffic addon you are using or any default AI traffic.
Posted Feb 15, 2017 04:18 by Joeri Veenhuizen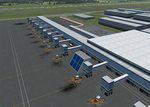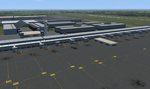 1.25Mb (3613 downloads)
Munich Airport, EDDM, Germany. All gates are on the exact position, have working jetways (if so in reality) and ground numbers. Taxiways are exact. ILS frequencies are current. Approach lights work in low visibility. Created by Rene Scharlach
Posted Feb 14, 2017 03:33 by Mike Leitz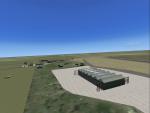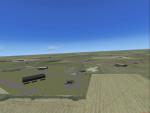 1.78Mb (198 downloads)
RAF Catfoss was a Royal Air Force station during the Second World War. The airfield was opened in 1932 for an Armament Training Camp. A small number of fighters were posted there at the start of the Second World War, before the airfield was rebuilt as a bomber station. It closed in November 1945. The site was re-opened in 1959 as the site for the PGM-17 Thor ballistic missile. It closed again in 1963. Source:Wikipedia
Posted Feb 12, 2017 05:51 by Terry Boissel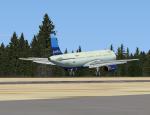 0.46Mb (384 downloads)
This is a replacement airport for "lib field" - With a tower placement where plane spotters can see landings or takeoffs from a realistic perspective.
Posted Feb 11, 2017 08:16 by Kyle Thomson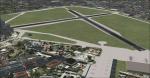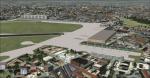 0.80Mb (228 downloads)
Frunze Tsentralny Aerodrome was Moscow's first airport and location of several aircraft constructors, e. g. Ilyushin. The airport was finally closed in 2003 so in default FSX it is not present.
Posted Feb 11, 2017 05:27 by Mario Kassmann