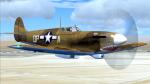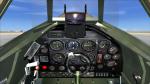 6.23Mb (1429 downloads)
This is a panel update for the Supermarine Spitfire Mk VbTrop, recently uploaded by A, F. Scrub. Thanks to him for that terrific model but the panels needed some updating. New gauges and gauge configuration for both the VC and the 2D panel give them a more detailed appearance and the VC has been entirely newly designed. New VC and gauge configuration by Michael Pook.
Posted Apr 16, 2018 11:17 by Michael Pook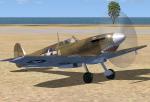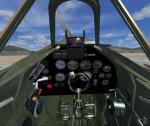 17.16Mb (1369 downloads)
FSX/P3Dv3/v4 Spitfire Mk VbTrop The basic Mk V was a Mk I with the Merlin 45 series engine. This engine delivered 1,440 hp (1,074 kW) at take-off, and incorporated a new single-speed single-stage supercharger design. Several Mk I and Mk II airframes were converted to Mk V standard by Supermarine and started equipping fighter units from early 1941. The VB was the first production version of the Spitfire to use "clipped" wingtips as an option, reducing the wingspan to 32 ft 2 in (9.8 m).The clipped wings increased the roll rate and airspeed at lower altitudes. Native FSX/P3D GMAX model by A.F.Scrub
Posted Apr 15, 2018 04:45 by A.F.Scrub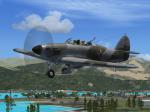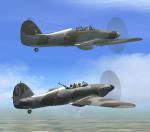 18.07Mb (861 downloads)
FSX/P3D v3 Hurricane two seater The Hurricane was a big leap forward in performance compared to biplanes such as the I-152 in service when the Germans attacked. The Hurricane also handled differently to equivalent Soviet designs and as a result the Soviets asked for a two-seater trainer version very early on.Ten Hurricane Mk.IIs were selected for conversion which involved removing the armour behind the original pilot seat and effectively fitting a duplicate cockpit complete with second windscreen. Having gained experience building the two seat trainers the Soviets went about converting the aircraft with a second position behind the pilot for an observer who faced rearward and was thus not as obstructed by the aircraft's wing when looking down as the pilot was. These aircraft never had full canopies fitted to them which as well as making them extremely cold in the harsh Soviet weather also caused buffeting problems at high speeds. FSX/P3D native GMAX mdl by A.F.Scrub.
Posted Apr 3, 2018 08:34 by A.F.Scrub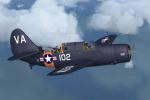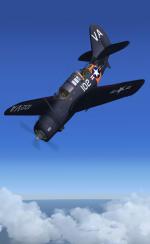 0.61Mb (431 downloads)
AIRFIX's texture for Wolfgang "Wolfi" Faber's Curtiss SB2C-4/5 Helldiver. Requires FSX updated model - link below
Posted Mar 30, 2018 06:11 by Enrique Medal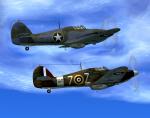 20.86Mb (1309 downloads)
FSX/P3D Hawker Hurricane The Sea Hurricane Mk IA were Hurricane Mk I modified by General Aircraft Limited. They were modified to be carried by CAM ships (catapult armed merchantman) and called Hurricats, they could not be landed on the ship after their mission. The Hurricane Mark IIC modified with catapult spools and arrester hook were known as the Hooked Hurricane and were real carrier born fighters. FSX/P3D native GMAX model by A.F.Scrub.
Posted Mar 26, 2018 03:27 by A.F.Scrub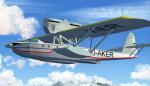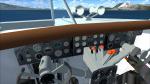 32.83Mb (1360 downloads)
The Dornier Do J Wal ("whale") was a twin-engine German flying boat of the 1920s designed by Dornier Flugzeugwerke In the military version (Militärwal in German), a crew of two to four rode in an open cockpit near the nose of the hull. Several countries, notably Italy, Norway, Portugal, Uruguay and Germany, employed the Wal for military tasks. The civil version had a cabin in the nose, offering space for up to 12 passengers, while the open cockpit was moved further aft. Main users of this version were Germany, Italy, Brazil and Colombia. The Norwegian polar explorer Roald Amundsen used two Dornier seaplanes in his unsuccessful attempt to reach the North Pole in 1925. His two aircraft, N-24 and N-25, landed at 87° 44' north. It was the northernmost latitude reached by any aircraft up to that time. This is an FSX update for the FS2002 model of the Wal, posted by the "Freeware Project Dornier Whale" in 2003. It features three closed cabin models and one open cabin model in four different liveries. The focus of this update lies on completely reworked VCs and new 2D panels, giving the cockpits a much more realistic appearence. Included are three different panels (two for the closed cabin model and one for the open cabin) with now all German authentic gauges of the 1920s. Thanks to Michael Garbers, Wolfram Beckert, Uwe Hochmuth and Markus Senkbeil for the original models, reworked VCs and new 2D panels by Michael Pook.
Posted Mar 22, 2018 08:29 by Michael Pook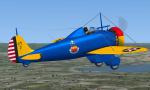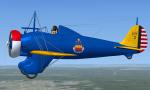 2.00Mb (539 downloads)
Textures only for A.F. Scrub's FSX/P3D native Boeing_Peashooter. Aircraft not included; requires the fsx_peashooter_updated.zip file. This is painted as a P-26A of 20th Pursuit Group from Barksdale Field, Louisiana in 1934. Repainted by R.E. Wyman.
Posted Mar 16, 2018 15:45 by R.E. Wyman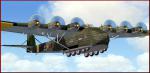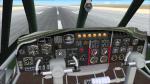 17.04Mb (2249 downloads)
The Messerschmitt Me-323 Gigant ("Giant") was a German military transport aircraft of World War II. It was a powered variant of the Me 321 military glider and was the largest land-based transport aircraft of its time. A total of 213 are recorded as having been made, a few being converted from the non-powered glider Me 321. This an FSX/ P3D (V.3) update particularly for those who like this awesome "Giant of the Air", now equipped with both a much more realistic VC and 2D panel. Also, I've given it a more realistic paint job to make it look more like the real thing. Realistic exhaust smoke for all six engines added as well as vc light and extra camera views and animations added (opening cargo doors and truck being unloaded). Original model by Kazunori Ito, extra camera views and truck animation by Erwin Welker and new repaint, VC and 2D panel as well as smoke and VC light configuration by Michael Pook. FSX/P3D (V.3 but not v4).
Posted Mar 14, 2018 01:54 by Michael Pook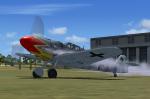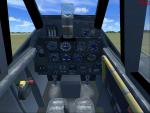 8.99Mb (2023 downloads)
FSX/P3D Messerschmitt Bf109G-6 The Bf 109 G "Gustav" series-frame was the most mass-produced variant of the 109, powered by the Daimler-Benz DB 605A. In February 1943, the G-6 was introduced with the 13 mm (.51 in) MG 131s, replacing the smaller 7.92 mm (.312 in) MG 17. Externally this resulted in two sizeable Beule blisters over the gun breeches, reducing speed by 9 km/h (6 mph). Over 12,000 examples were built well into 1944 . With the 'Gustav', the Bf 109 design had reached its peak. FSX/P3D native GMAX mdl by A.F.Scrub.
Posted Mar 12, 2018 06:06 by A.F.Scrub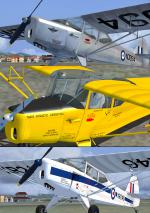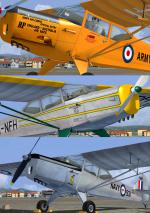 110.10Mb (1564 downloads)
FSX/P3D Auster Project part two collection upgrade multi photoreal textures. This is the Auster J1 Military Version AOP(Aerial Observation Post). All new exterior details and the following seven photoreal liveries. Hellenic RHAF, Australian Navy, British Army Air Corps, RAF Trans Antarctic Expedition, RAF AOP XR246, Canadian RCAF and my version of Philips co.owned PH-NFH. Main textures are in 4096 px for higher res. Many camera views, animated pilot, superb animated Vc. You will need to download the FSX native model by DG Designs from the external link bellow for this one. By Hellenic Aircraft/Yiannis Katehis Tsetsas 2018. Should also work in P3Dv4. File size:(110) MB
Posted Mar 2, 2018 13:54 by Yiannis Katehis Tsetsas