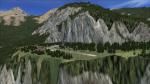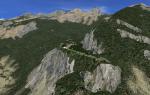 0.01Mb (1365 downloads)
My version of the Tenzing-Hillary Airport (VNLK) in Lukla. One of the most dangerous airports in the world.
Posted Apr 18, 2016 17:35 by Geoff Peel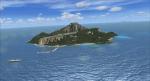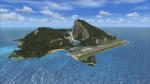 0.03Mb (1529 downloads)
Some years ago I posted this scenery which I must apologise had many mistakes. I have learnt a lot since then and all the mistakes have now been corrected in this pack. The new scenery still has the upgraded Jauncho Yrausquin airport (SABA) which can accomodate heavies (no more surf on the runway) and my fictitious airport Shamrock Ridge (COLL) on the same island above SABA with a sheer 880ft cliff facing you on landing and a take-off between two cliff faces. Lots of new scenery has been added... beaches, waterfalls, helipads and seaplane docks with starts and a cruise liner anchored just off a new small sheltered harbour below Shamrock Ridge's runway 4. Special thanks go to my FSX friend Miles Franklin in Caracas, Venezuela for encouraging me to do the update,also for helping me find all the mistakes and for all his ideas for additional scenery inspiring me to do the fix. Created by Geoff Peel using ScruffyDuck Software Airport Design Editor FSX Edition. Hope you enjoy !
Posted Apr 18, 2016 17:14 by Geoff Peel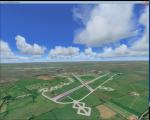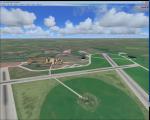 2.25Mb (424 downloads)
RAF Blakehill Farm (ICAO X1BK) was an RAF airfield situated in Wiltshire, England. The station was originally allocated to the United States Army Air Forces Ninth Air Force but not used. It opened in 1944 and was home for transport aircraft of No. 46 Group Transport Command. In 1948 the airfield was a satellite of RAF South Cerney and used by training aircraft before the airfield closed in 1952 and was returned to agricultural use. After WWII, GCHQ set up an "experimental radio station", a top secret research facility, on the site of the RAF's wartime airfield at Blakehill Farm. It consisted of huge communications masts arranged in mysterious strategic patterns in the middle of the old airfield. The site was still active in some capacity until the mid 1990s and traces of the former antenna bases can still be seen on satellite photographs. The site is now a Wiltshire Wildlife Trust nature reserve.
Posted Apr 17, 2016 14:38 by Terry Boissel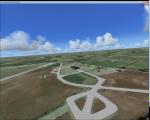 0.93Mb (350 downloads)
RAF Broadwell (ICAO X2BW) is a former Royal Air Force station located 2 miles north of Broadwell and 3 miles southeast of Burford, Oxfordshire, within 2 miles of RAF Brize Norton. It opened on 15 November 1943 and closed on 31 March 1947, operating under RAF Transport Command. It consisted of 3 concrete runways in triangular configuration. Broadwell took part in the D-Day assaults with nearby RAF Down Ampney and RAF Blakehill Farm. Broadwell had two such squadrons, No. 512 Squadron RAF and No. 575 Squadron RAF were based here, flying the Douglas Dakota. In February 1944, No. 512 Squadron was transferred to No. 46 Group at RAF Broadwell, it was a tactical Dakota squadron and started training glider towing and parachute dropping. Its first operation in the new role was a leaflet drop on 5 June 1944 over France, this followed intensive flying in and out of France including dropping parachutists at Arnhem. On the eve of D-Day No. 575 Squadron dropped 5 Para into the invasion drop zone. On 6 June, it towed 21 Horsa gliders into France. In the next few weeks it started a casualty evacuation service from France back to England. In September 1944, it was involved in operation market garden to Arnhem where it suffered severe casualties. The airfield continued to be a terminus for long-range transport operations to Europe, the Middle East and India. Source: Wikipedia
Posted Apr 16, 2016 13:36 by Terry Boissel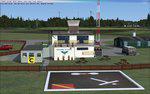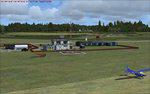 8.84Mb (550 downloads)
FSX-Sleap, near Shrewsbury, is the home of Shropshire Aero Club,and once a satellite of nearby RAF Shawbury and it was used for training ATC personel.
Posted Apr 16, 2016 05:44 by Alf Denham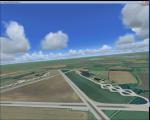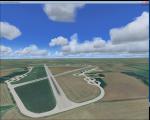 1.94Mb (396 downloads)
RAF Down Ampney (ICAO X2DA) was a Royal Air Force station located 1.8 miles (2.9 km) north east of Cricklade, Wiltshire and 3 miles (4.8 km) south west of RAF Fairford, Gloucestershire. The airfield operated during World War II from February 1944 until February 1947. Down Ampney was part of a group of 3 airfields with RAF Broadwell and RAF Blakehill Farm dedicated to air transportation. No. 48 Squadron RAF and No. 271 Squadron RAF flew Douglas Dakotas on major missions. On D-Day they dropped the main elements of the 3rd Parachute Brigade in Normandy as well as towing Airspeed Horsa gliders across the English Channel. They were also active in Operation Market Garden (Arnhem) and the Rhine crossing. Source: Wikipedia
Posted Apr 15, 2016 09:52 by Terry Boissel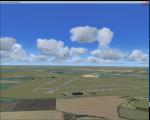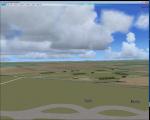 1.51Mb (271 downloads)
RAF Fairford (IATA: FFD, ICAO: EGVA) is a Royal Air Force (RAF) station in Gloucestershire, England which is currently a standby airfield and therefore not in everyday use. RAF Fairford was constructed in 1944 to serve as an airfield for British and American troop carriers and gliders for the D-Day invasion of Normandy and Operation Market Garden during World War II
Posted Apr 14, 2016 03:10 by Terry Boissel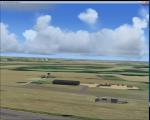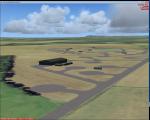 0.80Mb (220 downloads)
RAF Ramsbury is a former Royal Air Force station located 5 miles (8.0 km) east-northeast of Marlborough, Wiltshire, England. Opened in 1942, it was used by both the Royal Air Force and United States Army Air Forces. During the war it was used primarily as a transport airfield. With the end of military control Ramsbury was returned agricultural use. By the mid-1960s, much of the concrete had been removed.
Posted Apr 11, 2016 03:58 by Terry Boissel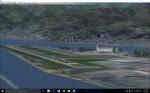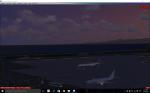 41.96Mb (2411 downloads)
New freeware release from UltiMax FSX Sceneries, New package contains over 70 square miles of photorealistic scenery of Genoa and the surrounding area. New features of the airport include: Photorealistic scenery Accurate parking/ taxiways Extra Taxi signs Accurate placement of tower, terminals etc Accurate road layout with moving traffic Accurate Placement of buildings in the city Static/ animated ground crew Static Ships Static Aircraft Excellent FPS Excellent night lighting including ramp lighting 'Back of airport' includes car park etc Animated jetways Enjoy and happy flying ;--)
Posted Apr 9, 2016 06:55 by UltiMax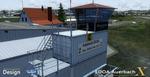 131.80Mb (900 downloads)
FSX EDOA Auerbach X, Germany, v1.0. - Highly detailed implementation of the airfield Auerbach (EDOA) - Ground based on high resolution Aerial Image including 5 seasons and night Layer - Compatible with all surface Addons eg VFR Germany - Custom Runway + Ground Textures. The airfield Auerbach located in the Saxon Vogtland southwest of Auerbach and north of Falkenstein. He is classified as a commercial airport and approved for aircraft up to 7.5 tons. The airfield Auerbach is great attraction in this region. Objective of the airfield society is the public transport in the air between Vogtlandkreis and Erzgebirge to other regions of Germany, mainly for small business travel. Simultaneously, the Vogtland economy and tourism should be promoted in the region through the airfield Auerbach. By Sierra Foxtrot Design.
Posted Apr 9, 2016 06:07 by sf design