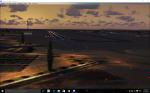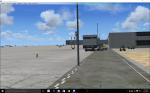 15.24Mb (1686 downloads)
The first UltiMax release for FSX. New faro airport contains several new features such as: Static Aircraft Static Ground Vehicles New Parking to reflect actual layout Static Cruise Ship out to sea New ramp lighting Excellent FPS 'Back of airport' Car park etc Nearby roads fire station and engines Ground crew
Posted Mar 25, 2016 07:59 by UltiMax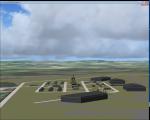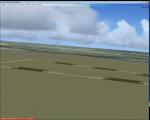 1.37Mb (308 downloads)
RAF Aldermaston (ICAO X2AM) is a former Royal Air Force station located 8 miles (13 km) east of Newbury, Berkshire and 9.8 miles (15.8 km) southwest of Reading, Berkshire, England. Originally built as an RAF Bomber Command airfield during 1941-1942, Aldermaston was transferred to the United States Army Air Forces in August 1942. Placed under the jurisdiction of Eighth Air Force, it was home to several Douglas C-47 Skytrain Troop Carrier Groups. It was transferred to Ninth Air Force in 1943 primarily as a Troop Carrier Command base. Returned to RAF Control at the end of 1945, it was used by Technical Training Command before being placed on Care and Maintenance. In 1946, it was transferred to the Ministry of Civil Aviation and used by BOAC aircraft for training. Also used by the Ministry of Aircraft Production for Supermarine Spitfire assembly and flight testing, the airfield closed in 1950 and the site became home of the Atomic Weapons Research Establishment (later the Atomic Weapons Establishment) from 1950.
Posted Mar 24, 2016 11:02 by Terry Boissel
0.07Mb (449 downloads)
This is a collection of airports in the Philippines.This also includes an update of my Baguio Scenery
Posted Mar 23, 2016 04:45 by Jonathan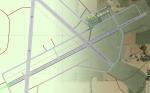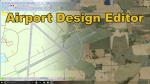 8.25Mb (491 downloads)
Vidalia Regional Airport Scenery for FSX. Completely rebuilt from the ground up with custom objects, and Lights. All instrument approaches updated to be current as of February 2016. Navaids update, Radio Frequencies updated. This scenery was done as part of a tutorial for Airport Design Editor. As such it includes an extra object library for use. Visit my youtube channel for the complete video series showing how this airport was built. Visit my Youtube channel (CountryFlyboy) to see the series.
Posted Mar 21, 2016 14:54 by CountryFlyboy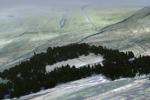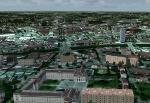 57.47Mb (1413 downloads)
This package contains autogen (agn) files for your photoscenery of the whole island of Ireland. This autogen, besides trees and houses, depicts also row houses, churches, gas stations and appropriate type of forests (subject to information available). Height of buildings is also adjusted for larger urban areas. Data as of March 2016.
Posted Mar 21, 2016 04:31 by Milan Smid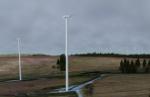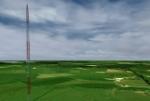 2.10Mb (971 downloads)
This package will place into your FSX / Prepar3D hazard objects (chimneys, antennas, and windmills) as listed in the ENR 5.4 section of the Irish AIP. These objects are usually depicted also on VFR 1:500 000 aeronautical chart.
Posted Mar 21, 2016 04:00 by Milan Smid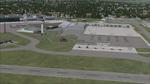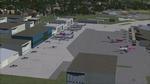 1.55Mb (2749 downloads)
EGGW - Luton Airport, nr London, UK. This scenery is a very accurate rendition of Luton Airport and made only for FSX: I have assigned the airlines to their gates (to the best of my knowledge) with extra parking, taxiways and taxi signs updated to the latest charts, the terminal and ramps completely rebuilt from scratch, the Cargo ramp also updated, extra fuel trucks and many other scenery objects included, airport views are from inside the control tower (when in tower view) please view the readme before installation. Created by Craig Scott
Posted Mar 20, 2016 18:25 by mike lietze
0.02Mb (204 downloads)
This is my interpretation of the fighter station RAF Wellingore, in Lincolnshire. I have used a little poetic licence in placing the 8 L type blister hangers and the small technical area to the north west of the airfield, I hope you enjoy my effort. Initially, Wellingore opened during the first world war in 1917. I am guessing that it was used by the Royal Naval Air Service as it was the relief landing ground for Training Establishment Cranwell. With the onset of world war 2 the unit under went improvement works gaining the concrete peritrack and 6 e type fighter pen and 8 type L blister hangers. A number of squadrons serviced at the station before it final closure 1945 I have attempted to re-produce the unit as it may of looked during its war years but as photographs are scarce some of it may not be true to life, but I am sure the simmers amongst us will enjoy having another Lincolnshire airfield to fly in to.
Posted Mar 19, 2016 05:36 by Terry Boissel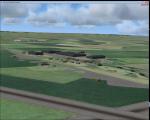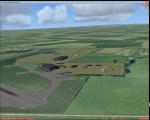 1.88Mb (299 downloads)
RAF Langar (ICAO X3LR) is a former Royal Air Force station located near the village of Langar, Nottinghamshire, England. The airfield is located approximately 6 miles (9.7 km) east-southeast of Radcliffe on Trent and about 100 miles (160 km) north-northwest of London, England. Opened in 1942 during World War II, it was used by both the Royal Air Force and United States Army Air Forces. During the war it was used primarily as troop carrier transport airfield. After the war it was provided to the Royal Canadian Air Force which used it as an operational base until 1963. Today the airfield is the location for the British Parachute Schools, who use the original control tower for their headquarters. The former Avro industrial complex is used by private industry.
Posted Mar 18, 2016 07:20 by Terry Boissel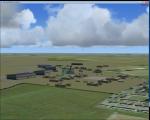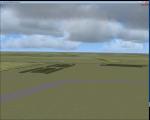 1.66Mb (429 downloads)
RAF Cottesmore (ICAO EGXJ) is a former Royal Air Force station in Rutland, England, situated between Cottesmore and Market Overton. The Stationed opened on 11 March 1938 and was used mainly for training, and the first squadrons were equipped with Vickers Wellesley aircraft, but soon converted to Fairey Battles. Later RAF Bomber Command took over the airfield, again as a training station, flying Handley Page Hampdens. These units remained in residence until a few days before the outbreak of war in 1939 when they were sent to RAF Cranfield to serve as a pool providing replacements for combat losses. Their place at Cottesmore was taken by Nos. 106 and 185 Squadrons, moving in from RAF Thornaby with Hampdens. However, with the outbreak of war, the aircraft and crews were sent to locations in the north and west, as enemy air attacks were expected over the southern half of England. As these never materialised, the Hampdens returned in the spring of 1940 and No. 185 Squadron became the Hampden operational training unit, No. 14 Operational Training Unit RAF. RAF Cottesmore's Hampdens' first trespass into hostile airspace was a leaflet dropping operation over northern France. In October 1940, 106 Squadron moved to RAF Finningley while No. 14 OTU remained training crews for Bomber Command, its Hampdens and HP.53 Herefords being replaced by Vickers Wellingtons in 1942. Training continued for three years and three months until August 1943 when No. 14 OTU moved to RAF Market Harborough. In early December 2009, it was announced the station would close due to funding cut-backs, in part to help pay for additional helicopters for British operations in Afghanistan. In 2010, No. 4 Squadron RAF disbanded, with No. 20 Squadron RAF re-badging as No 4 (Reserve) Squadron. The station became a satellite to RAF Wittering on 31 March 2011 with a civic parade and flypast to mark the disbandment of No 1 Sqn RAF, 800 NAS, 801 NAS and JFH. In July 2011 Defence Secretary Liam Fox announced plans for it to be the airfield for one of five of the Army's Multi-Role Brigades. In April 2012 it was renamed Kendrew Barracks after Major General Sir Douglas Kendrew. Source: Wikipedia
Posted Mar 18, 2016 05:42 by Terry Boissel