0.02Mb (241 downloads)
RAF Little Rissington (ICAO: EGVL) is an RAF aerodrome and former RAF station in Gloucestershire, England. It was once home to the Central Flying School, the Vintage Pair and the Red Arrows. Built during the 1930s, the station was opened in 1938 and closed in 1994. The married-quarters and main technical site were sold in 1996 (the former becoming the village of Upper Rissington), but the aerodrome has been retained by the Ministry of Defence and remains active along with the southern technical sites, under the operational control of HQ No.2 Flying Training School at RAF Syerston. It is now home to 637 Volunteer Gliding Squadron as the primary military unit, who provide elementary flying training for Combined Cadet Force and Air Training Corps cadets. The airfield is also used by the forces as a relief landing ground, training area and parachute dropping area. In previous years, the Royal Air Force estate has been used as a film set, including The Avengers, part of the ice chase in Die Another Day, and the Thunderbirds film Souce: Wikipedia
Posted Dec 6, 2015 08:25 by Terry Boissel
0.01Mb (207 downloads)
RAF Folkingham is a former Royal Air Force station located south west of Folkingham, Lincolnshire and about 29 miles (47 km) due south of county town Lincoln and 112 miles (180 km) north of London, England. Opened in 1940, it was used by both the Royal Air Force and United States Army Air Forces. During the war it was used primarily as a troop carrier airfield for airborne units and as a subsidiary training depot of the newly formed Royal Air Force Regiment. After the war it was placed on care and maintenance during 1947 when the RAF Regiment relocated to RAF Catterick. During the late 1950s and early 1960s, the RAF Bomber Command used Folkingham as a PGM-17 Thor Intermediate Range Ballistic Missile (IRBM) base. Today the remains of the airfield are located on private property being used as agricultural fields, with the main north-south runway acting as hardstanding for hundreds of scrapped vehicles Souce: Wikipedia
Posted Dec 6, 2015 08:22 by Terry Boissel
0.02Mb (187 downloads)
RAF Fiskerton was a Royal Air Force station located north of the Lincolnshire village of Fiskerton, 5.0 miles east of Lincoln, Lincolnshire, England It was one of many new bomber airfields built in the early part of World War II. The airfield was situated north of the village from where it got its name. It was one of only 15 RAF airfield equipped with FIDO, a fog-clearing system utilising petrol pumped through pipes alongside the main runway and burned via a sequence of nozzles. By Terry Boissel
Posted Dec 6, 2015 08:18 by Terry Boissel
0.07Mb (200 downloads)
RAF Fulbeck is a former Royal Air Force station located 6.3 miles (10.1 km) east of Newark-on-Trent, Nottinghamshire and 10.9 miles (17.5 km) west of Sleaford, Lincolnshire, England. The airfield is located about 106 miles (171 km) north-northwest of London and was opened in 1940 when it was used by both the Royal Air Force and United States Army Air Forces. During the war it was used primarily as troop carrier airfield for airborne units. It was closed in 1948 and was no longer used by the military and is now privately owned. Source Wikipedia
Posted Dec 6, 2015 08:15 by Terry Boissel
0.02Mb (252 downloads)
In the late 1930s with a new war on the horizon, extra airfields were again needed to accommodate an expansion of the RAF. Former First World War stations were surveyed for suitability, and an area just to the west of the original Elsham site was deemed to be better suited. work began in the winter of 1939-1940, and the station opened with the arrival in July 1941 of 103 Squadron. The station was equipped with a main runway 2,000 yards (1,829 m) long, and two subsidiaries of 1,600 yards (1,463 m) and 1,400 yards (1,280 m). Three hangars (two T-2's and one J-Type) and 27 aircraft hardstands (later increased to 36) were built. Three more T-2 hangars were built in 1944. Accommodation for around 2,500 personnel was dispersed in the nearby farmland. No. 103 is credited with more operational sorties than any other 1 Group squadron, and consequently suffered the group's highest losses. Of the 248 bombers lost on operations flying from Elsham Wolds, 198 were from No. 103 Squadron. By type, losses were 28 Vickers Wellingtons, 12 Halifaxes and 208 Lancasters. One Elsham Wolds Lancaster, Lancaster III ED888 M2 (Mike Squared)[3] which served with both Nos. 103 and 576, held the Bomber Command record for operational sorties, having completed 140 between May 1943 and December 1944.[4] A total of 974 operational hours. Source Wikipedia
Posted Dec 6, 2015 06:25 by Terry Boissel
0.06Mb (251 downloads)
RAF Faldingworth was a Royal Air Force station used during and after the Second World War. It was located close to the village of Faldingworth in Lincolnshire, England. It was used during the war by number 300 (Polish) Squadron and a memorial is now in place to them at the end of the main runway. Faldingworth entered service life as Toft Grange decoy airfield and later as a satellite airfield of RAF Lindholme. Late in 1943 it became a satellite of RAF Ludford Magna. After the war the base was used for storage of weapons. In 1957 the site became a nuclear weapons store for the RAF V bomber force. In times of crisis nuclear weapons from the site would be distributed to the nearby v-bomber airfields such as RAF Scampton, RAF Finningley and RAF Coningsby. With the transfer of the UK nuclear deterrent role to the Royal Navy's Resolution class submarines in 1968 the site was run down and finally de-activated in 1972. Current Ordnance Survey maps show the remains of a typical wartime bomber airfield, with the former storage site overlaying the south-western part of the airfield, about 1.25 miles (2 km) east of Spridlington. There is a cluster of RAF-built housing north-east of the airfield area, sold to The Welbeck Estate Group in 1979 and a group of RAF buildings used as an industrial estate. Source Wikipedia
Posted Dec 6, 2015 06:21 by Terry Boissel
0.01Mb (237 downloads)
RAF Dunholme Lodge was a Royal Air Force station located between the parishes of Welton and Dunholme in Lincolnshire, England. The grass airfield was first used by the Royal Air Force during 1941 and 1942 for use by Handley Page Hampden aircraft from nearby RAF Scampton, and was officially opened as a RAF Station in September 1942 as part of RAF Bomber Command with the building of three hard runways. The main occupier of the station was 44 Squadron, with the Avro Lancaster four-engined heavy bomber, which moved in from RAF Waddington in May 1943 and stayed until it moved to RAF Spilsby in September 1944. In November 1944 flying operations ceased due the proximity of other stations which did not allow night flying. At the end of the war 120 Lancasters had been lost on operations from Dunholme Lodge. From 1948 the site was host to motorcycle and car racing until 1959 when the base was reopened as an active RAF station when it became an active Bloodhound surface-to-air missile station with 141 Squadron.The Squardron in 1964 and the station finally closed in 1964. Source Wikipedia
Posted Dec 6, 2015 06:18 by Terry Boissel
0.01Mb (252 downloads)
RAF Cammeringham (formerly RAF Ingham) was a Royal Air Force station used by RAF Bomber Command between 1940 and 1945 and the Polish Air Force until 1946. The airfield was located between the A15 (Ermine Street) and B1398 roads, 10.3 mi (16.6 km) north of the county town Lincoln, Lincolnshire, England and due east of the village of Ingham. Mainly used as an overflow airfield for nearby RAF Hemswell and later as a training establishment, its continued use was limited by damage to its grassed runways. The airfield closed in early December 1946. The site had been considered as a potential stand-alone airfield as early as 1936 but building did not commence until 1940 when RAF Hemswell needed additional capacity during the expanding World War II bomber offensive. Initially no squadrons were based at the station and it was used exclusively by Hemswell as an overflow site. Detailed surveys were undertaken in preparation for the building of the concrete runways then needed for heavy bombers, but it was decided that the contour gradients were unsuitable and the runways remained grass only. However between 1940 and 1942 a concrete perimeter track was constructed, together with three hangars (1 x B1 and 2 x T2 types) and a technical site. A total of 36 pan-type aircraft standings were constructed in two phases.
Posted Dec 6, 2015 06:07 by Terry Boissel
0.01Mb (223 downloads)
RAF Coleby Grange was a Royal Air Force station situated alongside the western edge of the A15 on open heathland between the villages of Coleby and Nocton Heath and lying 7.4 mi (11.9 km) due south of the county town Lincoln, Lincolnshire, England. Opened in 1939 and operated as a fighter and night fighter airfield during World War II, it was occupied at various times by UK, US, Canadian and Polish fighter squadrons, the station briefly switched to a training role post-war before being placed on a care and maintenance basis. Reopened in 1959 as an RAF Bomber Command Intermediate Range Ballistic Missile (IRBM) launch facility and placed on a high DEFCON 2 launch alert during the Cuban Missile Crisis, the station was finally closed and decommissioned in 1963. The site has been returned to agricultural use and now has little evidence of its former use, other than several lengths of perimeter track and the original air traffic control tower
Posted Dec 6, 2015 06:06 by Terry Boissel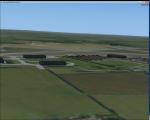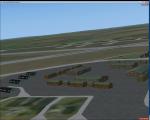 1.59Mb (338 downloads)
Royal Air Force Station Bottesford or more simply RAF Bottesford is a former Royal Air Force station located on the Leicestershire-Lincolnshire county border, 6.8 miles (10.9 km) north west of Grantham, Lincolnshire and 7.6 miles (12.2 km) south of Newark-on-Trent, Nottinghamshire and about 107 miles (172 km) north-northwest of London, England. Opened in 1942, it was used by both the Royal Air Force (RAF) and United States Army Air Forces (USAAF). During the war it was used primarily as a troop carrier airfield for paratroopers and as a bomber airfield before closing in 1948. Today the remains of the airfield are located on private property with the technical site being used as an industrial estate.
Posted Dec 4, 2015 04:33 by Terry Boissel