Past Week Popular > Page 1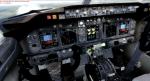 82.90Mb (324 downloads)
FSX/P3D Boeing 737-900ER Alaska Airlines package. Alaska currently operate 79 Boeing 737-900 in operation. Package includes advanced 737-800 VC added with more realistic darkened textures. Including utility for ground services, Passenger bus, cargo, stairs, refuelling truck etc (find it under - Views - Instrument panel - Util) The VC is the Alejandro Rojas Lucena/FSND fantastic revised Boeing 737-800 VC model. This VC model includes Working wipers (right mouse click on switch) with rain effect. Switches for LCD Screens, EICAS, PFD, MFT. Autobrake switch. Opening pilots window. Cabin Lights switch. Realistic FMC. Ground Proximity Warning System (GPWS), More Realistic night VC textures. There are custom Boeing 737 sounds included for that extra realism. VC added and aircraft.cfg edited to allow correct VC views, jetways, wheel levels and wing views. See VC docs to get the best out of the VC and FMC. Textured and tested in P3D5.3 by Chris Evans. Should also work in earlier P3D versions as well as FSX.
Posted Jan 12, 2022 12:27 by chris evans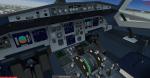 86.48Mb (248 downloads)
FSX/P3D Airbus A320-200 Aeroflot Russian Airlines package. Russia flag carrier airline, Aerofot, is based in Moscow and currently have 60 Airbus A320-200 in their fleet. Model by Project Airbus. 2020 updated VC by Speedbird77 with built in FMC by Garret Smith. Includes A320 operation manual and checklist. Airbus sounds included. Textured, assembled for P3D v5.3 by Chris Evans. Should work in FSX and other P3D
Posted Jan 11, 2022 11:56 by chris evans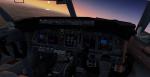 63.21Mb (236 downloads)
FSX/P3D Boeing 737-800 Delta Airlines package. The world's 2nd largest airline, Delta, currently have 77 Boeing 737-800 in operation. This one N776DE was aquired in 2017 and previously purchased new by GOL in 2013. TDS high spec. native FSX Boeing 738-800 model and quality paint kit. The VC is the FSND modified version of the Microsoft Boeing 738 VC to include various upgrades. Thank you to Alrot fot this. I retextured the VC to make it more resemble the darker grey of today's 737's. See Document folder to get the best out of the VC. Textured, packaged and prepared for FSX & P3D up to v5.2 by Chris Evans.
Posted Jan 13, 2022 11:48 by chris evans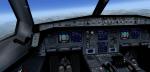 72.27Mb (200 downloads)
FSX/P3D Airbus A340-300 Lufthansa Star Alliance package. Lufthansa are currently the largest operator of the A340-300 with 17 in their fleet. D-AIGW is painted in the Star Alliance livery and was delivered new to Lufthansa in 2000. Model by Thomas Ruth. Added the better Thomas Ruth modified VC with latest updates by Chris Evans and Louis Quintero. Added correct jetway configs, wing views and wheel levels. Manual included. Zip preview for larger pictures. Checklist by Werner Schott included. Textured and assembled for P3D 5.3 by Chris Evans. Should work in FSX and earlier P3D versions. Recommend the Trent engine soundpack https://simviation.com/1/search?submit=1&keywords=trent&categoryId=112
Posted Jan 14, 2022 12:22 by chris evans
81.57Mb (194 downloads)
FSX/P3D Boeing 747-400BCF Martinair Holland package. Martinair is based at Amsterdam Schiphol Airport and currently has 4 Boeing 747-400 Freighter aircraft. 3 are operating under the KLM brand and this one, PH-MPS, is painted in the Martinair livery. This aircraft was aquired new in 1990 by Singapore Airlines. High quality Project Opensky Boeing 747-400f FSX native model with the much improved Boeing 747 internal model (VC) from Alejandro Rojas Lucenda (Manual included). Model includes ground cargo servicing, stairs (FSX - Go to Views - Instrument Panel -Posky Utility. P3D go to Vehicle - Instrument Panel -). Added 747 sounds, edited views, panel. Thank you to Project Opensky/Skyspirit/TDS for their fantastic contribution to the worldwide flight simulation community. Also includes the Boeing 747 VC textures upgrade. Added wing views. Textured and assembled for P3D v5 by Chris Evans. Should also work in FSX and previous P3D versions.
Posted Jan 15, 2022 09:01 by chris evans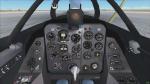 38.97Mb (304 downloads)
This is an update for the Yak-23 Flora by Kazunori Ito, converted to FSX native by Flywheel J. Wolff, now including three new camera views and a more realistic VC and 2D panel with now all authentic Russian gauges. Flywheel adapted the gauges and the original 2D panel I used in my previous 2013 FSX update and now, in retrospect, I feel that should be corrected. VC and 2D panel don't match at all and some of the gauges I used back then don't even belong in a jet plane, particularly in such a nice FSX native model, so thanks to Flywheel for his conversion. Also included are automatic burner and exhaust smoke effects and now there are visible gauges in outside view as well. I've also slightly tweaked the flight dynamics for better take off and manoeuverability. New thumbnails and Empire sound included as well. This is the whole package although I've not changed any fuselage texture files but most simmers don't like to play around with installing new stuff into an existing model. Thanks to Kazunori Ito for the original model and particularly to Flywheel J. Wolff for his conversion. New panel design, effects and tweaks by Michael Pook.
Posted Jan 10, 2022 06:16 by Michael Pook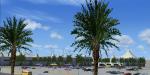 54.96Mb (163 downloads)
Well it starts as always, I can't find a usable freeware airport in this casefor the airport Hurghada HEGN, Egypt, so I'll build it myself again. Well what can I say here it is as real as possible with many details with the after a lot of work Standard Scenery built. So fly to Hurghada in Egypt, have a look with a helicopter overdrivable car shows the many details, the hotel beaches with people, the maintenance hall whose gate opens when you roll towards the Bedouin village or the port just have fun and go on your journey ......... Installation: Copy the folder FSX Hurghada Scenery into the Addon folder of the FSX, the FSX start to settings, switch to scenery library, add area, press OK,after that you canstart ............. Extras to be able to see people I deliver the file 3DPeoble_Lib with this you can also in Copy the addon folder and activate it in FSX as described during installation and you already see people .............. the same applies to extra vehicles with the supplied file ObjLib-Large-CarParking FSX and you can already see more vehicles .......... ! You don't need these extras if you already have them! https://www.youtube.com/watch?v=6fa8fkfunRA Support: Questions and help on my YouTube channel or by email at jam_aika@hotmail.de now have fun in Egypt LG Jamaika
Posted Jan 11, 2022 02:48 by Ewald Wagner alias Jamaika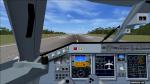 23.76Mb (588 downloads)
This a Embraer 175 from United Express and Delta Connection with VC. I don't have sure if work in P3D.
Posted Jan 6, 2022 13:22 by Rafael Matias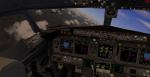 63.13Mb (211 downloads)
FSX/P3D Boeing 737-700 Canadian North package. Canadian North is an Inuit owned airline based in Kanata, Ontario. The airline's slogan is 'Fly the Arctic' and it serves mainly local northern communities in Quebec. Canadian North currently operate 2 Boeing 737-700 and another is awaiting commission. TDS high quality native FSX Boeing 738-700 model. The VC is the FSND modified version of the Microsoft Boeing 738 VC to include various upgrades. Thank you to Alrot for this. See Document folder to get the best out of the VC. Textured, packaged and prepared by Chris Evans. Tested in P3Dv5.3.
Posted Jan 10, 2022 12:08 by chris evans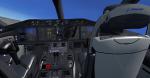 77.21Mb (133 downloads)
FSX/P3D Boeing 787-8 Aeromexico with FSX Native 787 VC. Mexico's flag carrier airline currently has 8 Boeing 787-8. N783AM was delivered new to Aeromexico in 2015. The high quality Boeing 787-9 from TDS. The VC is the Bender Erik great adaption of the Asobo MSFS 2020 Boeing 787 cockpit. Cockpit textured lighter grey. Thank you to Bender. TDS high spec. native FSX Boeing 787-8 model. See Document to get the best out of the VC. Textured, assembled and tested in P3D v5 by Chris Evans. Should also work in earlier P3D & FSX.
Posted Jan 16, 2022 11:22 by chris evans