Past Week Popular > Page 5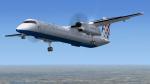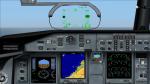 62.53Mb (2893 downloads)
FSX/P3D de Havilland Canada DHC8-Q400 Package v2.0. The "Dash 8" Q400 (Q for Quiet) was originally developed and built by Bombardier, but was sold in 2019 to Longview Aviation Capital, who re-instated the de Havilland Canada brand. Includes 6 liveries: ASky Airlines (ET-AQD), Air Baltic (YL-BBV), Flybe (G-JEDI), Croatia Airlines (9A-CQB), Westjet Encore (C-GENU) and White (C-GKUK). New wide 2D glass panel and updated Premier Aircraft Design (PAD) VC V2.0, with a new complete set of XML gauges including multi-function PFD, MFD and EICAS screens. This aircraft is based on the beautiful DHC8-Q400 FSX model by Dreamwings, featuring a brand new Air file and much improved flight dynamics. All textures are very detailled with new alpha layers and reflections. All textures are DXT5. Improved night lighting, with a new set of effects. The new panels are using the following extra gauges: HGS, Ground Services, VSpeed, Altitude Callout, Icons32 and new Cockpit sounds. Most of these gauges are using the FSX XML Sound gauge by Doug Dawson. Realistic Pratt and Whitney PW150A sound file. Tested in FSX Acceleration (DX10) and FSX Steam Edition (DX9). Not tested in P3D but should work correctly up to V3. Sound effects may not work in V4.
Posted Nov 12, 2020 11:54 by Philippe Marion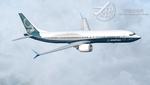 11.37Mb (6291 downloads)
FS2004 Boeing 737 MAX 9 Base Package. Developed by Tenkuu Developers Studio (TDS). Model features high resolution textures, dynamic flexing wings, nose gear steering, rudder lock, ground spoilers, low speed aileron locks at high speed, fully animated control surfaces, fully independent suspension, trim animation, opening passenger doors, rolling wheels, animated thrust reversers with reverser block doors, detailed textures, full night lighting, ground service vehicles and more. Model design by Hiroshi Igami. See docs for full credits.
Posted Sep 25, 2014 07:19 by chris E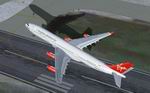 14.73Mb (9323 downloads)
FS2004 A340 Virgin Atlantic Package. Model by Project Opensky: Model Designer : Shervin Ahooraei Flight Dynamics Designer : Warren C.Daniel Master textures : Ben Hewitt, C. Vincent Cho Virtual Cockpit textures : Gary Hayes FDE Advisors : Nick Peterson, Simon Ng Hin Tat Virtual Cockpit Gauges : Special thanks to Pasquale Rinaldi Panel : Pasquale Rinaldi XML programming : Special thanks to Fraser Turner and Bill Leaming . This file includes the required VC gauges to allow the VC to work out of the box. Updated by Pierre Roux. 15MB
Posted Jun 23, 2008 14:29 by archive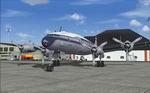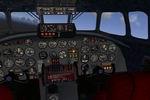 36.17Mb (42881 downloads)
FSX/FS2004 Lockheed L-749 (L-1049) Constellation Package and Base Kit Included in this sim package are seven models and five textures. Panel textures by Diego S. Barreto, model and VC by Manfred Jahn, panels, gauges, and animations by Hansjoerg Naegele, flight dynamics by Luis Pallas, wingview angles and exhaust effects by Bill Tyne and Roland Berger, documentation by Volker Boehme, handling research by Stefan Werner, textures by Jaap der Baare and Hans Herrmann.
Posted Dec 14, 2009 04:34 by Paul Atreides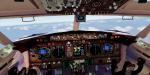 72.50Mb (130 downloads)
FSX/P3D Boeing 767-300F MAS Cargo Airlines package v2. MAS Cargo Airlines is a Mexican cargo airline based at Mexico City International Airport. MAS Air currently have 3 Boieng 767-300F and fly to destinations around Mexico, Latin America as well as Los Angeles and Miami. Revised night textures, flight dynamics and vc textures. I tried to get the VC textures to be more like the real 767. If you don't like, just swap the 'texture.vc' with those from another aircraft. Alejandro Rojas Lucena/FSND revised Boeing 737-800 VC model. Added HUD. There are custom Boeing sounds included for that extra realism. Jetways also edited (Ctrl j). Exits, wheel levels and views corrected for FSX/P3d. Boeing 767 checklist included. Added 767 sounds for more realism. Fixed viewpoints and jetways. Added wing views. See VC docs to get the best out of the VC and FMC. Textured, assembled and tested in P3D v5.3 by Chris Evans. Should also work in FSX and earlier P3D versions.
Posted May 13, 2022 12:40 by chris evans
60.07Mb (489 downloads)
FSX/P3D Airbus A330-300 Delta package. Delta currently have 31 Airbus A330-300 in operation. Model by Thomas Ruth. Also added jetway configs (Ctrl J). Revised original VC by Microsoft updated by Collin MacKenzie to include built in FMC and more. Textured and assembled for P3D5 (Should also work in other P3D and FSX) by Chris Evans
Posted Apr 8, 2022 12:20 by chris evans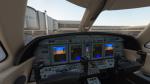 240.04Mb (2289 downloads)
MSFS de Havilland Canada DHC8-Q400 Package V1. The "Dash 8" Q400 (Q for Quiet) was originally developed and built by Bombardier, but was sold in 2019 to Longview Aviation Capital, who re-instated the de Havilland Canada brand. Featuring 11 past and present liveries: White (C-GKUK), ASky Airlines (ET-AQD), Air Baltic (YL-BBV), Flybe (G-JEDI), Croatia Airlines (9A-CQB), Westjet Encore (C-GENU), Qantas Link (VH-QOU), Eurowings (D-ABQT), Alaska Airlines (N448QX), ANA Wings (JA841A) and Scandinavian Airlines (LN-RDI). This aircraft is based on the superb DHC8-Q400 FSX model by Dreamwings, combined with the VC from the MSFS default CJ4 and the sound file from the MSFS default KingAir350. The MDL (model file) has been extensively modified to take full advantage of the new MSFS graphic engine. All textures are HD quality (2048x2048px) with alpha layers and reflections. All textures are DDS DXT5. The new model features transparent windows which makes the interior cabin visible, and the new custom lights make the whole aircraft look fantastic at night. This quality conversion was created with great care and is not a just a compilation of old and new files. Each file contained within this package has been reworked, optimised for quality, size and performance. This aircraft does not pretend to be "study level" by any means, it just looks good, was exciting to make, and it is great fun to fly. Enjoy!
Posted May 23, 2021 06:04 by Philippe Marion
85.02Mb (297 downloads)
FSX/P3D Airbus A320-200 Sky Airline NEO livery package. Sky is based in Comodoro Arturo Merino Benitez International Airport in Santiago, Chile and flies it's current 25 A320-251N Neo to destinations around South American countries. Model by Project Airbus. 2020 updated VC by Speedbird77 with built in FMC by Garret Smith. Includes A320 operation manual and checklist. Airbus sounds included. Textured, assembled for P3D v5.3 by Chris Evans. Should work in FSX and other P3D
Posted Mar 31, 2022 12:18 by chris evans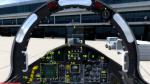 136.24Mb (1503 downloads)
Original aircrafts by IRIS Simulations, sublime native FSX conversion by ignoti et quasi occulti. Both the F-15C and F-15D come with 2 models: a clean variant and an armed variant with an extra tank. Earlier releases of these aircraft models did have some (small) issues which I did fix. Also I did implement some new XML gauges and did enhance existing XML gauges. Fixes exists of the ability to set the NAV1 frequency in VC, a working compass gauge, disabling of the standard GPWS, a working Flaps indicator, mouse triggering of the Landing Gear and Airbrake levers, repair of the Gear up warning sound, and expanding of the Auto Pilot systems. More than 35 modifications have been made to this aircraft. This is a complete aircraft. All modifications have been tested in Prepar3D v4. A FSX configuration is also provided althoiugh not tested. For an installation guide see the fileINSTALL.txt For a full credits list as well as other info see file: IRIS_F-15_mod.pdf For a full modifications and fixes list see also the file 'Flanker256.txt' in the 'Docs' folder of the aircraft. Happy flights and stay safe.
Posted Jan 19, 2022 11:51 by Flanker256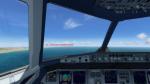 392.70Mb (2307 downloads)
Package has all three great A330-200 models created by Thomas Ruth. All the engine models come with a dedicated sound pack. In total 32 liveries from all over the globe has been added. Current VC here is the Microsoft FSX A321 VC model but you can easily switch to the Thomas Ruth A320 VC model. For this read the file VC_info.txt in the aircraft 'Docs' folder. Panels has been expanded with TCAS, CockpitSounds, GPWS, Flightdeck SFX panels, V-Speed callouts, and GroundHandling. Extra XML gauges for TCAS and Anti-Skid have also been added. Airbus callouts were added including the notorious and funny 'retard' sound. Extra VC sounds (EFIS controls, Clock, EICAS, ILS, Master Warning)) has been added in a newly created Airbus_A321.cab, of which the main functionality has not been touched. Reference and Checklists htm files have been added. Contact points has been adapted. Logo lights usage has been changed so that you have more control when to set them on or off. For a full mod list please refer to the file Flanker256.txt in the aircraft 'Docs' folder. Liveries included: Aer Lingus, Aeroflot, Air China, Air France, Air Transat, Aerolineas Argentinas, Avianca, China Eastern, China Southern, Corsair, Delta Airlines, Eithad (2x), Eva Air, Garuda Indonesia, Greeenland Air, Hainan Airlines, Iberia, Iran Air, Korean Airlines, KLM (2x), Kuwait Air, Lufthansa, LTU, Malaysia Airlines, Qantas, Sichuan Airlines, South African Airways, Swiss Air, TAP, US Airways. Package has been tested in both FSX (with SP2) and Prepar3d v4.5
Posted Apr 18, 2021 16:14 by Flanker256